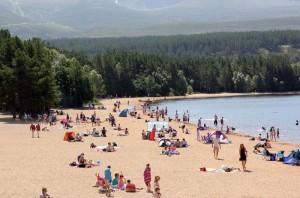 We currently have an estimated 1.77 million visitors annually. A third of those visitors, and two thirds of international visitors, say that National Park status is an important influence in their decision to visit. However, it's crucial that visitors don't undermine the very things that attract them in the first place – landscape, wildlife, culture, tranquility. With this in mind, the key principle that shapes our tourism work is:
Tourism: Action + Change – Tourism Action Plan For The Cairngorms National Park 2017-22
This Action Plan has been developed by the Cairngorms Tourism Partnership which brings together the key businesses and agencies involved in tourism. The Plan sets out the priority actions over the next 5 years to deliver sustainable tourism in the Cairngorms National Park.
Cairngorms Visitor Survey 2014/15
In 2014, the Cairngorms National Park Authority commissioned a third, year-long visitor survey and the results are now available. The survey is carried out every five years and provides information on:
visitor demographics
behaviour
motivations
We've produced a summary infographic (PDF – 1.8MB) showing some of the key facts and figures as well as a full report presentation with more details and analyses.
More information
If you're interested in finding out more, or would like to have access to the full datasets, please contact Heather Trench on 01479 870545.
Economic Impacts of Tourism in the National Park
There were 1.77 million Tourism Visits to the National Park in 2016.  Data like this and much more can be found in a study we have commissioned which looks at the tourism trends for the National Park to the end of 2016. For more information have a look at the summary and if you would like the full report please contact Jackie Farquhar on 01479 870520.
Delivering the National Tourism Strategy
In 2012, Tourism Scotland 2020 – A Strategy for Leadership & Growth was launched by the Scottish Tourism Alliance. Led by industry and supported by the public sector, the strategy provides a common agenda for the industry and supporting organisations.
Cairngorms National Park: 2020 – Delivering the National Tourism Strategy (PDF – 853KB) puts our work on tourism in the context of the national strategy.
European Charter for Sustainable Tourism in Protected Areas
In 2005, just two years after designation as a National Park, the Cairngorms became the first National Park in the UK to be awarded the prestigious European Charter for Sustainable Tourism in Protected Areas. The Charter was awarded on the basis of our first Sustainable Tourism Strategy, which set out what we wanted to achieve in our early years as a new National Park.
In 2011, the real test came as we re-applied for the Charter and were assessed on what had actually been achieved over the previous five years. We passed with flying colours and are now delivering our second Sustainable Tourism Strategy 2011 – 2016.