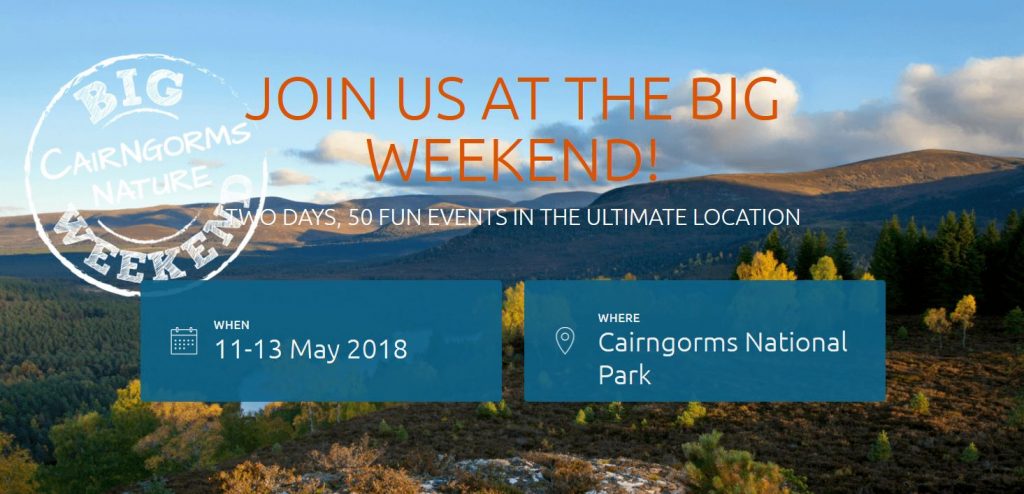 The sun has set on the fifth Cairngorms Nature BIG Weekend, and so we wanted to extend a massive thank you to everyone who attended and all the Rangers and organisers involved in making it happen.
The chairs are stacked, the marquees packed away and flags taken down, but the nature continues to thrive.  We hope you have been inspired to investigate and enjoy the fantastic natural wonders of the Cairngorms National Park for yourself and that you learnt something new about the natural heritage all around us.
Until next year, thank you for being part of the BIG Weekend.
We hope you enjoyed the BIG Weekend this year!
If you took part in any of the 60+ events that were happening, we would love to hear what you thought and what kind of experience you had.
As a thank you for taking part in our evaluation survey, there is the chance to be entered into a prize draw to win a family pass to Landmark Forest Adventure Park.
As we approach the summer, this is the ideal prize for a great day out enjoying nature in the Cairngorms National Park.
Please take the time to let us know about your experiences of the BIG Weekend.  The survey is anonymous unless you choose to leave your details which will enter you into the prize draw.
Until next year, thank you for being part of the BIG Weekend.

Keep Connected!
Let us know you've booked your tickets, ask us anything from how to get here to which events are great for kids, share your feedback and your excitement – because we will be!!
Follow us on on the social network of your choice to keep up to date with all the latest BIG Weekend news right here and be sure to #CNBW18
What is the BIG Weekend?
Get a flavour of what the Cairngorms National Park has to offer you, your friends and family with this short video showcasing the best from the 2017 BIG Weekend.