Cairngorms Nature BIG Weekend
BREAKING NEWS: The Cairngorms Nature BIG Weekend website is LIVE and waiting for you to explore and BOOK those tickets!!
Visit the BIG Weekend website here for the full programme and how to book tickets!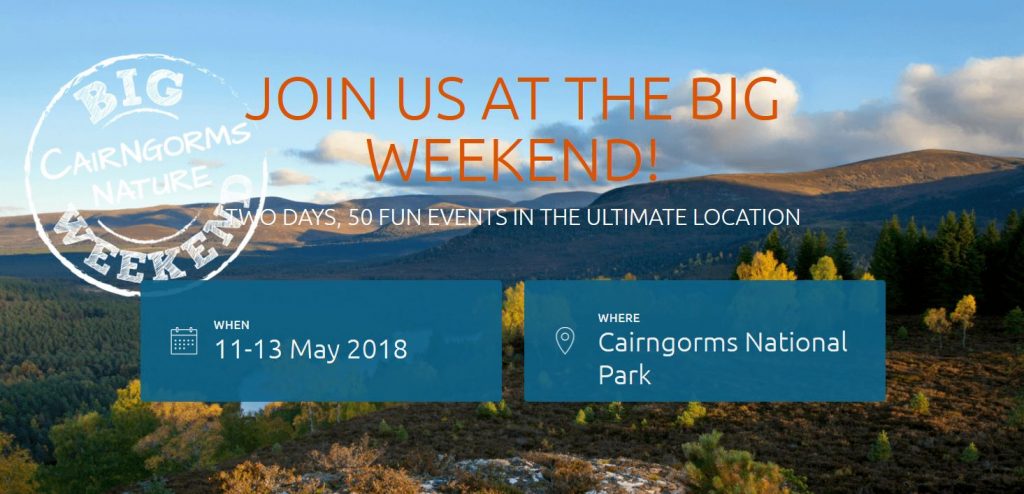 The Cairngorms Nature BIG Weekend  is a celebration of the fantastic natural heritage of the Cairngorms National Park that takes place every year in May.
Bring the whole family and get up close and personal with the amazing nature of the Cairngorms National Park!
With over 50 activities taking place across the Cairngorms National Park there is something for everyone, from families to the more seasoned nature lover.
The 2018 programme has now been launched with an array of exciting events to choose from including aerial displays from Marra the Sea Eagle, Bug Hotel builds and canoeing down the river spey….
Keep Connected!
Let us know you've booked your tickets, ask us anything from how to get here to which events are great for kids, share your feedback and your excitement – because we will be!!
Follow us on on the social network of your choice to keep up to date with all the latest BIG Weekend news right here and be sure to #CNBW18
What is the BIG Weekend?
Get a flavour of what the Cairngorms National Park has to offer you, your friends and family with this short video showcasing the best from the 2017 BIG Weekend.
Find out why the Cairngorms National Park is such a Special Place