Wildlife Spotting
Whatever the time of year the Park is a haven for wildlife whether it is the returning Whooper swans in autumn falling like snow onto Insh Marshes,the echo of roaring of Red Deer stags in the hills, Ospreys bringing a bit of Africa to Loch Garten, Loch Insh or Loch Kinnord or Golden Eagles soaring over Corrie Fee you are bound to have a memorable experience.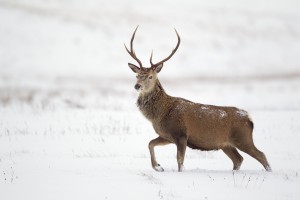 The Parks network of National Nature Reserves are a must for anyone looking for wildlife with events and hides to help you get close to nature.
The Park is unique in the country as a home for all the British grouse species – Ptarmigan, Red Grouse, Black Grouse and the secretive Capercaillie. To find out more about these birds why not join one of the countryside Ranger Events.
It not just birds and beasts the Park is a must for but many insects as well. Pools, burns and rivers are alive in the summer with dragonflies and damsel flies flitting from one rush to the next. Try Uath Lochans or Dinnet NNR.