Local Development Plan 2020
The Local Development Plan 2020 will guide development in the Cairngorms National Park over the period 2020-2025 and into the longer term

Cairngorms Local Development Plan 2020
We are required by law to ensure that our Local Development Plan is kept up-to-date and reviewed every 5 years. The current Local Development Plan was adopted in March 2015 so we need to ensure that a new Local Development Plan is in place by 2020.
It will take several years to produce the Local Development Plan 2020, and the process involves a number of key stages which are summarised in the diagram below.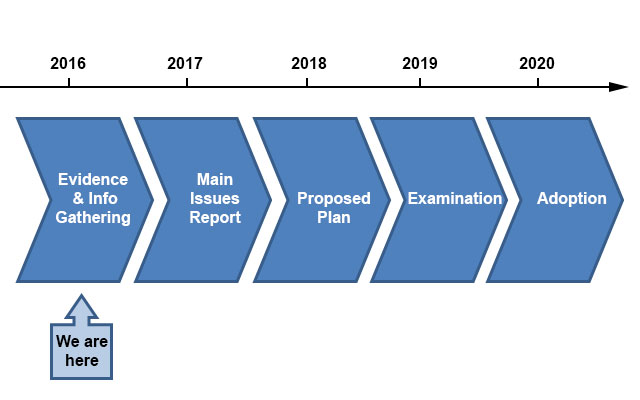 There will be opportunities for members of the public and other interested parties to comment on the emerging Local Development Plan at the Main Issues Report stage and at the Proposed Plan stages. We expect to be undertaking consultations on the Main Issues Report in early 2017 and the Proposed Plan in early 2018.
You can find out more about the process and timetable for preparing the Local Development Plan 2020, and how you can get involved, by reading our Development Plan Scheme.
Evidence and information gathering
We are currently at the initial stage of gathering evidence and information to help inform the Local Development Plan 2020.
As part of our initial evidence and information gathering we have launched a 'call for sites and ideas'. Although we have not yet made any decisions on how much new development land will be needed in the Local Development Plan 2020, this allows anyone with an interest in the development of land to propose sites on which they would like to see development happen in the future. This process is important as it helps to identify possible development options at an early stage.
Do you have any other questions?
You can contact our planning team in our Grantown office on 01479 873535 or by email at [email protected]. The planning team are available Monday to Friday 9am to 5pm.