Weather
There is a saying in Scotland that 'there is no such thing as bad weather, only the wrong clothing'; a philosophy that should be borne in mind when it comes to all year round enjoyment of the Cairngorms National Park.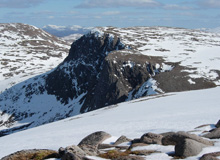 The weather in Scotland is changeable and can readily feel like four seasons in one day. The Park is an inland mass and experiences greater seasonal temperature extremes than Scotland's coastal regions.
It's possible to find snow on the summits of the Cairngorms all year round!
Generally, in the lower level glens and straths of the Cairngorms National Park where the majority of people live and visitors stay, temperatures in the winter months range from well below freezing to around 5 - 7 C. In the summer temperatures get up to the mid to high twenties but may also fall as low as 9 - 10 C.
Be prepared!
The best advice is to come prepared for all weathers bearing in mind the sort of activities you're likely to wish to take part in.
This is extremely important for any trips into the mountains and hills. For every few hundred feet climbed, the temperature drops rapidly.
The links on the right hand side will keep you up to date with forecasts for the region you are visiting.