Children need a daily dose of Mother Nature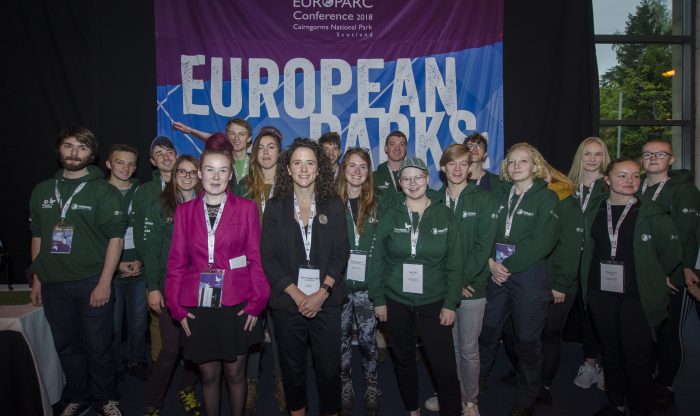 EUROPARC 2018 hears the next generation are key to securing future of protected areas while enriching themselves
Around 500 delegates from protected areas across Europe are in Aviemore in the Cairngorms National Park this week (18-21 September) for the annual EUROPARC Conference – which, during Scotland's Year of Young People – is aptly focusing on the next generation.
The Cairngorms National Park Authority is hosting the EUROPARC 2018 conference – the key event of the year for those working in Europe's Protected Areas – which lasts over four days in total and has attracted delegates from 36 countries to the Macdonald Aviemore Resort.
What National Parks and other protected areas can learn from young people and what changes need to be made will be at the fore during the event.
Opening the conference this morning (Wednesday 19th September) Scottish Government Minister for Rural Affairs and Natural Environment, Mairi Gougeon said: "Scotland's natural environment is one of our greatest assets. Not only are our wildlife and landscapes iconic but getting out and exploring in the great outdoors has been shown to have a huge positive effect on physical and mental wellbeing. That's why it's important to have protected areas like the Cairngorms National Park, which is hosting this prestigious international conference.
"As it is the Year of Young People in Scotland, there could be no better time to be having this European-wide 'conversation' about how we can connect young people with nature and to involve them in the decision making process. It's great to see everyone pulling in the same direction, to try to ensure we preserve our protected areas for generations to come."
As Wednesday's keynote speaker, Richard Louv, writer of 'Last Child in the Woods' and 'The Nature Principle' welcomed the Minister's comments. He is passionate about connecting children with nature and says he is increasingly concerned with the correlation between an increase in social, mental and physical health problems with less time spent in nature because of busy, technology-driven lives.
Addressing delegates, he said: "The necessity for children, teenagers and adults to have a meaningful connection to the natural world grows daily. In recent decades, children and adults around the world have become increasingly disconnected from nature, with profound implications for human health and child development – with indicated impacts on attention disorders, Vitamin D deficiency, myopia, child obesity and the growing epidemics of both inactivity and loneliness.
"Climate change, biodiversity collapse, and the disconnection of children from nature are the greatest environmental challenges of our time — and all are interrelated. So it is of paramount importance that the young people (and old people) gathered here to become leaders in all three challenges."
Echoing Richard's sentiments were Hendrikus van Hensbergen, Chief Executive of Action for Conservation, an organisation with the aim of creating the next generation of conservationists and Karen Keenleyside from Parks Canada and Senior Advisor for the global #natureforall movement, inspiring a love of nature based on the knowledge that the more people experience nature the more they will appreciate it, love it and want to care for it.
A panel discussion on 'Engaging with Millennials', led by today's conference host, broadcaster and journalist Muriel Gray saw this morning's speakers joined by Rachel Coyle of the Outdoor Access Trust for Scotland, Anna Fleming, (formerly CNPA's Education & Inclusion Officer) and Ignace Schops, President of the EUROPARC Federation. He added: "It is a good moment to reconnect with young people. We need to know how they think about biodiversity loss and Climate Change. We need to know how they would like to see us taking care of our precious planet. Shaping and securing a green future cannot be achieved without their visions, their dreams, their knowledge and their help."
It is the first time that the EUROPARC conference has been held in the Cairngorms National Park, which this month celebrates its 15th anniversary – a mere youngster in National Park terms.
Welcoming everyone, including 88 youth delegates, Peter Argyle, Convener of the CNPA said: "We are absolutely delighted to welcome EUROPARC delegates to the Cairngorms National Park and we hope that their time here is very enjoyable. Inspiring the next generation to care passionately about nature shouldn't be too difficult in a place as special as the Cairngorms National Park but we can never be complacent and we must ensure that their voice is heard."
The conference continues tomorrow with delegates taking part in a wide variety of field trips right across the Cairngorms National Park experiencing everything from nature conservation to rural development and from cultural heritage to exciting outdoor activities.
Friday is the final day of the EUROPAC conference and will see John Swinney, Deputy First Minister of Scotland and Cabinet Secretary for Education and Skills join delegates for the launch of the collaborative, Europe-wide, Youth Manifesto. This important milestone will enable young people to shape how they live, learn and work in rural communities and protected areas.
For more information visit the EUROPARC2018 website. You can also keep up to date with what is going on at EUROPARC via @cairngormsnews on Facebook and Twitter #EUROPARC2018.