Camping & Caravan Facilities
We want to ensure that everyone who gets outdoors is safe, adheres to Government Guidelines and respects our natural environment and wildlife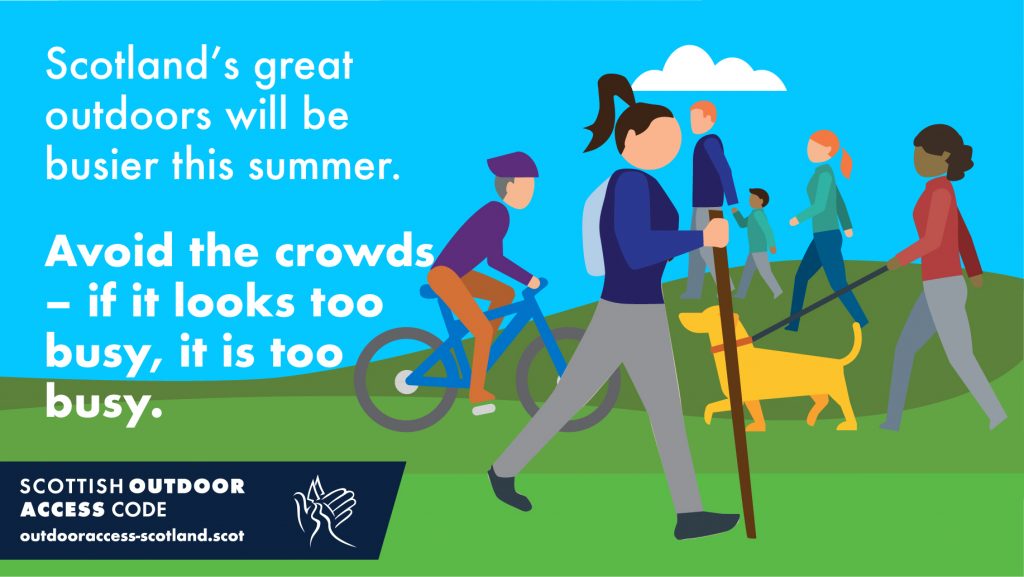 Enjoy the freedom Scotland has to offer, plan (and ideally book) ahead. Have a plan B.

If you arrive somewhere and it's full, go to Visit Cairngorms to find the nearest place to stay.
If you've got nowhere else to go, here's where you can park.
How to be a campervan hero:

buy local and support local communities,
avoid ground damage,
empty any chemical toilet waste in designated waste areas
observe any local guidance, including specific requests not to park overnight in particular places. If public or private landowners restrict or regulate parking on their land, you must comply with this.

 
#RespectProtectEnjoy  
Click on these links for information on the status of Public Toilets and Car Parks in the National Park.
Camping & Caravan Facilities within the Cairngorms National Park
Site
Address
Contact
Status
Chemical Disposal
Camping in the Forest of Glenmore
Aviemore, Invernesshire, PH22 1QU
01479 861271
Closed until April 2021
Invernahavon Caravan Site
Glentruim by Newtonmore, Invernesshire, PH20 1BE
01540 673534
[email protected]
Closed until April 2021
Spey Bridge Caravan & Camping Park
Perth Road, Newtonmore, PH20 1BB
01540 673275
Closed until April 2021
Yes - open to non-residents (£7.50)
Dalraddy Holiday Park, Aviemore
Kincraig, Kingussie, PH22 1QB
01479 810330
[email protected]
Open - limited availability please phone ahead
Yes - open to non-residents (£5) please phone ahead
Rothiemurhus Camp & Caravan Park
Coylumbridge, Aviemore, PH22 1QU
01479 812800
[email protected]
Open - to caravans and motorhomes with own facilities only
Yes - for residents
Boat of Garten Caravan Park
26 Deshar Road, Boat of Garten, PH24 3BN
01479 831652
[email protected]
Open
Yes - for residents
Oakwood Caravan & Camping Park
Granish, Aviemore, Highlands, PH22 1QD
01479 258197
[email protected]
Open
Grantown on Spey Caravan Site Park
Seafield Avenue, Grantown on Spey, Highlands, PH26 3JQ
01479 872474
[email protected]
Open - book ahead only
Yes - for residents
Ballater Caravan Park
Anderson Road, Ballater, AB35 5QW
01339 755727
[email protected]
Closed until further notice
Yes - open to non-residents
Braemar Caravan Park
Glenshee Road, Braemar, Ballater, AB35 5YQ
01339 741373
[email protected]
Open
Yes - for residents
Blair Castle Caravan Park
Blair Atholl, Pitlochry, PH18 5SR
01796 481263
[email protected]
Open - to caravans and motorhomes with own facilities
Yes - open to non-residents (£2.50) please phone ahead
High Range Touring Caravan & Camping Park
High Range Complex, Grampian Road, Aviemore, Invernesshire, PH22 1PT
01479 810636
[email protected]
Open
Yes - open to non-residents please phone ahead
Bogroy Croft (Club members only)
Inverness Road, Carrbridge, Highlands PH23 2AU
01479 841729 or 07786257234
[email protected]
Open - Caravan Club members only
Yes - for residents
Tomintoul Bowling Club Caravan Site
Lecht Drive, Tomintoul, Moray AB37 9EZ
01807 580459 or 01807 580201
[email protected]
Open - book ahead.
No
Camping & Caravan Facilities outside of Cairngorms National Park boundary
Site
Address
Contact
Status
Chemical Disposal
Aboyne Loch Caravan Park
Aboyne, AB34 5BR

01339 886244
[email protected]
[email protected]
Open
Yes - for residents
Tarland Camping & Caravanning Club Site
Tarland, Tarland by Aboyne, Aberdeenshire, AB34 4UP
01339 881388
[email protected]
Open - to those with own facilities
Yes - for residents
Glenesk Caravan Park
The Burn Estate, Edzell, Angus, DD9 7YP
01356 648565
[email protected]
Open
Yes - for residents
Haughton House Holiday Park
Montgarrie Road, Alford, Aberdeenshire, AB33 8NA
01975 562107
N/A
Yes - for residents
Plan Ahead