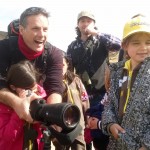 TV nature presenter Nick Baker will be the special guest at Blair Atholl! Nick is an exciting TV nature presenter with incredible drive and passion. He will be hosting a 'minibeast safari' on Saturday afternoon at Blair Atholl Ranger Base and you can join him and the Rangers on a fantastic afternoon of family nature activities. Nature's Larder will be on hand to offer tasty samples of Scottish food and they will also be running their popular foraging walks.
You will also be able to join Nick on Saturday evening as he talks about his amazing life searching the globe for the most amazing and bizarre creatures.
Itinerary of Events for Blair Atholl
The links below will take you to another site for booking the event.
Find out more about each individual event in the Blair Atholl area by clicking on the icons below.
Categories Featured On The Map

Family Fun: Open your children's minds to the wonder of the Cairngroms! We have it all from wee beasties to magnificent hunters and Neolithic fire to woolly woods.  These events particularly designed with families in mind.
Nature Lovers: We are giving you the chance to immerse yourself in a unique nature experience in the company of a Cairngorms expert. There will be opportunities to get close to some amazing species and go 'behind the scenes' with the people who live and work in the Cairngorms National Park.  More suitable for adults and older children/teens.
Get involved: Give something back to the Cairngorms as you Get Involved with one of our volunteering events. It's immensely satisfying to offer your time to vital conservation work, you'll have fun, meet new people and know you have made a real difference.  These are volunteering events and may have restrictions on ability depending on the project being worked on.