Cairngorms Nature BIG Weekend
The Cairngorms Nature BIG Weekend is a celebration of the fantastic natural heritage of the Cairngorms National Park, and it takes place every year in May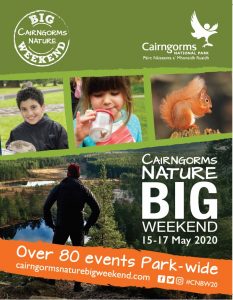 BIG Weekend 2020
Taking place 15th – 17th May 2020, we are building an even bigger and better programme for this year.  With over 80 events taking place across the National Park including: nature inspired musical concerts; unique behind the scenes experiences; and opportunities to get closer to nature, a truly wild adventure awaits you.
Cairngorms Nature Schools Art Competition
Cairngorms Nature Schools Art Competition 2020…
This years school art competition theme is Wetlands & Bogs. If you have a child in a primary school in the Cairngorms National Park encourage their creativity to produce a piece of imaginative artwork that shows us what they love about the wetlands & bogs in the Cairngorms National Park & be in with a chance of winning a great prize courtesy of the Highland Wildlife Park, a visit for them & their whole class as well as a pair of binoculars for all those wild adventures ahead of them. All runners up will receive a wildlife explorers goody bag and a bespoke fun activity morning over the BIG Weekend.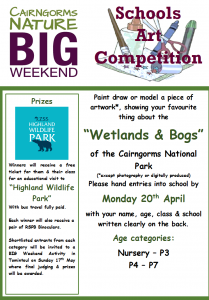 Last year over the BIG Weekend :
100 trees were planted, enhancing biodiversity in the woodlands around Carrbridge
A community bird hide was built in Braemar
Over 200 school children attended the rural skills day in Glenmore
4 community litter picks took place across the national park creating safer spaces for nature
8 volunteering events were held, helping people to get involved
200 pieces of artwork were created by local school children from across the park
Over 2000 people attended events over the weekend
6 Private Estates, 10 Ranger Services, 17 Private businesses & 18 Organisations & Projects were involved in providing a programme of over 100 events.
We look forward to seeing you this year!
Follow us on on the social network of your choice to keep up to date with all the latest BIG Weekend news right here and be sure to follow #CNBW20
Find out why the Cairngorms National Park is such a Special Place