Speyside Way Extension
The Speyside Way, one of Scotland's Great Trails, runs from the Moray Coast to Aviemore. Following the arteries of the old railway lines and passing through the heart of whisky country, this trail is a must for those seeking the taste of the Highlands. The planned extension will fulfill the long held aspiration to complete the route to Newtonmore.
The story so far…..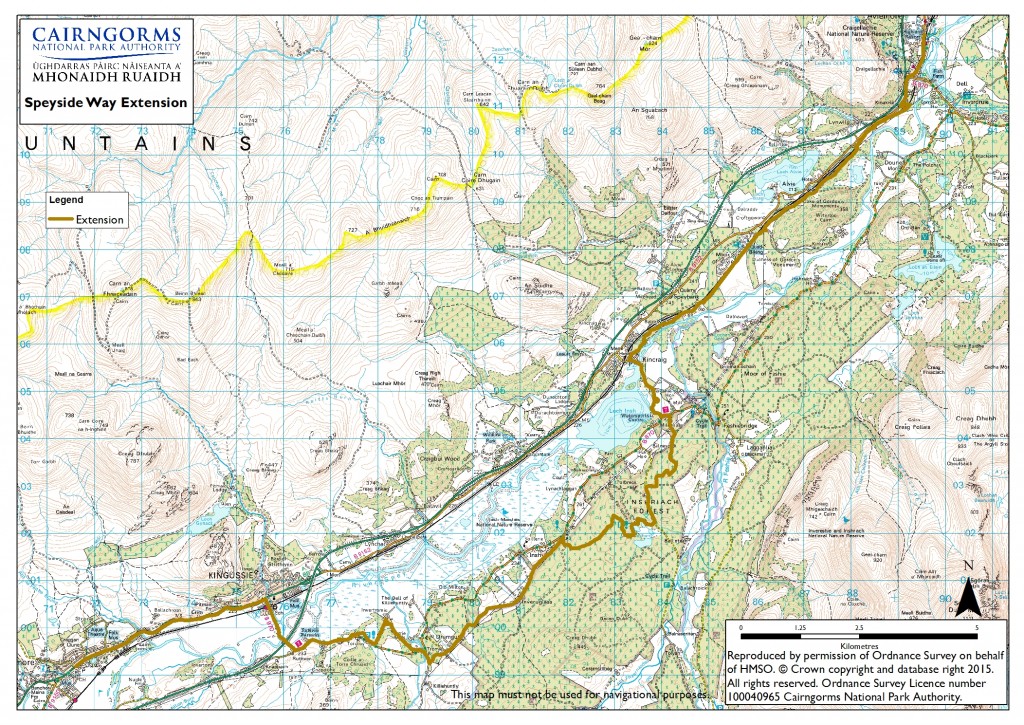 The Speyside Way Extension south of Aviemore is continuing to progress. A further section was completed in March 2019 which provides a way marked off-road route from Ardgeal through Inshriach Forest, past Uath Lochans and onto Insh. This is a mix of new path and upgraded forestry tracks, funded through the SRDP Improving Public Access Fund & SNH funding.
From Insh, the existing off road route (which follows the route of the Badenoch Way) continues past Inveruglas and Drumguish before reaching Tromie Bridge. This is the existing terminus of the multi-use section of path.
Insh end of the works
Next stage of extension
The next stage of the extension is currently being planned with funding secured through the ERDF Low Carbon Travel Transport Challenge Fund and CNPA. This will create a multi use path from Tromie Bridge to Ruthven Barracks with an anticipated launch of spring 2020.
Beyond Ruthven Barracks, the Speyside Way will continue on to Kingussie and Newtonmore via the NCN7 which is a mix of road and off road path.
What next?
The CNPA will be supporting the Kingussie community to design a path link from Ruthven Barracks to Kingussie.
Please note:
The Speyside Way is a shared use path for walkers, cyclists and horse riders.
Along the route south of Aviemore, there are a small number of short yet steep ascents/descents. Please be considerate to other users and moderate your speed on descents and corners.
There are a small number gates on the new sections of route. Please be considerate to our land managers and ensure the gates are closed after use.
Route maps will be updated in time for the completion of the full extension (they currently detail the route as far as Ardgeal).