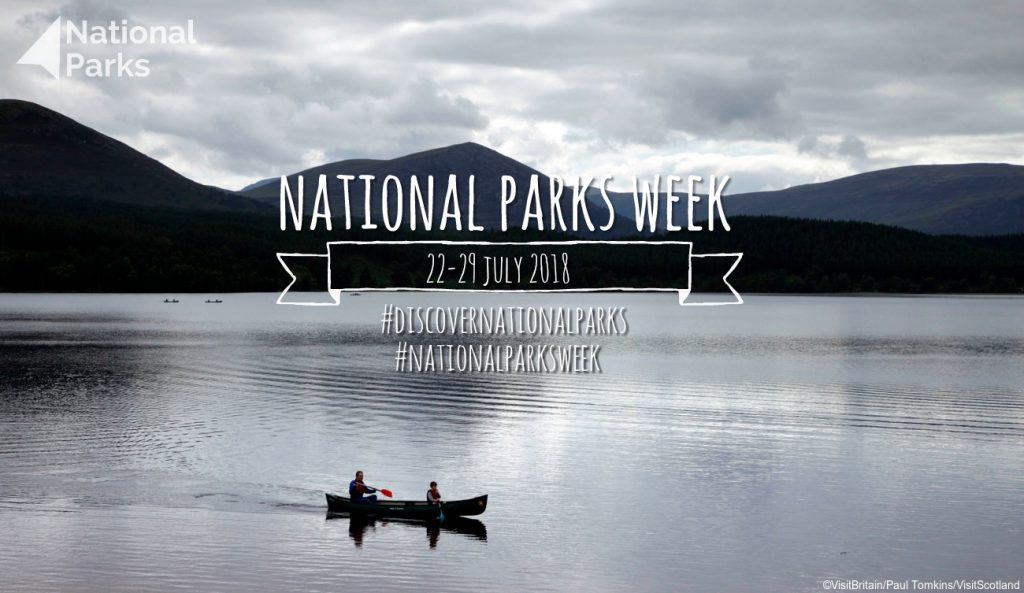 Discover National Parks Week: 22 – 29 July
National Parks Week 2018 was all about 'discovery'. Whether it's discovering illusive wildlife, stepping out on a new walking trail or a taking part in a unique volunteering opportunity – we asked you this week to discover something new in the Cairngorms National Park.
All year round you can take part in organised events led by one of the ranger services operating in the Park or discover more about the Park's rich cultural heritage by picking up a copy of the Gaelic Place Names or visit an attraction such as the Highland Folk Museum at Newtonmore. For wildlife experiences some of the best places to discover what lives here is at one of the many National Nature Reserves in and close to the Park such as Muir of Dinnet, Craigellachie and Abernethy.
And maybe there are walking trails you have yet to discover and experience? Whether it's on your own or maybe with one of the Park's Health Walks groups, why not take a look at the community paths leaflets on the CNPA website for inspiration about where to go. Volunteering is also another great way to discover the Cairngorms National Park and there are events running thoughout the year that people can sign up to.
Discover the Cairngorms National Park
There are 9 of Scotland's National Nature Reserves to visit here in the Park, as well as the RSPB Loch Garten Abernethy Osprey Centre. And Xander, our Cairngorms Nature Young Ambassador, was on hand to give you all a personal tour during National Parks Week. Of course, wildlife watching is a favourite pastime of our Park visitors, check our Visit Cairngorms for your chance to discover something wild here in the Cairngorms on your next visit!
Enjoyed Xander's video? Check out his YouTube channel and subscribe for more exellent Cairngorms Nature Young Ambassador videos here.
You can also find Gaelic throughout the Cairngorms National Park, a uniquely Scottish language which has left a big imprint in the landscape of the straths of the rivers Spey and Dee as well as the majestic Monaidh Ruiadh mountains. For the National Park Week󠁢󠁳󠁣󠁴󠁿 Gàidhlig anns a' Phàirc Nàiseanta a' Mhonaidh Ruaidh post, CNPA Gaelic Research Intern Ryan Dziadowiec told a classic Gaelic folktale of love, betrayal and regret atop the Snout-like Mountain in the Fairy Glens.
Did you enjoy our Gaelic tale? Do you have a story to share about the Cairngorms National Park's history, culture or heritage? Get in touch and let us know.
What inspires you about being in nature? For Alan Crawford from The Woodland Trust it is being surrounded by our ancient native woodlands and for National Parks Week Alan allowed us to share a story he was inspired to write while walking through the Rowan trees of the Cairngorms National Park. Alan recounted this tale at the Cairngorms Nature BIG Weekend last May, as part of the Tree Folklore event, a short guided walk focusing on tree identification, woodland ecology and folklore all inspired by our native trees. 
Do you have any interesting stories to tell about nature or wildlife here in the Park? Get in touch and let us know.
You can Still Follow the Buzz
All 15 National Parks took to their social media channels to talk about the incredible things you can discover and do in each of our National Parks – to keep up with all the posts from around the 15 Parks be sure to check out #NationalParksWeek and #DiscoverNationalParks on Facebook, Twitter and Instagram.
Follow the Cairngorms National Park Story
See what is happening over on our Facebook Page.
Like to Twitter? Find us here.
Or is Instagram more your style? Find us here.
Alternatively follow @uknationalparks on Facebook, @uknationalparks on Twitter or @nationalparksuk on Instagram.
Enter the National Parks Week Competition!
To celebrate National Parks Week, share your favourite spots, adventures and explorations in the UK's 15 National Parks. This is your chance to win amazing prizes from Sykes Cottages, Columbia Sportswear and have your image featured at the Kendal Mountain Festival this winter.
At least one winning image from each of the 15 National Parks will be featured at the festival, and all winning entrants will win a Columbia Powder Lite jacket.
One 'winner of winners' will receive £500 Sykes Cottage voucher courtesy of Sykes Cottages; plus 2 weekend tickets to the Kendal Mountain Festival, £500 of Columbia kit plus a £1,000 donation from Columbia for the National Park that the picture features, all courtesy of Columbia.
The competition runs until the 2nd September 2018.
How to enter
Take a photo of you enjoying your chosen National Park this National Parks Week or thoughout the the summer, upload this to Facebook, Twitter or Instagram and tag the photo with #DiscoverNationalParks and #NationalParksWeek as well as the National Park you're in (see below for links to the Cairngorms National Park pages).
For more information visit National Parks UK.