Multicultural leadership project takes off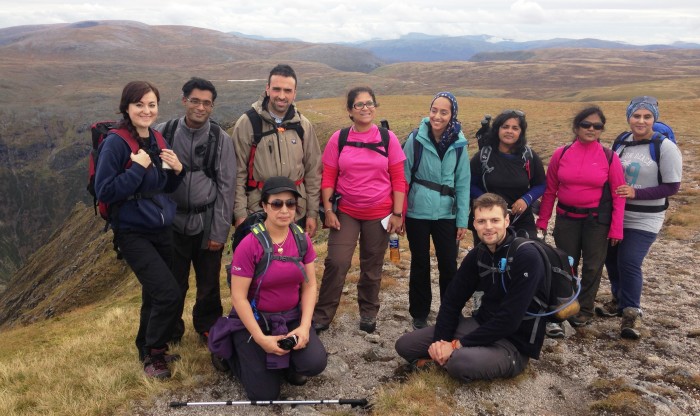 A three-year training programme for 15 multi-cultural people from across Scotland – giving them the skills and qualifications to develop and deliver local environmental projects – has been launched in the Cairngorms National Park.
The initiative will result in the participants gaining formal qualifications as well as hands on experience in working with a range of marginalised or hard to reach communities, encouraging them to visit and benefit from the outdoors – and particularly Scotland's National Parks – for recreation, health and enjoyment and to give them useful skills to take part in and help others volunteer for environmental projects.
The Community Leadership Project is being run by social enterprise company Backbone with support from a range of partners including the Cairngorms National Park Authority (CNPA), Loch Lomond and the Trossachs National Park Authority (LLTNPA), the Rank Foundation, Scottish Natural Heritage, Forestry Commission Scotland and the Esmee Fairbairn Foundation.
Backbone's Pammy Johal explained: "It's important to build on the success of the community leadership projects that we have run over the past five years and most of the 15 participants selected to take part in this three year programme have come through that initiative. It is time now to take things to the next level, break down the barriers and effect positive change, not just for these 15 people, but also for the various communities they represent and ultimately help to remove inequalities in society.
"Scotland's National Parks and protected spaces are ideal places to help minority groups gain experience and confidence in the outdoors, which in turn brings about benefits to these areas whether it's from increased visitor numbers or from people who want to 'give something back' through volunteering programmes."
The programme was launched at the weekend (9-12 October) as the participants and partners gathered together for the first time in Nethy Bridge where they were introduced to the training and volunteering opportunities that lie ahead.  Participants were asked to feedback about their experience of the weekend. One person said: "I'm ready to improve myself as a leader in terms of taking action & taking responsibility " whilst another commented: " There are so many opportunities & resources available to me to feed my creativity back in the community"
Peter Argyle, the Convener of the CNPA board said: "We want to see more people enjoying, learning about and caring for the Cairngorms National Park. It is therefore important that we help to remove the barriers that some groups feel prevent them from doing so. We want a Park for All and projects like this can help us achieve that."
LLTNPA Convener, Linda McKay, said: "We want to encourage people from all walks of life to get out and enjoy this very special part of Scotland and this initiative will work on so many levels. It will create 15 ambassadors to break down any perceived barriers in hard to reach communities to getting out in the countryside; it supports the development of transferrable skills and encourages volunteering to the benefit of much loved landscapes. I very much look forward to seeing how the project develops."
Ends.