Projects announced for Cairngorms Trust funds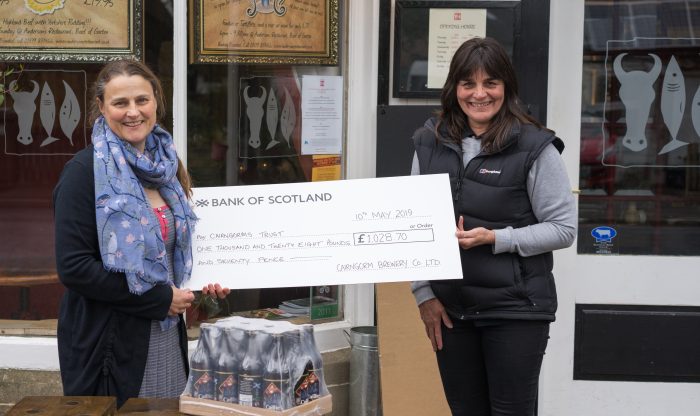 News from The Cairngorms Trust
The Cairngorms Trust are delighted to announce that the Boat of Garten Wildlife Group and the Kingussie Path Network Improvement Project are the first two Cairngorms Trust Campaign Projects.
The Cairngorms Trust will be raising funds throughout the Cairngorms National Park area for both of these deserving groups. Projects are chosen on an annual basis by the Cairngorms Trust board of Trustees. Roger Clegg, Chair of the Cairngorms Trust said: "I am delighted for the Osprey Project in Boat of Garten and the Kingussie Path Network Improvement Project. Both community initiatives  will enhance the lives of both locals and visitors alike. These projects are a very good fit with the aims of the Cairngorms Trust which is pleased to be able to support these excellent community initiatives."
The successful projects were announced at the Cairngorms Connect talk in Boat of Garten Community Hall on Friday evening (10th May) which was one of the many events that happened over the weekend under the banner of the Cairngorms Nature Big Weekend.
Nancy Chambers, Cairngorms Trust Manager explained: "Our aim is to support local communities and encourage projects that protect and enhance the landscapes, wildlife and local culture in the National Park. To do this, we are taking a new approach here in the Cairngorms by starting up a charity to seek donations to fund community projects. It's an approach that's proved successful in other National Parks such as the Lake District Foundation or Snowdonia Giving."
The fundraising has been kicked off by a donation of £1028.70 from Cairngorms Brewery from the sale of their Caillie beer. Anderson's restaurant also held a 'Taste of the Cairngorms' menu with a donation from each diner going to the Cairngorms Trust.
Nancy continued: "Fundraising will continue in a variety of ways from simple donation boxes and via our Just Giving page for example. We are also working on 'opt-in-opt-out' voluntary giving at the time of making an online purchase or booking and we are looking for corporate partners to come on board with this. Individuals who are passionate about the Cairngorms National Park could also do their own fundraising, such as sponsored events and donate funds raised to the Cairngorms Trust."
Full details of the projects and how you can support them can be found on the Cairngorms Trust website or contact Nancy Chambers directly by email at [email protected]