Sea Eagle, Cairngorms National Park and the future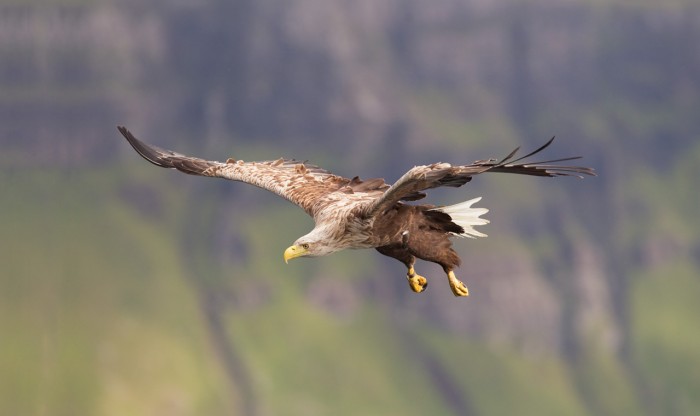 So here we go again. A tagged white tailed (sea) eagle has disappeared from its last known location and no trace of the bird or tag has been found. The estate (Invercauld) on whose ground the bird was roosting 'have appealed for help in locating a sea eagle' and 'we will be continuing our efforts to watch the area in case there has been a technical malfunction of the tag and the sea eagle returns to roost again'. The RSPB have responded by stating that the 'white-tailed eagle, less than a year old, fitted with a satellite-transmitter which was working perfectly, has suddenly and inexplicably disappeared in an area where there is a well-documented history of wildlife crime incidents'.
We have no bird, we have no tracker, we have a time of last transmission and thus we know that within the next few hours the bird went missing. We know that it follows the pattern as documented in the 'SNH Commissioned Report 982 – Analyses of the fates of satellite tracked golden eagles in Scotland' of disappearing satellite tracked eagles. If the bird is dead (which seems highly likely) we do not know how it died or where.
We condemn all forms of wildlife crime and the apparent loss of an iconic species like the white tailed eagle in the Cairngorms National Park is deeply felt by all working on conservation within the Park. Can I say it was definitely killed illegally? – no. Can I say it follows the suspicious pattern as set out in the SNH report? – sadly, yes.
So what should the CNPA do? In the next couple of weeks we are launching with SNH the next stage of our raptor tracker project whose aim is to provide a definite location and time of death for a raptor. Why is this important? It is important to take the ambiguity away from the situation. It is difficult to take action on statistical likelihood….We need to know where and when. It would also reduce the chances of falsely accusing an estate or other land manager of being involved in an incident. We need to address the perpetrators not round on those that are trying to do the right thing.
Invercauld Estate is part of the East Cairngorms Moorland Partnership and I genuinely do think that progress has started to be made across a wide range of subjects with the Estates involved and that engagement is the only way to try and find a long term approach to sustainable moorland management.
With funding and political backing from the Scottish Government, and support from Police Scotland, the Cairngorms National Park is also trialling a new approach to Special Constables. It has only just begun and of course cannot on its own change attitudes and approaches of people to wildlife crime. However, it is part of a wider approach which is set out in the National Park Partnership Plan which, in turn, contributes to the Scottish Government's work to stamp out wildlife crime.
As many readers will know, the Cabinet Secretary for Environment, Climate Change and Land Reform recently announced a package of further measures to tackle wildlife crime which included setting up an independently-led group to examine how to ensure that grouse shooting businesses are sustainable and comply with the law. The group is examining options for regulation, including the possibility of licensing grouse shooting businesses and is due to report to the Cabinet Secretary by Spring 2019.  The Scottish Government will then consider any recommendations made by the Group.
We will watch these developments with close interest, provide input where required and we stand ready to support whatever outcome is decided by the Scottish Government. What seems clear to me and to many of those with whom I discuss these issues is that every time a golden eagle, a white tailed eagle, a hen harrier or any other bird of prey goes missing in suspicious circumstances or is found poisoned as has been reported last week in Perthshire, the greater the pressure grows for regulation to be given very serious consideration.
Grant Moir
CEO, CNPA