Coronavirus/COVID-19 National Park Latest Information
The Scottish Government has confirmed the latest guidelines relating to the Coronavirus/COVID-19 restrictions and we urge everyone to continue to follow the rules to stay safe, protect others and save lives
The Cairngorms National Park Authority aims to provide you with the most important and up to date information, however as we work with many partners across the Park we recommend that you always plan ahead by visiting the relevant websites and social media of the places and locations you wish to visit beforehand to make sure that they are open and able to welcome you back. 
Can I travel to the Cairngorms National Park?
As of the 3rd of July, the Scottish Government removed the 5-mile travel restriction for outdoor leisure, recreation, and exercise. This means that you can travel to visit the National Park, but please plan ahead, understand guidelines to stay safe, be prepared to be flexible and change your plans, especially if you find your destination crowded and busy, and please be kind when visiting our communities.   
Latest Update
Visitors are now allowed to travel to the National Park – please plan ahead by checking with specific providers and estates which facilities they have opened to the general public.  
Most car parks across the Park are now open, however, we recommend you check ahead before you set off with the relevant estate or organisation to check on capacity and availability of parking spaces. You can also visit our web page on the general status of key car parks across the National Park.
Most public toilets are now open across the National Park, some are planning to open in the coming weeks. Please visit our web page on the status of public toilets in the National Park.
What's open in the Cairngorms National Park? (external link) 
Follow Cairngorms News on Twitter and Facebook to be kept up to date of the latest developments in the Park – click below:
Current Government Guidelines
The Scottish Government is continuing to implement Phase 3 of the transition out of lockdown.
As of Wednesday 23rd September, people must not make indoor social visits to other households unless they are in your extended household.  These rules also apply to children. Children whose parents do not live in the same household can move between homes, as can non-cohabiting couples. Very limited exemptions apply for childcare, and for tradespeople.
Overnight stays: These restrictions on visiting other households indoors will also extend to self-catering accommodation. This is not the case for all non-private dwellings: hotels, hostels, members clubs, boarding houses or bed and breakfasts.

You can stay in a 

campervan or caravan on a formal site

(if they are open) however, we ask that you do not park overnight in existing car parks and follow advice from CAMPA (website opens in a new window).

 

Public indoor spaces: A maximum of six people from two households can meet in public indoor spaces such as cafes, pubs and restaurants. Children under 12 from those two households do not count towards the limits. The tourism sector is now fully open as long as public health guidance is followed. If you are planning a visit, please plan ahead by booking accommodation and campsites in advance, checking ahead with activity providers, estates and cafes and restaurants that you plan to visit so you know what their latest advice on visiting is their opening hours and availability.
Cafes, restaurants, pubs and retail outlets are open with physical distancing in place. Please check before you go (website opens in new window) and remember face masks are mandatory in all shops and on public transport. It is essential that all public health guidance is followed on these premises.

Outdoor and indoor hospitality will be exempt from following the two-metre rule subject to the provision of clear guidance and signage for customers and strict hygiene measures. Libraries, museums, galleries and cinemas have reopened but tickets will have to be procured in advance and public health measures will have to be followed.
Outdoor spaces: A maximum of six people from two households can meet in outdoor spaces including private gardens and public outdoor spaces and you should limit as far as possible the total number of households you meet in a day.  Under-12s do not count towards the maximum number of households or the number of people who can meet outdoors. Under-12s do not have to physically distance. A maximum of six 12 to 17-year-olds can meet in outdoor spaces, with no household limit. Physical distancing is still required. Public gatherings are not permitted.
As of Friday 25th September, pubs, restaurants and all hospitality settings will be required to close at 10pm. Table service will continue to be required in all hospitality premises.
Travel restrictions have been lifted for leisure, recreation and exercise. Travel by walk, wheel and cycle where possible. You should only car share with members of your own, or extended, household, and follow guidance when there is no alternative.
Please continue to wash your hands regularly, maintain physical distancing, be aware of the symptoms of the virus, engage with the Test and Protect system and isolate if you have the virus or someone you have been in contact with has had it.
Visit the Scottish Government website for more detailed information.
Updated: 24.09.2020
Cairngorms National Park Information & Advice
Restriction easing by the Scottish Government has now entered Phase 3 in the transition to exiting lockdown. Safety is our first priority for the people who live and work in the National Park, COVID-19 has not gone away. You will now find that most car parks, toilets, facilities and businesses are open. Please plan ahead if you intend to visit areas within the Park, check websites in advance and take care when you travel.
Visit our Frequently Asked Questions section for more information on visiting the National Park.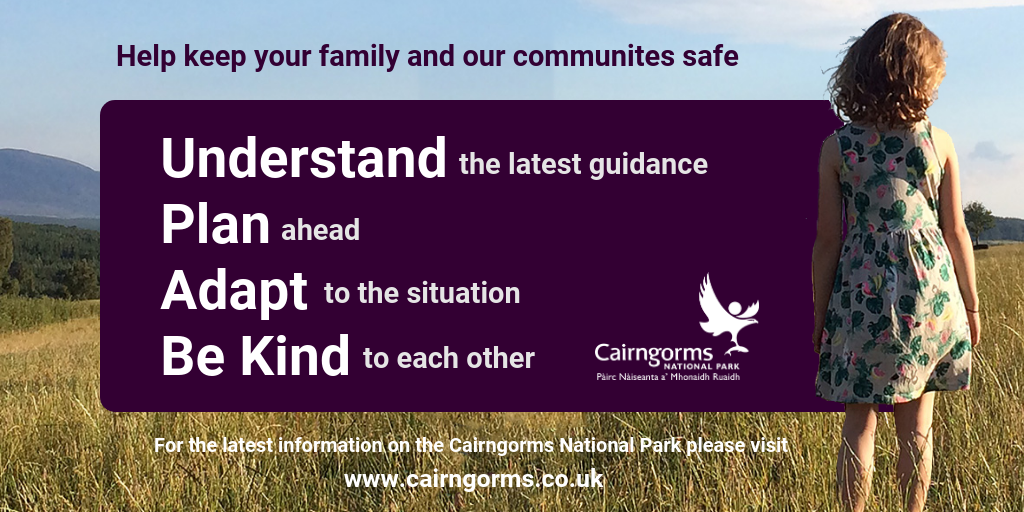 Be Prepared 
Check relevant websites for the areas or places you intend to visit for the latest information. Check your travel route for any disruptions. Take your rubbish home with you. 'Go before you go' – some public toilet facilities are opening but always be prepared for closures. Planning on visiting with your campervan or caravan please book ahead. Don't add to the busyness, if an area feels too busy then it is too busy, have a backup plan if you need to move on. Please do not light fires or BBQs in public outdoor areas at the present time. Be mindful of local residents and communities who live and work in the areas you are visiting, please be kind.
Travel
Before you travel, please consider the advice issued by Transport Scotland and remember, wearing a mask is mandatory on public transport. Consider walking or cycling, if you can. Plan your journey, and leave additional time due to temporary restrictions or changes to timetables. Pay for your journey in advance online if you can to reduce cash handling.
For road and travel updates we recommend you follow Transport Scotland on Twitter, Facebook or visit their website for traffic management updates.
///what3words – Emergency Location Information
Being the largest National Park in the UK, the Cairngorms is a vast wilderness that is easy to get lost in. Although we would always advise using a map and a pre-prepared route, the what3words system can help you in an emergency situation where you may need urgent assistance.
Once you have the app on your phone prior to your trip, if needed it will generate a totally unique three word pinpont location that can be passed on to the emergency services (this must be done by you).
what3words.com/how-to-use-the-what3words-app
Car parks across the Park are now starting to open. Please check with relevant websites before setting off or visit our web page on the general status of key car parks across the National Park here. We also advise you to check ahead with relevant websites as to the status of local car parks – there will be road signage indicating the capacities of car parks however ensure you have a backup plan if you cannot park safely. 
Tread Lightly in the Park
Please ensure you enjoy the outdoors responsibly and follow any on-site advice and adhere to the Scottish Outdoor Access Code. For more information please visit our Outdoor Access Advice page here.
What you can do in the Cairngorms National Park
There will be many places you will want to revisit in the Park now that restrictions have been eased. However, we would advise you that if you feel a location is too busy, it is too busy. Please be flexible and be prepared to move on and save that experience for another day.
Areas at and around Glenmore and Deeside have been popular. If you are considering visiting these places please plan ahead, be prepared to be flexible, and remember to keep your safety, that of your families, and our communities as a first priority.

There are many local community paths and trails to explore in the communities across the Cairngorms National Park – visit our Community Paths and Trails page to download maps.
Check out the VISIT CAIRNGORMS official website for more information on local businesses and activities.

National Park Facilities & Operations
With the additional easing of restrictions we recommend you check ahead with the specific businesses, areas, or places you plan to visit to ensure they are open and ready to receive visitors. Please visit;
Visitor Management Plans
The Visitor Management Plans for the Cairngorms National Park have been developed by the CNPA in partnership with Local Authorities, Police Scotland, Estates, CBP, VisitAberdeenshire, Angus Alive, SNH, FLS, CSML, RSPB and HIE. They have been shared with Community Councils and with other organisations as required for input and feedback. Communications, toilets, litter, car parking and 'boots on the ground' are all key issues the group is addressing to try and keep residents, employees and eventually visitors safe and able to have an enjoyable experience.
The Visitor Management Group meets weekly on a Wednesday to wash-up from the previous weekend and plan for the next weekend. The plans are changing every week, are still evolving and information is still being collated. They will be updated as we move through the lifting of COVID 19 restrictions phases and actions change.
Connect with nature virtually
If you cannot leave your home or travel to the Cairngorms National Park you can still connect to the Nature of the Park through our social media channels, eNewsletters, our Nature from your Home campaign and all the 10 BIG Days of Nature (at home) virtual events.
Like Cairngorms Nature on Facebook, Twitter and Instagram.
Volunteering

The advertisement of opportunities to volunteer with Volunteer Cairngorms has been resumed and we are supporting organisations who are able to safely resume volunteering. Please visit Volunteer Opportunities here for the latest opportunities and please sign up to the Volunteer Cairngorms newsletter to be kept updated of the latest news.
If you would like to contribute to volunteering efforts please visit Ready Scotland. Local community groups have organised COVID response groups to meet local requirements, please keep an eye on local social media channels and community websites for further details to volunteer or to obtain assistance. 
Local information about how to help can be found at: 
For the latest information on emergency funding and resources to help you, your organisation and your communities stay safe and healthy visit the Scottish Council for Voluntary Organisations Third Sector Information Hub.
Health Walks

Due to current concerns regarding Coronavirus/COVID-19 we have temporarily suspended Health Walks in our area. We will continue to review this situation and will update information as soon as there is a change. You can also visit Paths for All for information about Health Walks across Scotland, and how the current Coronavirus/COVID-19 situation is being managed: www.pathsforall.org.uk.

Businesses
For the latest government advice for businesses during this time please visit the Business Support page on the Scottish Government website. For guidance and advice for the tourism industry please go to Visit Scotland here. For updates from Highlands and Islands Enterprise on support for businesses and communities visit their Coronavirus (COVID-19) advice page. Scottish Enterprise is also providing information on business support on their website here.
Cairngorms Tourism Emergency Response Group (CTERG)
The group has been set up to provide consistent and comprehensive analysis of the implications of Covid-19 for tourism, to coordinate communications with the tourism industry, ensure close working between key agencies and the private sector, to gather, share, facilitate, interpret and disseminate information and agree relevant actions and delivery plans.
Membership consists of; Cairngorms Business Partnership, VisitAberdeenshire, MoraySpeyside, VisitScotland, Aberdeenshire Council, Highland Council, Highlands and Islands Enterprise and CNPA (Chair).
View details of CTERG meetings here
Land Management

Safe working guidance and a restart plan have been published for those involved in forestry and other outdoor work such as peatland restoration, wildlife and nature reserve management, ecological surveys and research. Links to related key documents are below:
The clear and underlying message from the Scottish Government and health professionals remains to stay at home and maintain social distancing unless you are involved in an essential activity.
Deer Management
Scottish Natural Heritage has published new guidance for the deer management sector:
There is a staged approach to the restart of deer management activity. Anyone required by contract or lease agreement undertaking deer management to protect forestry, agricultural and environmental objectives should follow the guidance Working safely during coronavirus (COVID-19) in forestry (FISA guidance)
Those stalking for recreational purposes can do so unaccompanied (or only in the presence of people from the same household). People should only travel short distances for outdoor leisure and exercise and are advised to stay within a short distance of their local community (broadly within 5 miles)
Please note that client stalking is not permitted at this time.
There is currently an extremely limited venison market, thus consider and plan how you will dispose of your carcase
It is essential to follow Scottish Government and Public Health guidance and manage risks by maintaining physical distancing, hand washing and sanitisation, as this is one of the most effective ways to suppress the spread of the virus.
The Scottish Government has said that businesses involved in food supply should remain open if possible, subject to being able to adhere to two requirements safe social distancing practice and normal health and safety requirements. Further updates will be available on the Scotland Food & Drink Coronavirus Information Hub.
Forestry
Scottish Forestry have issued a statement explaining their current priorities during the COVID 19 outbreak.
Forestry and Land Scotland have issued guidance on visiting our publically managed forests and updated 'frequently asked questions' documents for companies who hold commercial leases or provide goods, services or works to Forestry and Land Scotland. Confor is maintaining a useful COVID-19 information hub
Farming & crofting
Guidance for farmers and crofters to prevent the spread of coronavirus (COVID-19) has been published.
The Scottish Government guidance provides a summary of information, including:
How to support safe working on farms and crofts COVID-19
Hygiene measures
Farm and croft inspections
Keeping employees safe
Operating farm shops
Fieldwork/ecological surveys
Any activity that might, through accident or error, place additional pressure on any of the emergency services must be avoided. However, provided social distancing is maintained and any potential risks of harm can be managed, fieldwork such as habitat monitoring, bird surveys, Habitat Impact Assessments etc can now take place.
CNPA Planning Service
The CNPA planning service has continued to operate during the Covid-19 lockdown. Our website is operating as normal with access to Planning Committee agendas, papers and minutes as well as normal public access to the detail on planning applications. The CNPA offices remain closed and staff will not meet applicants or members of the public. CNPA planning staff can be contacted by phone and email. Planning Committee meetings will continue to be by video and teleconference between members. The meetings can be viewed on a live video stream with details of how to watch on the CNPA website.

The Planning Committee will continue to consider requests from applicants, supporters and objectors to present to the Planning Committee meeting.  For Planning Committee meetings in July, that can be done either by video call to the meeting with details provided by the CNPA planning service, or by providing a statement to be read to the Planning Committee by a CNPA officer.
The Planning Committee will not undertake site visits while the Covid-19 restrictions are in place. Decisions by the committee will be based on the information supplied with an application and presented to them in reports, representations and other presentations.
CNPA Staff Contact
The offices of the CNPA will remain closed to the general public. During this time, please do not phone the main office switchboard number (01479 873535) as this will not be answered.
Planning & Development Management and Outdoor Access are statutory functions for the CNPA and these teams can be contacted by email in the first instance:
Download COVID Graphics
We want to ensure we all communicate the same messages and ensure that our communities and landscapes stay safe and protected. Below are links to downloads you can use in your social media, website or print off and use around your community or at your business premises.
Latest News