Walking Trails
For hundreds of years paths have played an important part in the Parks rich heritage. Whether you are a walker, cyclist or horse rider there is so much choice from high mountains to wide straths, woods and water come and explore the Park at your own pace.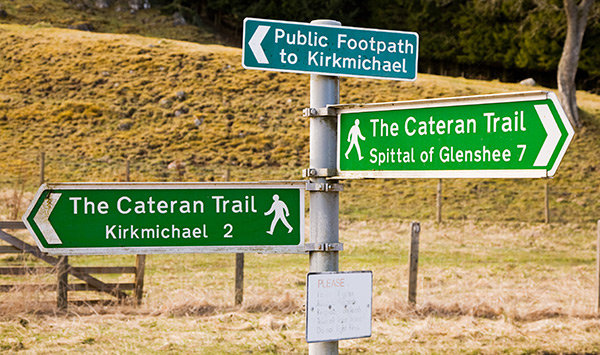 Which route to take?
In the Cairngorms National Park you are never far away from a great walking experience, nearly all the villages have a community path leaflet showcasing what's special locally. For those looking for longer routes the Speyside Way, the Deeside Way, the Cateran Trail and the Dava Way have stunning views and offer the chance to spend longer exploring the Park. Feeling the pull of the mountains? Then there are Munros and Corbetts providing that elusive wilderness experience.
Cattle, Coffins and Cut-throats
Old drove and coffin roads such as the Lairig an Laoigh and the Lairig Ghru cross the Park linking straths and communities. Thieves' roads crossed the Park too, like the Ladder Road which was used to spirit illicit whisky through the mountains and for cattle rustling. Controlling the paths meant controlling people and the old military roads and barracks at Ruthven and Corgarff testify to this occupation. Nowadays you are more likely to meet a walker, cyclist or a horse rider than an old drover or lonely soldier but even today paths play an important part in the Park. They link communities off the road and provide opportunities for visitors come to enjoy the outdoors.
Find out other things to do