Active Aviemore – natural health service on the doorstep!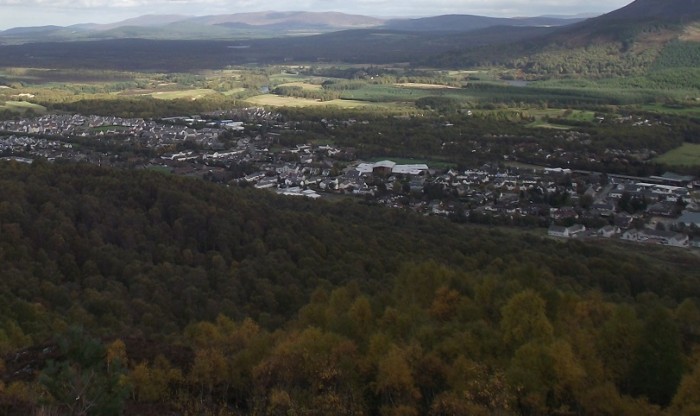 Active Aviemore is a new initiative aimed at making it as easy as possible for people to move about the town without the need for motorised transport, and ultimately contributing to an improvement in health and wellbeing.
A new £13.5 million community hospital to service the needs of Badenoch and Strathspey is due for completion by 2021. This investment provides an opportunity to improve the health and wellbeing of residents and visitors in Aviemore. Through improved vehicular and non-vehicular (e.g. walking and cycling) infrastructure the aim is to design an active community that not only promotes physical activity as part of normal daily life, but actively encourages everyone to enjoy the outdoors in Scotland's largest national park.
The project is being led by the Cairngorms National Park Authority in partnership with Aviemore and Vicinity Community Council, NHS Highland, HiTrans, Sustrans and The Highland Council.
''Being physically active and choosing to walk or cycle is one of the best ways to prevent or delay health problems in later life. New active travel facilities such as cycle paths, a better walking environment, green spaces, traffic management and signage will help deliver an active community that maximises the contribution of Scotland's outdoors to a healthier Scotland" explained David Clyne, the CNPA's Recreation & Access Manager.
The first phase of the project will be identifying the challenges faced by people moving around Aviemore, such as safe space for walkers and cyclists, street clutter, flow of traffic, path condition, lighting and so on. To get things started, the partners involved in Active Aviemore want to hear from members of the public what they think – what are the main issues for moving around Aviemore safely and freely?
There will be an opportunity to find out more and share your own ideas with the team at the Hub Aviemore as part of the Main Issues Report consultation on 30th January 2018 (drop in 6:00-7:30pm). Further Active Aviemore consultation events will be taking place throughout 2018.
John Grierson, Chair of Aviemore and Vicinity Community Council added: "It's been a long held community aspiration to improve the facilities for walking and cycling in Aviemore. We look forward to working with partners to identify a range of initiatives that will encourage residents and visitors to be more active."
Highland Council Convener, Cllr Bill Lobban (Badenoch & Strathspey Ward) said: "Highland Council is very supportive of this active travel project especially given our considerable experience with successful active travel projects in Inverness. Our officers supported the preparations of the tender for the public engagement study and will continue to push the project forward. Despite living and working in the real Outdoor Capital of the Highlands people don't necessarily spend their time outdoors keeping fit and healthy, however, by providing active travel opportunities we can help to improve the general health and wellbeing of our community."
Funding for the initial stages of the project, to help with consultation and options appraisals, is being supported by £40,000 of Community Links funding from Sustrans. Depending on the outcome of that, further funding will be applied for to develop final designs by March 2019.