All welcome at launch of 'Volunteer Cairngorms'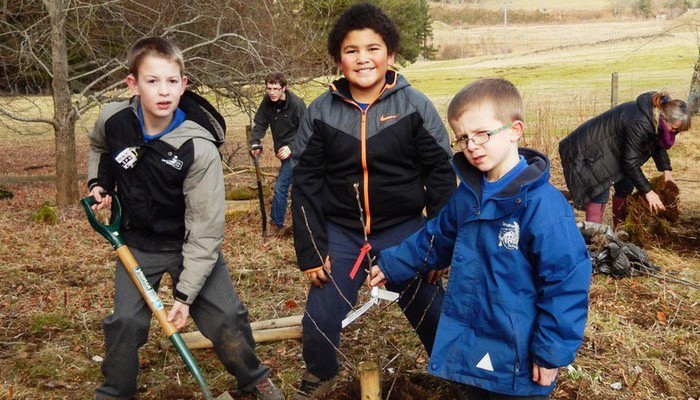 Do you love nature and the environment? Do you want to learn new skills, meet new people and make a real difference? Whether you have a few hours or a few days to spare there is an opportunity to volunteers in the Cairngorms National Park for you!
Interested? Then come along to the launch of 'Volunteer Cairngorms' later this month to find out more.
Following on from Volunteers Week (1-7 June), the Cairngorms National Park Authority (CNPA) is hosting a volunteer 'fair' over the weekend of the 17 – 18 June where would-be-volunteers can meet with organisations and groups who are looking for willing helpers whether that's to plant trees, carry out species surveys, look after local paths or help Park visitors as Volunteer Rangers.
Taking place in Boat of Garten (17 June) and in Braemar on Sunday (18 June), the morning in each location will be dedicated to hearing more about the opportunities to volunteer in the fantastic natural environment of the Cairngorms National Park. Potential volunteers will get to meet groups and organisations, hear about the new three year 'Volunteer Cairngorms' pilot project as well as have a chance to ask questions and find out more information to help them decide whether volunteering is for them.
In the afternoon there will be a chance to get hands-on and 'give it a go', taking part in some practical fun environmental volunteering activities. In Boat of Garten participants will be working with the RSPB Community Ranger taking care of paths and tracks in Deshar Woods, home to capercaillie and red squirrels. In Braemar, the activities will revolve around maintaining upland paths in partnership with the Braemar Outdoors Group and the Mountains & The People Project.
Also during the weekend, the CNPA will be launching a recruitment drive for its Cairngorms National Park Volunteer Ranger scheme. The Park Authority is looking for a first intake of up to six volunteer rangers and will be recruiting for additional volunteer rangers each year as the programme develops. Training will be provided and the CNPA is in the process of setting up partnership agreements with land managers and ranger services across the Park who are keen to have some extra help on board.
Mike Woolvin, the CNPA's Volunteer Coordinator explained: "There's always been lots of environmental volunteering opportunities across the Park and now we can support groups and organisations who are looking for extra help to reach as many potential volunteers as possible.
"Furthermore, we are able to work with one community each year to help them develop their own environmental volunteering group – and for the first time – there is the chance for volunteers to become Cairngorms National Park Volunteer Rangers. This is a great chance for people to share their love and knowledge of this special place.
"All being well we hope our Volunteer Rangers will be trained, equipped and ready to go towards the end of the summer. They will initially be supporting land managers by providing information to visitors, with potential opportunities to get involved in a broader range of activities over time depending on the needs of the land manager."
Brian Wood, Vice-Convener of the CNPA Board commented: "Volunteering is a great way to get out and enjoy the wonderful environment of the Cairngorms National Park while 'giving something back'. Studies have shown that volunteering in the outdoors is good for your physical and mental wellbeing. I am looking forward to the launch of 'Volunteer Cairngorms' and I think the benefits will be extremely positive."
Anyone with an interest in coming along to the launch of 'Volunteer Cairngorms' on the 17 and/or 18 June is asked to register so that organisers can ensure there are adequate refreshments available. People can do so by visiting the CNPA website. Environmental groups or organisations that would like to attend and meet with potential new volunteers should email: [email protected]
'Volunteer Cairngorms' is a three year project supported by the European funded LEADER programme, the Scottish Government, Scottish Rural Development Programme and the CNPA.