Cairngorms Nature BIG Weekend Arts Competition Shortlist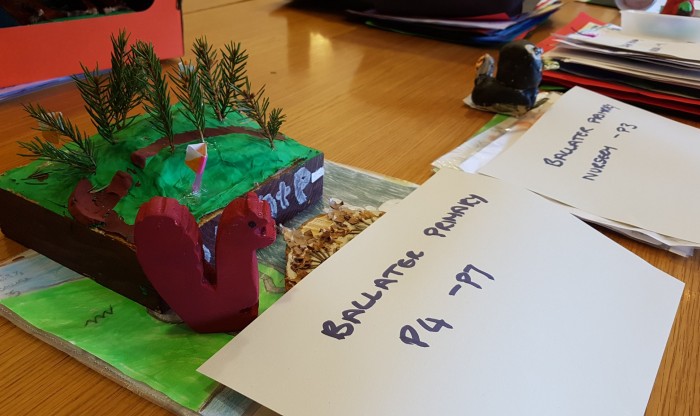 The Cairngorms Nature BIG Weekend aims to encourage more people to get out and enjoy nature. The School Art Competition helps raise awareness about the Park and encourages children to build a bond with nature and wildlife, and share what they love most about living in a National Park.
We received 241 entries from children across 18 schools, who were invited to paint, draw or model a piece of artwork showcasing their favourite thing about Nature in our woodlands – a favourite animal, bird, insect, place or activity.
There were three age categories: nursery to P3, P4 – P7 and high school.
Judging took place at the Cairngorms National Park Headquarters in Grantown on Spey on Tuesday 4th May, and all 241 entries were judged by Ann Vastano a Scottish Highland artist, Allan Bantick a local wildlife expert and Elspeth Grant Education & Inclusion Officer at CNPA.
The judges were asked to choose a shortlist of one entry per school, per age group, which they felt would best inspire people about the Cairngorms. The judges' selection will then be displayed at Banvie Hall, Blair Castle on Saturday 13th May and three overall winners – one per age group – will be selected by TV presenter and naturalist, Nick Baker.
Allan Bantick said: "After many years involved with wildlife conservation, I've discovered there are many different ways of connecting with wildlife, it doesn't matter whether it's in person or the television, or in meetings to do what you can, and art is very much a legitimate way of becoming inspired and inspiring other people. And for children to be doing this kind of thing in a competitive way, if it brings them closer to nature and they grow up with a sympathy for wildlife and nature then that can only be a good thing."
Ann Vastano commented: "It's great to see children so engaged with nature and the land that surrounds them which they've translated into wonderful and insightful works of art, the future is looking bright."
And Elspeth Grant reflected that "there's a huge amount of entries of all great standards and showing the huge breadth of biodiversity that you can find in the Cairngorms but also the breadth of talent that there is in the youngsters which is fantastic."
The 2017 Cairngorms Nature BIG Weekend Schools Art Competition Shortlist
Tomintoul Primary
Jessica McIntosh,
Amara Nairn,
Hunter Nairn.
Towie Primary
Jera Nicholson,
Karen Grey.
Logie Coldstone Primary
Pearl Murphy,
Alice Murphy.
Carrbridge Primary
Arada Leggat,
Ffion Townsend.
Deshar Primary
Reuben O'Kane.
Blair Atholl Primary
Liam Richardson,
Alex Hart.
Abernethy Primary
Summer Coleman,
Alice Kemsley.
Aviemore Primary
Ivy MacKay,
Rodrigo Gourteia.
Ballater Primary
Abbie Mundy,
Kate Parfitt.
Braemar Primary
Maddalena Sim,
Diamond McKay.
Crathie Primary
James Stewart,
Islay MacKenzie WIlson.
Glenlivet Primary
Grant Stronach,
Lucy Stronach.
Grantown Primary
James Waller,
Holly Corcoran.
Kingussie Primary
Darcy Humphreys,
Megan Birkby.
Newtonmore Primary
Rohin Whyte,
Finn Benbow.
Strathdon Primary
Beth Milburn,
Catriona Brown.
Gergask Primary
Cora Evans,
Louis.
Grantown Grammar School  – 3 entries were selected from the High School
Alisa Casaru,
Hamish Nott,
Calum Mackintosh.
All of the shortlisted children will receive a nature inspired prize and are invited to attend a talk by Nick Baker in Blair Atholl on Saturday 13 May.