Volunteering Opportunities
Find out the latest volunteering opportunities and get involved with nature and the environment with groups and organisations across the Cairngorms National Park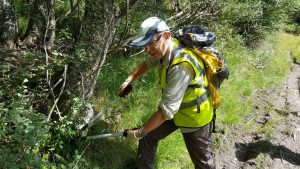 There are a wide range of opportunities to get involved with groups across the Park, from path maintenance to tree planting, to species surveying and more! Here are just a selection –  we're just beginning to pull together opportunities, so please keep checking back to see what new has been added and have a look at our Twitter account for the most up-to-date opportunities from across the Park!
There's something to suit everyone, whether you have a few hours, a day or more!
Just scroll through the list and click on an opportunity that interests you. For some, you will be able to sign up there and then, for others you will be redirected to the group's website.
View  opportunities to get involved below
Would you like opportunities with your organisation to appear here?
Any group or organisation that involves volunteers in the outdoors, in the Park, is welcome to list their opportunities here – we can even help with insurance, risk assessments and administrating the volunteer recruitment process if that would be helpful! Just drop us an email or give us a ring.