Outdoor Access Advice
Please help us look after the Park by leaving no trace and treading lightly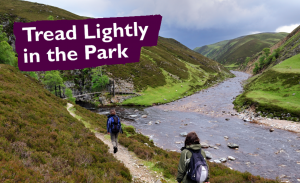 You can help keep the Park a special place by enjoying the outdoors responsibly. Please follow all on site signage, advice from rangers and the Scottish Outdoor Access Code.
We would ask you to keep your dog on a lead or close at heel around livestock and ground nesting birds, leave no litter, remove human and dog poo, and camp responsibly. Please check our camping advice and do not light open campfires anywhere in the Park, even in firepits.
Please ensure you enjoy the outdoors responsibly and follow any on-site advice and #TreadLightlyinthePark.
Find out how you can help look after the Cairngorms National Park by treading lightly.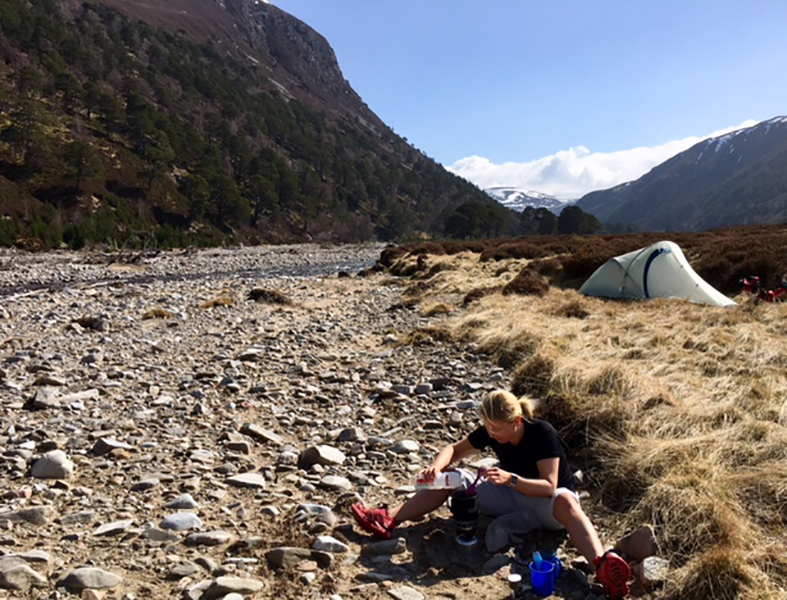 Camping and camp fires
Watch this short video for the best way to enjoy camping in the National Park.
Watch video on YouTube
Outdoor Access Advice - Your Questions Answered
This ensures we can protect the unique, rare, and often endangered bird species in the National Park who make their nests at ground level, rather than in trees. They can be easily disturbed by walkers and dogs roaming the woodlands and hilltops, resulting in adult birds abandoning their nests and putting vulnerable chicks at risk.
We ask that you keep your dog or dogs on a short lead or close to heel when enjoying a walk particularly between April and August in areas with ground-nesting birds or young livestock.
In woodlands with Capercaillie, on the high tops with Ptarmigan, follow all local signage and keep your dogs on a lead where requested.
On farmland during lambing season, please do not enter fields with young animals, and keep your dogs on the lead when near fields.
Please also ensure you clean up after your dog and put any waste in a bin, or take it away in more remote areas, always remove it off the paths.
Yes, you can wild camp in the National Park.
Please take into consideration the following to ensure you camp safely and responsibly;
Follow all local signage and any advice from Countryside Rangers.
Pitch your tent well away from cars, roads, buildings and paths.
Keep the numbers of your group small.
Don't stay in one spot for more than 2 nights.
Remove all traves of your tent pitch and any other litter.
If you plan on cooking, please do not light a campfire, the forests, woodlands, and peatlands of the Cairngorms are internationally important, and are at high risk of wildfire throughout the year.
You can help protect this special landscape by using a camping stove instead.
Please do not light campfires in the National Park, use a stove for cooking it is the best way to prevent wildfires and help us look after the Cairngorms National Parks woodlands, trees and peatlands.
Campfires in the wrong place such as on peaty ground or near trees can cause major damage and deadwood is a valuable habitat for rare insects.
Being able to have a campfire in the Park is rare as there are not many places where it is safe to do so.
Never light a fire anywhere when there is a high fire risk.
First things first, if you can, make sure you 'go' before you go. Please check which Public Toilets in the National Park are open and where your nearest ones are.
If you are away from public facilities, dig a hole and bury all waste, do this well away from buildings, well-used areas, and water.
Urinate at least 30 paces from lochs, rivers, and streams.
Always make sure you bag and bin toilet paper and sanitary items too.
You might also want to take some hand sanitiser and if you want to, there are a range of things you can buy to bring with you such as special outdoor poo packs (Dicky bags allow you to carry dog and human waste safely) or even portable toilets.
More advice via Mountaineering Scotland.
If you are visiting with your campervan or caravan and need to dispose of chemical waste and are not a resident at a camping or caravan park there are some sites in the Park that are willing to dispose of your waste for a fee, visit this page to find out which sites are open to non-residents for Chemical Disposal.
The Cairngorms National Park is a great place for getting outdoors but like the rest of Scotland, you should protect yourself from the tiny biting parasites known as ticks.
The four top tips for preventing a tick bite are;
Stick to paths and avoid long grass, bracken, and heather.
Cover exposed skin if you are walking through long grass, bracken, and heather.
Use a recommended insect repellent.
And most importantly check yourself for ticks at regular intervals.
For advice on removing ticks and the signs and symptoms of Lymes disease, the Highland Council has a useful guide linked here.
Access rights in Scotland do not include motor vehicles and there is no legal right to park beside a road overnight.
Visiting the Cairngorms National Park with your campervan or mobile home please;
Use managed caravan/campsites. To find the best site for your Visit Cairngorms has lots of ideas.
Follow the Highway Code and observe any local guidance, including specific requests not to park overnight in particular areas.
Follow the guidance in the Code on  parking, taking care not to block forest, estate, or farm entrances, and the guidance on litter and human waste Only empty chemical toilet waste in designed chemical waste areas.
For more advice The Campervan and Motorhome Professional Association (CAMPA) has great advice.
If you need to report an access issue or a path obstruction please email us:
In your email please include:
Your name and contact details
Date the problem occurred
The location, including OS grid reference
Any photographs
Description of the issue.  Please include – details of how your access rights were obstructed, the activity you were undertaking, where the path leads to and from or the feature visited and any other relevant information.