Camping in the Park
Please be respectful when you are in the Park and follow the Scottish Outdoor Access Code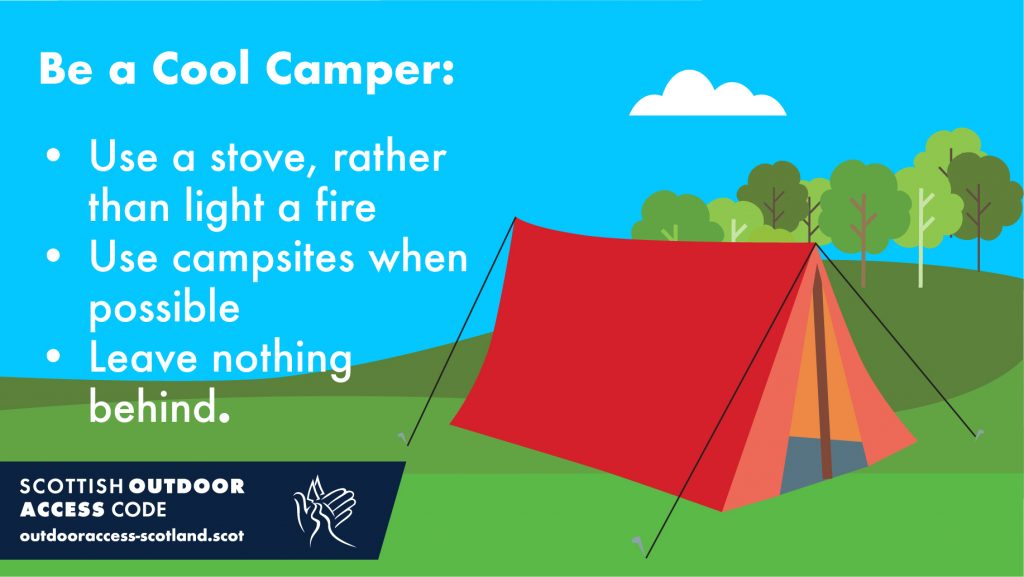 Important Information for Visitors
There are so many amazing camping experiences to be enjoyed throughout Scotland from established campsites, kitted out with all the facilities you need, to wild camping in some of our most beautiful rural areas. 
Use campsites when possible, to access appropriate facilities and have the best experience. 
When camping, be discreet, keep well away from buildings and roads, and don't stay in the same spot for more than two or three nights.  

 

Take away your belongings and litter. 

 

Be considerate of local people, wildlife and farm animals. 

 

If it is busy, try to find a quiet spot for yourself.

 

Avoid lighting fires when possible / Only light fires in designated areas or use a stove.

 
Camping means different things to different people, for some it's hiking off alone into the woods or up a Munro where few venture to wild camp, while for others, it's pitching up in a campsite or caravan park where there are acres of wilderness, but you can still use a toilet, shower, and kitchen.
Camping, and even glamping, has become popular recently as this type of accommodation adopts a more eco-friendly approach. In the Park, there is a wealth of options from camping pods to campsites hidden in the woods. Wild camping, which is lightweight, in small numbers, away from public roads and for one or two nights is legal in the Park however we do ask you "tread lightly" and have a read of the Scottish Outdoor Access Code.
For more tips, advice, and pointers on how to make the most of your camping experience in Scotland check out the Summer Camping Pocket Guide to Scotland.
Camp Sites
There is something for every kind of camper in the Park, from the large family-friendly sites such as Glenmore, Blair Atholl, and Dalraddy to Caravan Club sites which take tents if you book in advance.
To find the right campsite for you and your family check out Visit Cairngorms. Due to COVID-19 restrictions some campsites and caravan parks are not open at the present time – please ensure you check ahead first by visiting Visit Cairngorms or checking our page here and always book ahead.
If you are going wild camping "tread lightly":
Consider how your campsite may impact on local people and land managers, its best to keep away from enclosed fields of crops or farm animals and keep away from buildings, roads, and historic structures.
Camp in a small group and only stay in one spot for one or two nights.
Bear in mind local wildlife – take care and avoid disturbing wildlife such as deer, capercaillie, and grouse.
Wildfires are a real danger in the Park at all times of the year, please avoid lighting fires and never leave BBQ's unattended or on flammable surfaces such as peat. Please use a stove instead.
Take everything away with you, including all your litter, remove all traces of your tent pitch and cooking areas.
For more information download Nature Scots leaflet on Camping in Scotland.
Campfires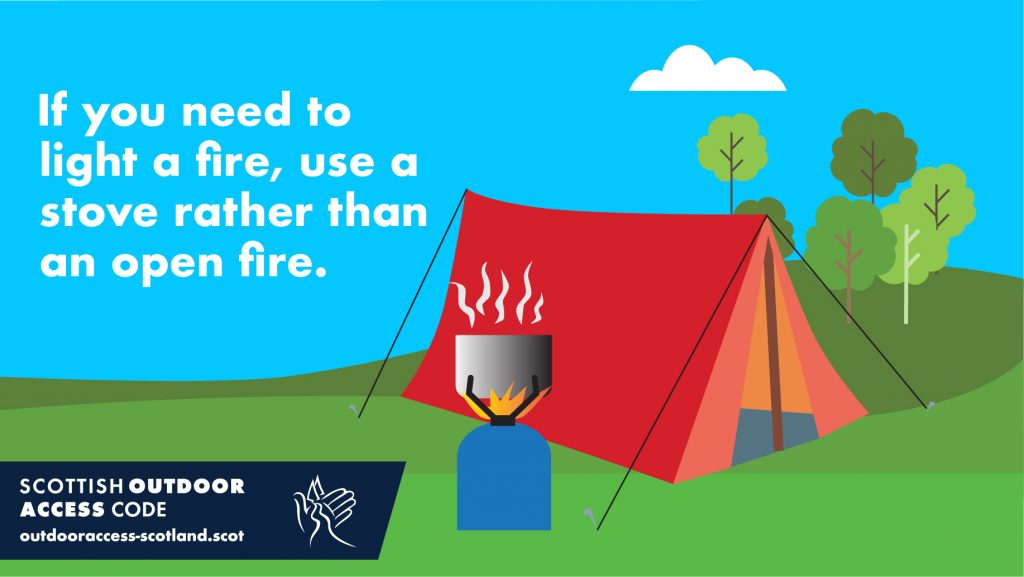 Please don't light campfires, use a stove for cooking it is the best way to prevent wildfires and help us look after the Cairngorms National Parks woodlands, trees and peatlands.
Campfires in the wrong place such as on peaty ground or near trees can cause major damage and deadwood is a valuable habitat for rare insects.
Being able to have a campfire in the Park is rare as there are not many places where it is safe to do so.
Never light a fire anywhere when there is a high fire risk.
What To Do When You Need to Poo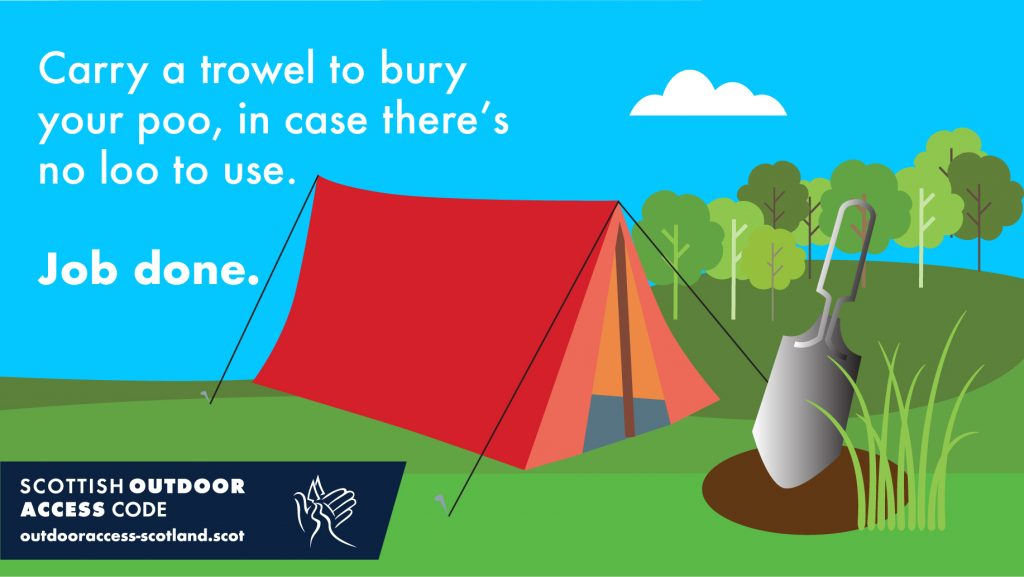 It may be the most natural thing in the world but that doesn't mean it's ok to 'dump' it anywhere.
Not only does poo look and smell pretty bad, but it can also be harmful to people and wildlife too. Make sure you know what to do when you need to poo in the great outdoors as outlined in the Scottish Outdoor Access Code.
First things first, if you can, make sure you 'go' before you go. Please check which Public Toilets in the National Park are open and where your nearest ones are.
If you do need to poo when you're out and about, there are two options:

It won't always be possible to bury your waste, for example, you might not be able to get 30m from water or buildings, or the ground might not be suitable for digging.
Think about where you're going to be and plan ahead for option two:

Always make sure you bag and bin toilet paper and sanitary items too.
You might also want to take some hand sanitiser and if you want to, there are a range of things you can buy to bring with you such as special outdoor poo packs (Dicky bags allow you to carry dog and human waste safely) or even portable toilets.
More advice via Mountaineering Scotland.
If you are visiting with your campervan or caravan and need to dispose of chemical waste and are not a resident at a camping or caravan park there are some sites in the Park that are willing to dispose of your waste for a fee, visit this page to find out which sites are open to non-residents for Chemical Disposal.