Camping, Caravans and Campervans
There are so many amazing camping experiences to be enjoyed throughout Scotland from established campsites, kitted out with all the facilities you need, to wild camping in some of our most beautiful rural areas.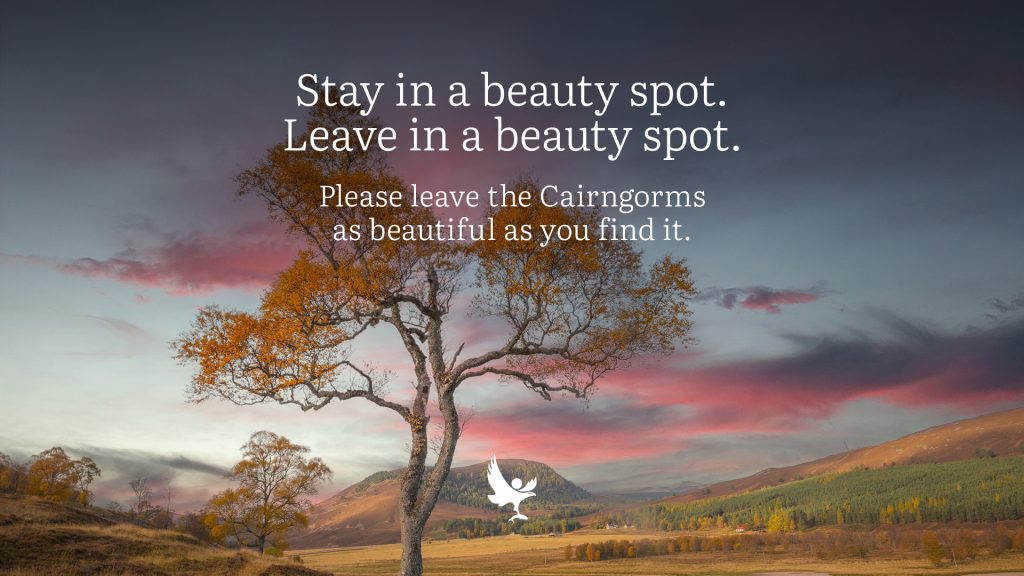 Camping means different things to different people, for some it's hiking off alone into the woods or up a Munro where few venture (wild camping) while for others, it's pitching up in a campsite or caravan park where there are acres of wilderness, but you can still use a toilet, shower, and kitchen.
Camping, and even glamping, has become popular recently as this type of accommodation adopts a more eco-friendly approach. In the Park, there is a wealth of options from camping pods to campsites hidden in the woods.
Please be respectful when camping in the Cairngorms National Park and always follow the Scottish Outdoor Access Code
Camp Sites
There is something for every kind of camper in the Park, from the large family-friendly sites to intimate quiet spots of the beaten track.  To find the right campsite for you and your family check out Visit Cairngorms guide to campsites. Its worth planning ahead and booking your campsite as sites get very busy all year round.
Campervans
If you are planning to park up overnight please read the Guide to Campervanning in the Cairngorms which has loads of information like fantastic caravan and camping site options, as well as parking spots, public toilets, waste disposal outlets, recycling points, fuel stations and much more.  There is an interactive map or you can download the Campervan map.
If you are visiting with your campervan or caravan and need to dispose of chemical waste and are not a resident at a camping or caravan park there are some sites in the Park that are willing to dispose of your waste for a fee.
Going wild
Wild camping is carrying all your kit in your rucksack (or on your bike, horse or canoe) and is usually a part of a journey or expedition.  It is done in small numbers and only for two or three nights in any one place. You may wild camp in the National Park if you do so responsibly.
Please ensure you take away all your litter, remove all traces of your tent pitch and do not cause any pollution.
If you plan on cooking, please do not light a campfire, the forests, woodlands, and peatlands of the Cairngorms are internationally important, and are at high risk of wildfire throughout the year.  You can help protect this special landscape by using a camping stove instead.
If you need more gear than you can carry on your back or bike, or you want to have a flushing toilet on hand – this is an indication that wild camping isn't for you and an official campsite will be a better option.
Campfires, barbecues and cooking
Please do not light campfires in the National Park.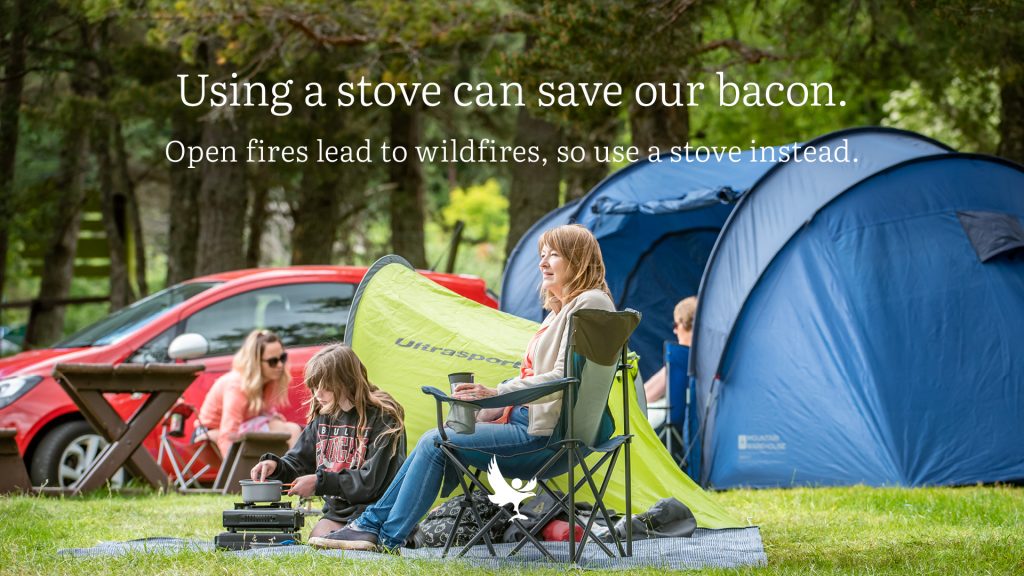 Campfires
Please do not light campfires in the National Park, using a stove for cooking is the best way to prevent wildfires and help us look after the special landscapes and wildlife of the Park.
The woodlands and peatlands of the Cairngorms can easily catch fire. One spark is all it takes to accidently start a wildfire which can cause major damage.  Fire spreads quickly, burning trees and vegetation and burning through peat in the ground.  Habitats are destroyed, wildlife killed and people's livelihoods impacted.
Read more about why we ask you not to light a campfire.
Barbecues
Ditch the disposable!  Single-use disposable barbecues are damaging to the environment, a high fire risk and can cause injury to people and wildlife when not disposed of properly. They regularly cause scorching to the ground and picnic tables. Please do not use disposable barbecues in the Cairngorms National Park.
If your perfect picnic requires a barbecue then plan ahead and bring your own portable barbecue and fuel from home. Please follow this guidance to barbecue safely:
At times of 'high fire risk' you should not use a barbecue.
Always follow advice from rangers and local on-site signage.  Note – some sites don't permit any barbecues.
Place on a solid, fire-resistant surface such as stones or sand.
Fully extinguish after cooking – do not add wood to make a campfire
Dispose of your cold ash in a bin or take it home.