Dulnain Bridge to Grantown 'active' route steps up a gear with funds for construction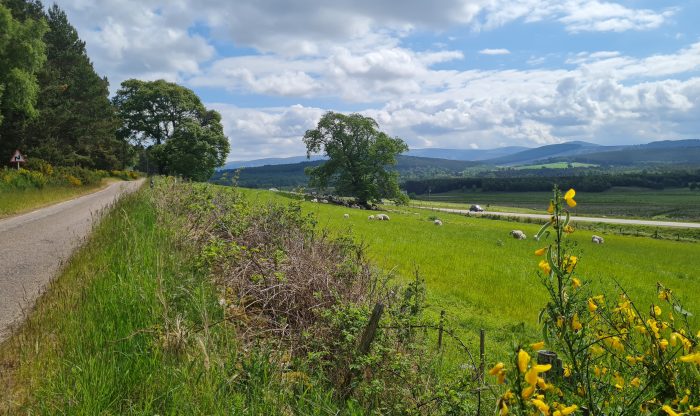 A funding award from Scottish Government means that work can begin on the construction of a safe off road route between Grantown-on-Spey and Dulnain Bridge after finance was secured from the Government's Active Travel Transformation Fund.
The Cairngorms National Park Authority applied to the fund on behalf of the Dulnain Bridge community, who – with support from Sustrans – have led the project to this crucial stage.
The news announced that £630,000 has been allocated, was welcomed by both communities. Further match funding is also coming from the planning gain process associated with the construction of The Cairn Distillery.
The new route will include sections of old road as well as purpose built sections, allowing people to actively travel between Grantown-on-Spey and Dulnain Bridge, rather than having to use the busy A95 trunk road. There will also be a dedicated crossing for people to access the distillery safely.
Nigel Williams of the Dulnain Bridge Community Development Trust said: "We began the project in 2018 and with the support of our community, Sustrans, the Cairn Distillery, landowners, the Park Authority, and our consultants AECOM we have brought the project through to the construction phase. We are delighted that the Cairngorms National Park Authority made this successful bid to Transport Scotland on our behalf and that they will manage the final phases of the project.
"It is going to have a significant impact on the residents of the village giving us our first link to another community without having to travel on the A95 or A938."
Grant Moir, Chief Executive of the Cairngorms National Park Authority said: "We are delighted to secure funding for the construction of this key safe route for residents and visitors. How people move about the Park – as well as how they get here – is a key focus with the aim being to see increasing numbers of people switching to sustainable forms of transport and active travel, but they will only do so if it's safe and easy.
"The development of this route between Grantown-on-Spey and Dulnain Bridge is much needed and is an integral part of a wider ambition for a network that gives safer connections between all the communities in the Aviemore – Carrbridge – Grantown triangle. It is a great example of the type of projects we want to deliver during the 'Heritage Horizons: Cairngorms 2030' programme."
Park Authority Board member, John Kirk commented: "It's fantastic that this safe route between Grantown and Dulnain can finally get underway, It is really important to both communities that this will be delivered."