In the Park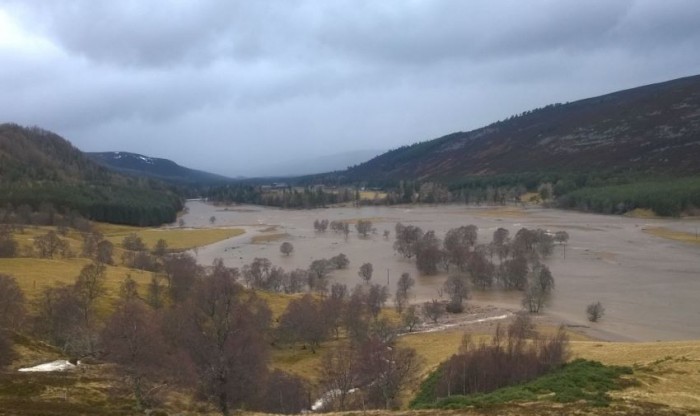 Brian J Wood – Deputy Convener CNPA
The UK Met Office's decision to attribute a name to each major storm which strikes our shores is not meeting with universal enthusiasm in our family. I have three older brothers and one, coincidentally, is called Frank. He has spent most of his life living and working in Cheshire and enjoys his regular trips up to Deeside and to Braemar in particular. While here he gets involved in whatever is happening in the community and has got to know a lot of local people. I'm often asked when he's coming back again.
Storm Frank wreaked havoc on Deeside for days with hundreds of houses in Ballater under water and all communication to and from Braemar was brought down. The A93 was washed away at Micras and the badly damaged bridge at Invercauld was closed for two weeks.  A herculean effort was undertaken to save the 16th century Abergeldie Castle, which was left standing less than a metre from the river's edge. Two of the world famous Harper suspension bridges spanning the Dee at Abergeldie and Cambus o' May were severely damaged. The A93 south was flooded at Dalrulzian and Braemar was completely cut off for spells.
But what has been more impressive than any of the forces unleashed by nature has been the way in which the local communities have rallied and people have turned out to support one another. Almost spontaneously teams of local residents arrived to clear the flood damage from the filling station. In Braemar others came to help a resident whose basement had been invaded by the River Clunie. Communication networks became established to make sure that all the elderly and those living alone were being supported. Soup kitchens and food distribution points were set up and unofficial postal delivery services materialised. Once the internet was reconnected all sorts of ingenious offers of help appeared to get around physical obstructions and ensure that people could get essential supplies.
Meanwhile the more official forces had swung into action. Emergency satellite communication systems were put in place and contractors arrived to assess the extent of the damage and make plans for short and long term remedies. Working in atrocious conditions they battled to reconnect services and ensure that the devastating effects of the storm were minimised.
In the National Park we talk about promoting sustainability in our communities particularly in terms of economic and social development. Over the last month we have seen our communities demonstrate their own kind of sustainability. One which comes from a determination to survive in the face of whatever adversity is thrown at them.
But I'm sorry Big Brother! It will be a long time before the folk of Braemar and Ballater hear the words "Frank is coming back next week" without a shiver running down their spines.