It's up to you – vote for your favourite!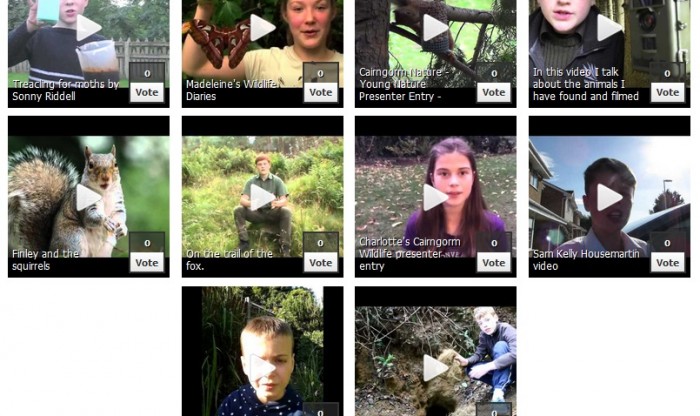 The finalists have been selected for the Cairngorms Nature Young Presenter Competition and now it's up to the public to choose the winner.
Cairngorms Nature and the RSPB are looking for a child who is passionate about nature and can inspire others. All summer 10-16 year olds from across the UK have been filming themselves as nature presenters and sending the videos in.
The final shortlist was originally going to be eight, but there was a three-way tie for the final place. The entries were so fantastic that the judges did not want to eliminate two and instead decided to expand the final shortlist to ten.
The final ten videos are now online and the winner will be decided by a public vote.
There is a very special prize on offer as the winner will get the chance to spend a day being filmed with BBC nature presenter Iolo Williams, here in the Cairngorms National Park as part of an amazing 5-day Speyside Wildlife holiday for them and their family!
The quality and diversity of the entries has been overwhelming, they have been filmed from Scotland to the Scilly Isles and England to Uganda. Subjects have ranged from moon jellyfish to bee orchids, with presenters on land, up trees, and even underwater!
Iolo Williams was one of the judges, he said, "I've been very impressed with the standard of the entries for the Cairngorms Young Presenter competition. So many of the youngsters showed a deep understanding of their subject and their natural enthusiasm came over very well on camera. In fact, some of the entrants were so good that I'm already looking for my P45!"
Grant Moir CEO at the Cairngorms National Park Authority (CNPA) added, "We are delighted that so many young people took up the challenge and entered the competition, I look forward to seeing who the public choose as the winner. We need to inspire and engage the next generation because we have some incredible nature in the Cairngorms National Park and its future is in their hands."
Stuart Benn from RSPB Scotland, said: "The entries to the competition have been outstanding, it's been a tough job to choose the final shortlist. We need a winner who can help us inspire the next generation about nature conservation and the public will now be able to choose the person they feel would do just that."