Make-over for historic hotel in Cairngorms National Park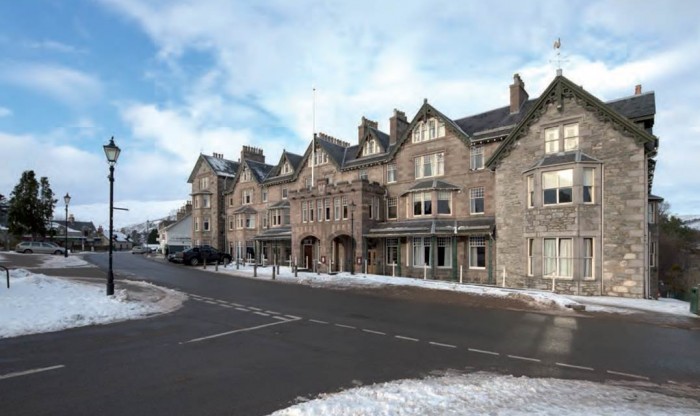 Braemar's Fife Arms Hotel is set to undergo a major upgrade having secured planning permission from the Cairngorms National Park Authority (CNPA).
The Fife Arms Hotel has been a prominent feature in the village of Braemar since it was built by the Duke of Fife in the late 19th century. The building represents the expansion of the tourist trade in Deeside in the wake of Queen Victoria's purchase of Balmoral and the coming of the railway to the area.
The re-modelling and refurbishment of the Fife Arms by owners Highlands Hospitality Ltd (HHL) will ensure the B-listed building is preserved and enhanced and that this well-established local asset continues to make a major contribution to the Deeside and Cairngorms National Park economy.
Among the work to be carried out during the refurbishment of the hotel include major internal and external alterations, the demolition of 20th century extensions and the addition of a heather roofed courtyard.
Meeting today in Ballater (Friday 19 February), Park Authority planning committee members agreed wholeheartedly with the planning officer's recommendation to approve the application.
Planning committee convener, Eleanor Mackintosh said: "The owners of the Fife Arms are to be congratulated – I am delighted to see this application before us and welcome the significant investment being made which will have a very positive impact on Braemar and will enhance the tourism offering in the National Park."
Edward Workman, CEO of HHL said: "This is an exciting moment for Highlands Hospitality, The Fife Arms and the village of Braemar. The much needed renovations will start immediately and we have confidence that the transformation of this beautiful and historic hotel will bring huge benefit and opportunity to the local community, attract visitors from all over the world, and safeguard the Grade-B listed building for future generations."
Federica Bertolini, General Manager of HHL commented: "Braemar and the surrounding area are bursting with hospitality talent. Scots are warm and welcoming, it is in their genes. I cannot wait to see how the hotel will once again become a focal point in the village and a catalyst for what is already an incredibly active community, full of plans and ideas. It will also offer many young people a real opportunity to live and work in this area."
It is expected that the new look Fife Arms will re-open in early 2018
To read the planning papers in full, please visit the CNPA website https://cairngorms.co.uk/meeting/planning-2016-02-19/
Ends.