Volunteer walk leaders go the extra mile!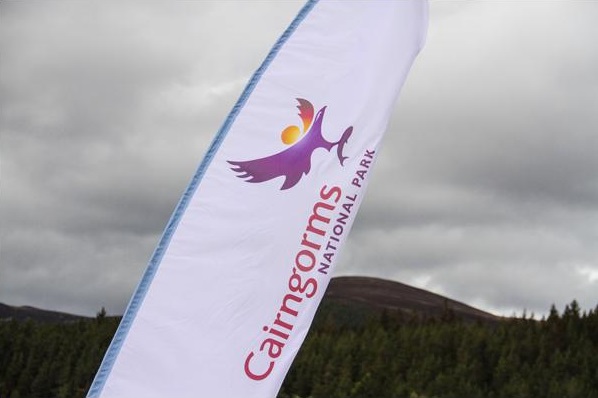 Volunteer walk leaders in the Cairngorms National Park have clocked up more than 50,000 hours over the past 12 years – and in doing so – have helped improve the physical and mental health of those taking part.
From just three Walking to Health groups in 2004, the project has grown to 34 groups operating in and around the Cairngorms National Park delivering 5,500 hours worth of health walks annually.
A special day of training, networking and celebration was held at Glenmore Lodge today (Tuesday 26th April) to say 'thank you' to all those willing volunteers who have been part of the Cairngorms Walking to Health project. Of the 80 volunteers, 40 of them were able to attend the event with keynote speaker, mountaineer, author and broadcaster Cameron McNeish. He stressed the importance and value of volunteers in helping people to access the outdoors with confidence, with a view to improving their health and wellbeing.
He said: "Every hour that a volunteer offers can be measured in increased awareness, more confidence and greater health benefits for all those who join a Walk to Health group. In addition all those who join a group are re-connected to the natural world, something that can make a massive difference to everyone. I hugely appreciate the opportunity I've been given to come to Glenmore Lodge and thank the volunteers personally."
Physical inactivity is the second biggest cause of mortality in Scotland every year leading to 2,500 premature deaths. Increasing physical activity by just 30 minutes walking a day is enough to make a significant difference to a person's health. It is medically proven that people who do regular physical activity have a 30 per cent lower risk of early death and a huge reduction in the probability of getting many other diseases such as heart disease, certain types of cancer and type 2 diabetes.
Over 300 people are taking part in health walks every week around the Park. The walks are designed to be short and safe with benefits for everyone but especially those with heart disease, high blood pressure, cancer, dementia, diabetes, those suffering from depression or people who want to lose weight.
Experienced walk leader Gill Cook has been delivering a weekly health walk in the Strathdon area since the group started in 2008. She said: "I have enjoyed encouraging others to enjoy walking for health. I have noticed that some people worry that they will not be able to keep up. However they soon realise that the walks are planned according to those present and are achievable. The confidence of the walkers grows each week as they really enjoy having companions to walk with. The social side of the walks is very important. I have learned a lot of local history from the walkers and enjoy showing visitors to the area different routes."
The Cairngorms Walking to Health Project, previously run by the Cairngorms Outdoor Access Trust (COAT), is now coordinated by the Park Authority, which last year launched Active Cairngorms. This is a physical activity and outdoor recreation strategy which aims to encourage as many people as possible to use the Park for physical activity at least once a day and the expansion of the Walking to Health project – with two new groups about to start – is key to delivering this.
Amanda Burstow is a newly trained walk leader for Tomintoul and Glenlivet. She explained why she was keen to get involved: "I have always loved walking and getting outdoors and was aware of the personal mental and physical benefits of walking. When the recent opportunity to become a walk leader was created I wanted to volunteer to help others in my community experience this. Something as simple as stepping out from your front door and going for a walk has such huge benefits for your wellbeing. The health walk group is essential in giving local people the confidence that they are not alone. The support and encouragement they get from each other has given them such a boost."
Also at today's celebration was CNPA Chief Executive Grant Moir, a keen walker himself. He commented: "The Park Authority would like to sincerely thank all those volunteers past and present who have given up their time, not just to lead a walk, but also all the time required to attend training and in planning the weekly outings. The dedication of every individual is fully appreciated.
"The National Park with its wonderful natural environment is a great place for people to enjoy the outdoors and you need only change one thing, like walking or cycling to work instead of driving. The Walking to Health Project is an outstanding example of how a partnership between a number of organisations and dedicated volunteers can deliver very real benefits to people."
Helen Wilson from Paths For All – one of the project's main partners since 2004 – was there to award certificates to all the volunteers. She said: "Volunteers play an important role in delivering physical activity opportunities across Scotland. Recognising and celebrating their contribution towards a healthier Scotland is really important. I am therefore delighted to be part of today's event to thank such committed people who are helping others to live happier and healthier lives. The energy and commitment of these volunteers is truly inspiring.  I wish the project every success with its continued development of Health Walks in and around the Cairngorms National Park."
Funding for the Cairngorms Walking to Health project comes from the Scottish Government via Legacy 2014 funding, Scottish Natural Heritage, NHS Grampian, NHS Highland, Paths for All and the CNPA.
ENDS.