Winning designs in Cairngorms National Park showcased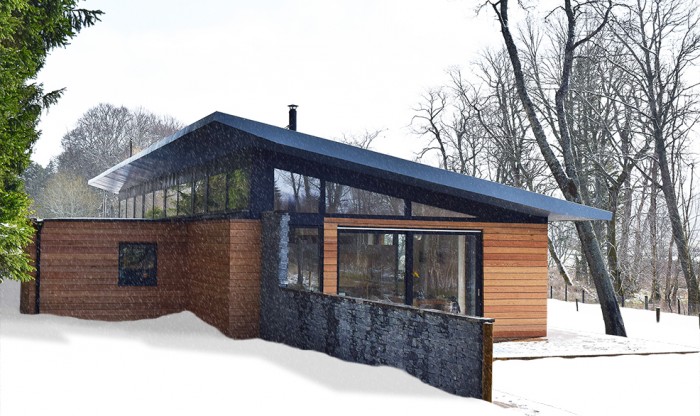 The winners of the 2016 Cairngorms National Park Design Awards were announced last night (14 November) at a special event in the Boat of Garten Community Hall.
The overall winner this year is a new build property – Strathdon House – by Brown + Brown Architects, with the overall runner up being an extension to a residential property – Tigh an Uillt in Nethybridge – entered by Sean and Lara Langmuir. The judges favoured Strathdon House because of its compelling, simple design and described the extension to Tigh an Uillt as a 'lovingly created elegant space'.
However, it wasn't just residential properties that were the centre of attention with Corndavon Bridge over the River Gairn in Deeside winning the Infrastructure category and Am Fasgadh, Newtonmore – which houses the main collection of the Highland Folk Museum – winning in the Place-Making category, which judges considered to be simple, restrained and well thought out.
Andrew Wright OBE, one of the judges tasked with the deciding on the winners said: "We were impressed with the high quality of the entries across the categories, and the enthusiasm of those who had prepared them.
"Arriving at decisions as to which of the projects merited awards was challenging, and at the end of the exercise we were left with the firm impression that design standards were rising within the boundaries of the National Park and that the awards scheme had been successful in promoting the value of good design – not only to those who benefited from it directly, but to the wider community."
Celebrating Scotland's Year of Innovation, Architecture and Design, the 2016 Cairngorms National Park Design Awards aimed to recognise exceptional standards of design and craftsmanship in the Park.
The results in full are:
Residential New Build: Winner – Strathdon House
Commendations – Tigh Beag, Nethybridge.
Residential Extensions & Refurbishments: Winner – Tigh an Uillt, Nethy Bridge.
Commendations – Coldrach, Crathie and the Former Schoolhouse at Braemar.
Commercial: Winner – Russwood Offices, Newtonmore
Commendations: Cromdale Station and Invertromie Steading at Kingussie.
Infrastructure: Winner – Corndavon Bridge, in Deeside.
Commendations: Kingussie Community Hydro.
Place-Making: Winner – Am Fasgadh at the Highland Folk Museum, Newtonmore
Commendations: Milton Burn housing development in Aviemore and the Glenlivet Bike Trails as well as a special group commendation for Corrour Bothy, Bob Scott's Bothy and the Hutchison Memorial Hut.