Issue 2: Deer & Moorland Management
Neil Mcintyre
ISSUES
Changing trends in land management, eg in some places a shift from sporting deer forest to habitat management, in other places increased intensity of management for grouse;
Impacts of deer and grouse management in delivering woodland expansion and peatland restoration;
A wider public interest remit for deer management groups and planning now in place;
Restoring areas of peat in poor condition to improve ecosystem function and mitigate climate change;
Raptor persecution and underlying conflicts between raptor conservation and the impacts of muirburn;
Ensuring land management activities, eg muirburn and fencing does not adversely impact on landscape and recreation value; and
Need to meet Climate Change (Scotland) Act 2009 woodland expansion targets.
Peter Cairns/2020VISION/CNPA
Areas with an average peat depth in excess of one metre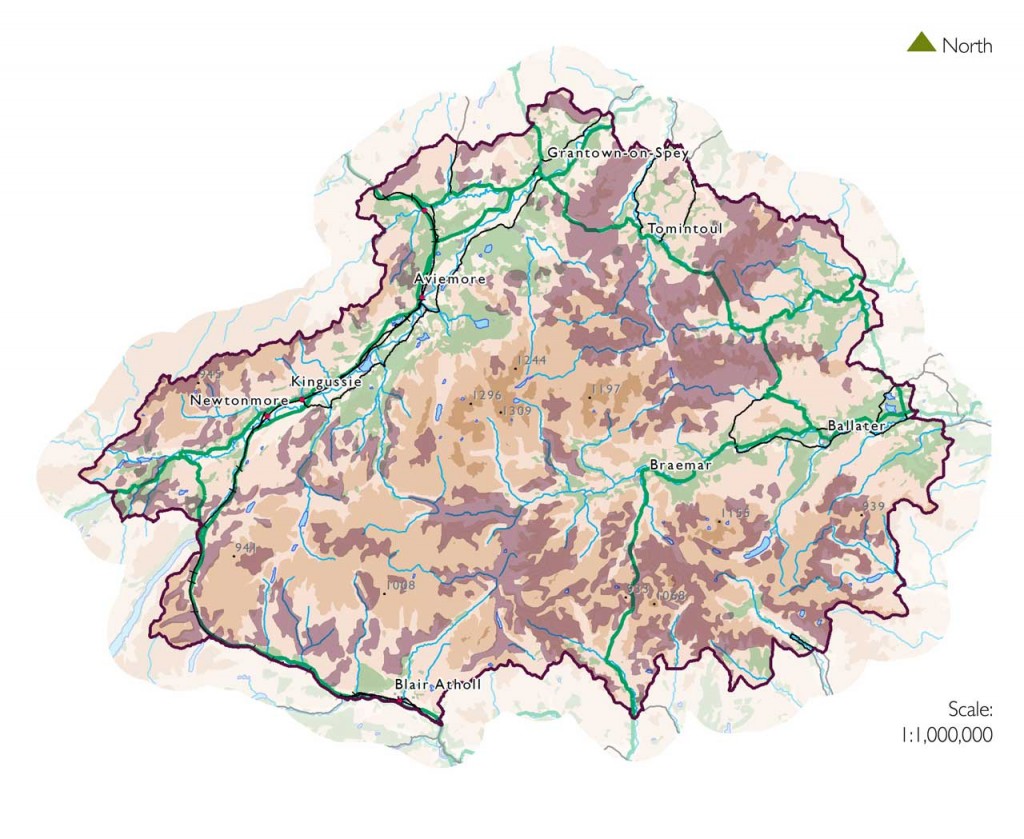 TARGETS / PREFERRED DIRECTION
Continue to improve and enhance the quality of moorland and montane habitats, particularly those in unfavourable condition;
Manage deer numbers and muirburn to enable habitat enhancement;
Improve the integration of grouse moor and sporting deer management with wider habitat and species diversity;
Improve raptor population conservation;
Expand peatland restoration projects; and
Meet Climate Change (Scotland) Act 2009 woodland expansion targets and reduce greenhouse gas emissions.

Heather moorland areas within the Cairngorms National Park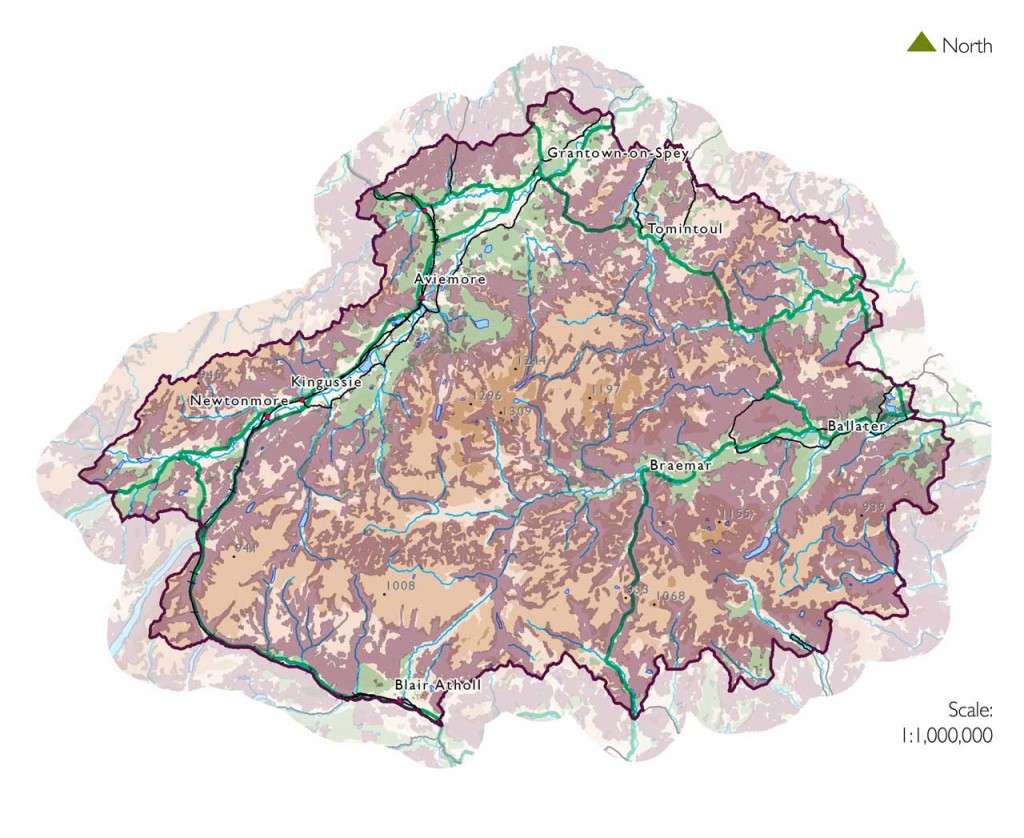 MECHANISMS FOR DELIVERY
Collaboration across land holdings
Deer management groups and plans
Cairngorms Nature
The East Cairngorms Moorland Partnership
Catchment partnerships
Designated site management
National legislation including the Land Reform (Scotland) Act 2003, Climate Change (Scotland) Act 2009 and the Wildlife and Natural Environment (Scotland) Act 2011
Neil McIntyre
Deer density polygons of 1km2 based on results from deer counts, 2000-2010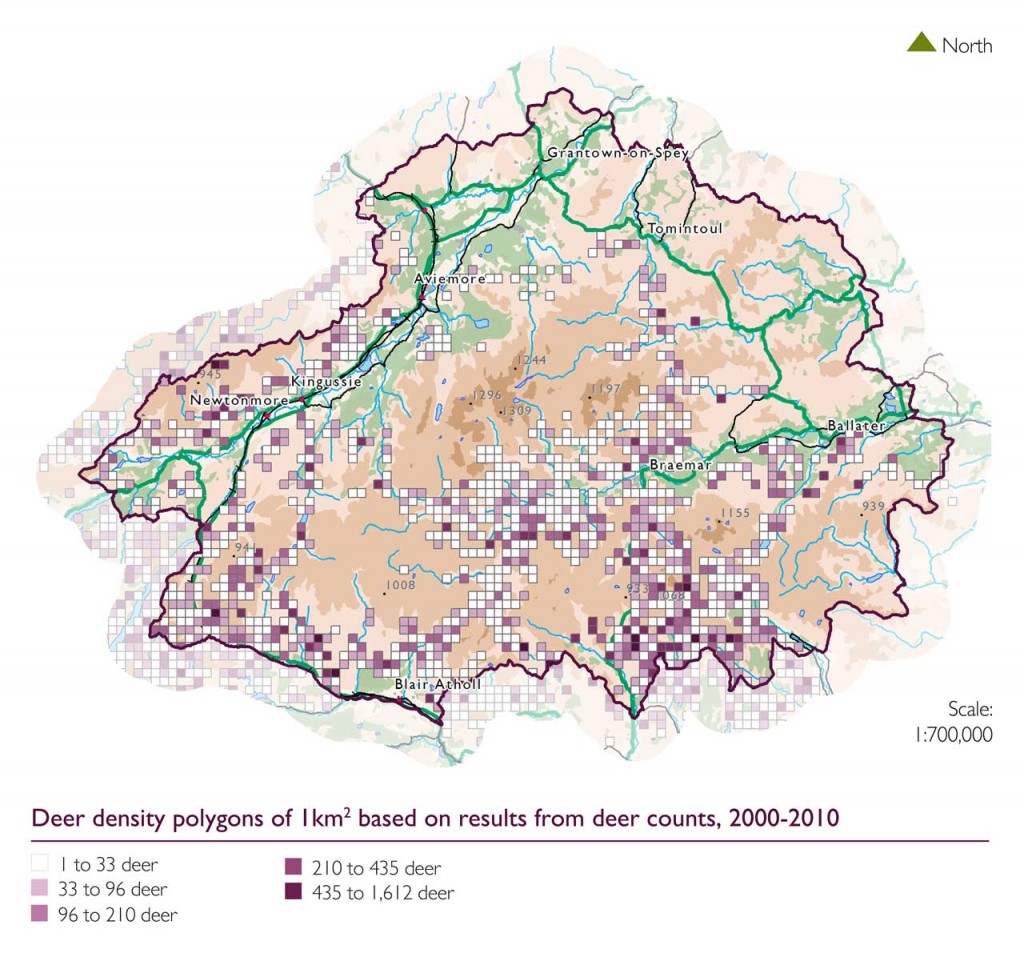 Reproduced by permission of Ordnance Survey on behalf of HMSO. © Crown copyright and database right 2016. All rights reserved. Ordnance Survey Licence number 100040965 Cairngorms National Park Authority. © Forestry Commission Scotland. © Scottish Natural Heritage. © James Hutton Institute. © Soil Survey Scotland.
ISSUE 2 | KEY QUESTIONS
Should the Park Partnership Plan set guidance on the appropriate range of deer densities necessary to deliver the public interest?

How can management for grouse be better integrated with wider habitat and species enhancement objectives such as woodland expansion, peatland restoration and raptor conservation?
Explore the other big issues