Equality Advisory Panel
The Cairngorms National Park Authority (CNPA) is fully committed to improving equality, accessibility and inclusion in all areas of its work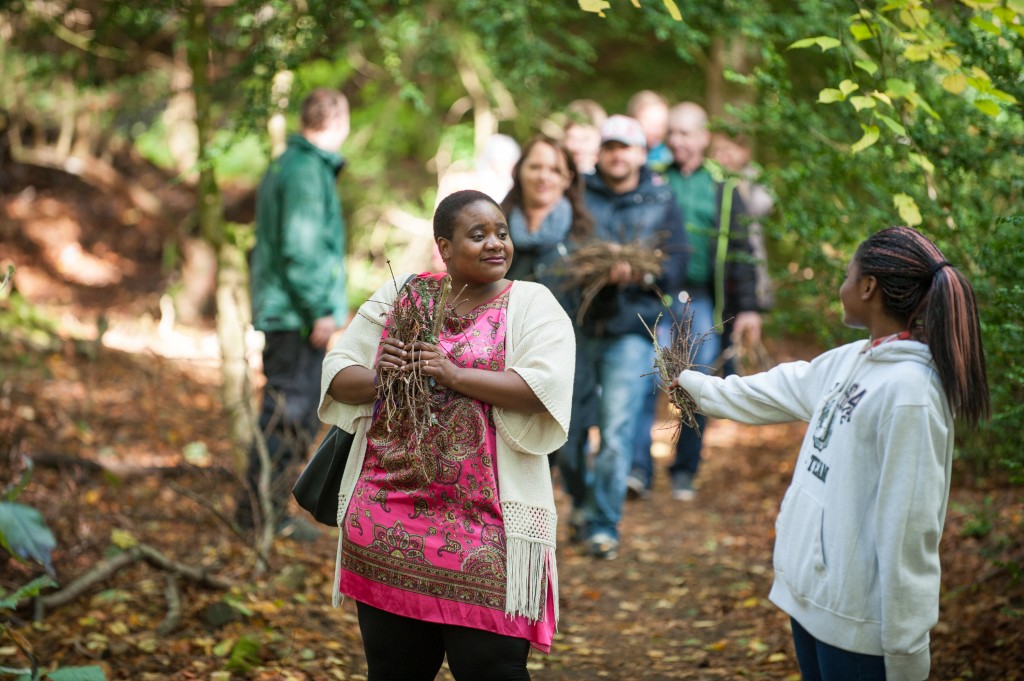 A Park For All
In September 2020, the CNPA established its Equality Advisory Panel. Its aim is to provide informed, evidence-based feedback, guidance and advice to support the CNPA to:
ensure statutory public sector equality duties are delivered in accordance with The Equality Act 2010 (and other relevant equality legislation);
embed Equality and Inclusion in their strategies and corporate processes;
critically assess and appropriately mitigate the impact of CNPA decisions on equality groups through robust equality impact assessment procedures;
ensure best practice in equality and inclusion approaches to their work;
promote equality and inclusion work of CNPA and partners within the park.
Equality Advisory Panel Meetings
You can view upcoming dates and details of previous meetings here
Equality Advisory Panel Members
Fiona McLean – Chair
Fiona McLean is a board member of the CNPA and the board champion for equalities. Previously, Fiona was a Professor of Cultural Heritage Management, where her research focussed on the role of museums in ameliorating social exclusion. As well as the CNPA, Fiona is a Non-Executive Director for a number of other organisations, including the Crown Office and Procurator Fiscal Service, which has worked tirelessly over recent years to mainstream equalities. As the Vice-Chair of the University of the Highlands and Islands, Fiona chaired a working group which sought to increase diversity in the board rooms of UHI and its thirteen partner colleges. As a Non-Executive Director with Historic Environment Scotland, Fiona chairs the Staff Governance Committee, which takes a particular interest in equalities. Fiona has also developed an insight into autism, and is keenly aware of the impact a lack of understanding can have on an individual and their family.
Vanessa Altweck
I am an EU national living in the south of Glasgow. Having lived in multiple countries internationally and growing up polylingual, I have now lived in Scotland for almost 8 years. My time exploring Scotland with visiting family and regularly driving to Inverness to visit my partner has given me the opportunity to take in the sights and fall in love with the great natural wonders of the Highlands.
I have a First Class Master of Arts in Politics and International Relations from Aberdeen University with a focus on International Law, Middle Eastern Politics and Peace Studies. My choice of study was heavily informed by my experiences growing up in a household of development aid workers in politically turbulent international communities.
I am currently a support worker at Cornerstone Community Care, with 3 years' experience in the care sector giving me an in-depth understanding of supporting individuals with complex additional support needs. Additionally, I tutor languages and volunteer with refugees in the Glasgow community.
In my personal time, I enjoy taking walks in local parks, studying medical herbalism and botany and enjoying the company of my two cats, Millie and Rascal.
Linda Bamford
Linda's career background is in NHS Scotland, initially as a psychiatric and general nurse before moving into para medicine with the Scottish Ambulance Service.  After 13 years as a frontline paramedic in Glasgow Linda moved into management holding various senior positions within the Scottish Ambulance Service (SAS). Her NHS career spanned over 30 years.  She was heavily involved in Accident and Emergency ambulance service provision in various areas in Scotland (urban, rural and Islands) and led on the previous Patient Transport Service Redesign Strategy.  She is the recipient of two queens medals. One for "Long Service and Good Conduct – Emergency Services", and the second for "Dedication to the NHS".
Linda is the National Convener for the Mobility and Access Committee for Scotland (MACS), being appointed to this position in 2015 by Scottish Ministers. MACS is a non department public body who give advice to Scottish Ministers on the transport needs of disabled people.  As well as holding her Ministerial appointment as Convener of MACS, in July 2019 Linda was appointed by Scottish Ministers as Commissioner with the Scottish Poverty and Inequality Commission and in June 2022 as a Non Council Board Member with the South East of Scotland Regional Transport Partnership (SEStrans).
Linda is a Director with Disability Equality Scotland and following her position as Chair with Spinal Injuries Scotland, remains an Ambassador. Both are national Disabled Person's Organisations (DPOs).  Linda is involved in Children's Hearings Scotland and is also a qualified counsellor.
Linda brings to her roles, lived experience as a disabled person and qualifications including a Masters in Business Administration and a Diploma in Counselling. She has specialised in areas such as Strategic Planning and Development, Operational Management and Service Delivery, Corporate Governance, Performance and Risk Management, Business Continuity and Resilience Planning, Change Management, Team Building and Leadership Development and Organisational Planning utilising project methodologies.
Linda is passionate about fair and equal access for all and has devoted a great deal of her time to advocating the needs of disabled people in relation to transport and travel, including seeking acknowledgement and a stronger focus on the role of transport as an enabler of human rights.
Linda is a regular visitor to the Cairngorms National Park area devoting many of these trips to finding new accessible places to explore and looking at ways to make places and spaces more accessible and inclusive for everyone, especially given Linda's reliance on her wheelchair or mobility aids to access the environment.
Liliana Corrieri
Liliana is an Equality, Diversity and Inclusion (EDI) professional, with experience in the not-for-profit and public sector in the UK, and wider international experience across countries and sectors. She moved to Scotland after several years in London for a life closer to nature and timed by the rhythm and colours of the seasons. She is a keen hiker in love with the Scottish landscape, and a vegan committed to environmental protection and animal conservation. She strongly believes that some of the biggest sustainability challenges society faces today, including loss of biodiversity, air and water pollution and climate breakdown, have strong ties with accessibility and social inequalities, and require consideration of more diverse perspectives for inclusive approaches and positive change. Liliana is a feline lover and finds great joy and comfort in the affection of her seven rescue cats. She is also a Trustee for the rewilding charity SCOTLAND: The Big Picture.
Micah Daigeaun
Honoured to be part of Cairngorms National Park Authority's Equality Advisory Panel, Micah Daigeaun brings experience as an equalities, diversity and inclusion policy professional, primarily specialising in LGBTQ+ issues. Originally hailing from across the Atlantic, Micah discovered a passion for the natural landscape while exploring the trails of Pennsylvania, referred to by many as "Rocksylvania" for the terrain. As a seasoned trail and ultra runner with over 25 years of involvement in sport, they have shared their knowledge as an athlete while also advocating for LGBTQ+ inclusion. In their spare time, Micah enjoys reading about the Cairngorms and other mountains.
Shreoshi Das
I am a nature enthusiast and have been working in the conservation sector for a few years. I am currently working with Buglife as a Policy Assistant and have previous experiences with United Nations Environmental Program (UNEP), WWF Scotland, Woodland Trust Scotland and in the biodiversity conservation sector in India.
I have a masters degree in sustainability with a specialism in climate change and the green economy and another masters in environmental science and resource management. I enjoy spending my weekends in nature or volunteering with community groups. I have recently been volunteering with Transition Dundee in their gleaning project.
When I first arrived in Scotland a couple of years back, I was thrilled to learn about access to nature and how everyone has the opportunity to enjoy the great Scottish outdoors. I believe it is the need of the hour for like-minded individuals, irrespective of their colour, creed, or gender, to come together towards the common goal of restoring and conserving nature for a better tomorrow.
Heather Earnshaw
Heather Earnshaw works in equalities & inclusion, specifically in education and with a focus on gender. When not working, she's most often outdoors and generally up a hill. She believes wholeheartedly in the health benefits, both physical and mental, of spending time outdoors and in wild places. It's how she recharges. She is excited to have the opportunity to bring her professional knowledge around equalities and inclusion to support somewhere as special as the Cairngorms National Park Authority.
Kate Dowding
I spent several years as a practicing solicitor, having gained my Batchelor of Laws degree and Post Graduate Diploma in Law. After taking a break from work I am now studying to become a journalist. I have volunteered for Canine Partners and currently enjoy my role as a volunteer Race Maker at Silverstone circuit.  I have over 30 years' lived experience of disability, having been a wheelchair user since the age of 7.  My amazing Assistance Dog, Erin, helps me to live independently and enjoy life to the full. She will be curled up next to me if I'm doing my hobbies of stitching, knitting, and diamond painting, and will fetch her jacket when it's time to get outdoors.
I love spending time in nature, travelling, exploring, and hiking up the occasional mountain in Norway (decent suspension on your wheelchair is an absolute must on that one!!) I feel strongly that nature is there for everyone and should therefore be accessible to everyone. It is that attitude that I'll be bringing to the EAP.
Marisa Ginger
Marisa has spent time studying both a classical studies MA honours at the University of St Andrews and Scots law at the University of Dundee. She has a strong understanding of the legislative aspects of applying the principles of equality and as the newest member of the panel she is excited to contribute. She has spent a great deal of time as a private tutor and as such has a strong understanding of the importance to adapting communication methods to best suit the needs of individuals. As an autistic person, she also has a strong passion for ensuring inclusivity for those who are neurodivergent. She has faced the challenges of being autistic, as well as the great benefits, and looks forward to raising awareness and promoting inclusivity.
She has also has a sustained enthusiasm for nature. She has spent time working in the renewable energy sector for various companies ranging from small companies to a larger renewable company focusing on commercial property. Furthermore, she loves spending time outside with her dogs.
Stuart Hall
I am the Equality and Diversity Advisor at University of the Highlands and Islands. I lead on equality strategy, policy and compliance across the University's 13 Academic Partner Colleges, and represent the university at national equality conferences as well as public sector forums in the Highlands. I have 15 years' public sector experience, including 8 years' in both the post-16 education and healthcare sectors. I have experience of working in care, as well as an honours degree in English from University of Stirling.
I worked for 5 years in a range of roles at Robert Gordon University supporting students from international, socioeconomically disadvantaged and care-experienced backgrounds, as well as those facing challenges specific to disability, race, gender and sexuality. These experiences inspired me to move to Exeter University in 2017 to specialise in E&D; here I forged an interest in minority voices in remote and rural settings. In 2018, I took the opportunity to further my knowledge and ideas in this area by taking up my current post in Inverness, which has been a unique, challenging and extremely enjoyable experience.
In my spare time, I walk, think, study, play music and explore Scotland with my wonderful partner. One day I hope to retire to the Orkney Isles with her and a plethora of pets.
Anita Howard
Anita is a digital accessibility professional that believes an accessible, diverse and inclusive society is everyone's business. She is a human-focused designer and accessibility trainer committed to reducing friction and increasing the flow of digital experiences of disabled persons and users of assistive technologies in partnership with the disability community within the Fortune 500, Tech Start-up and Charity sectors. As a Senior Accessibility Designer and instructor, she is committed to disability inclusion through usability testing, user centered design, research, audits, and cross-departmental delivery of accessibility through Web Content Accessibility Guidelines (WCAG) checkpoints.
Anita is a Certified Professional in Accessibility Core Competencies (CPACC) and member of the International Association of Accessibility Professionals (IAAP). She also volunteers with LGBT Youth Scotland and the Scottish Tech Army to create a digital world that recognizes and includes a full range of human diversity that is accessible to all. She adores Scotland, is a botanical artist, and plant-based Desserts Chef. As an environmentalist that loves all things rooted in nature, she finds joy in being outdoors and hiking with her senior rescue dog.
Kevin Hutchens
Kevin Hutchens, BA Honours History, Postgraduate Diploma in Social Work. One of the founding members of the Inclusive Cairngorms Working Group. Has experience of living on benefits from a period of unemployment from 1985 to 1987. A Life Member of the YHA since 1975. Most of my career and voluntary work has involved me in working with and for people with learning and physical disabilities.
I have voluntary work experience in the housing sector, having been a member of the board of Langstane Housing Association from 1996 to September 2020 in which time I have held positions of Convener Tenant Services Committee, Operational Services Committee and most recently Audit Committee. For several years I was a member of Grampian Regional Equality Council and I was on the Board of Contact for Families with Disabled Children from 2012 to 2021.
I am presently involved in helping with the Transform Food Pantry van which is a mobile food bank supported by my church and I am actively involved in encouraging debate and action on a wide range of international issues as vice chairperson of Aberdeen United Nations Association. I am an active trade unionist committed to equality issues. As somebody who has been on a low income, I have a particular interest in ensuring people on low and middle incomes can access in a fully inclusive way the Cairngorms National Park.
Bo Mansell
I am a Newtonmore resident, having spent some time living in France and Canada, while Glasgow is my hometown. I completed my first degree in French and Italian (though my fluency has unfortunately deteriorated!) and am nearing completion of a degree in Environmental Science. This feeds nicely into my current employment with Sustrans as an infrastructure officer. In previous years, I have worked at West of Scotland Regional Equality Council and Urban Roots, both in Glasgow, delivering sustainability and environmental education activities with diverse groups. I was drawn to the Cairngorms from childhood and feel lucky to be resident here now. I do a fair amount of cycling, running, and walking, with a tendency to stop quite frequently to look at interesting features and creatures. I take a grassroots approach to equalities with a keenness for the voices of marginalised groups to strongly inform strategy and policy.
Lina Payne
Lina has worked on gender equality and inclusion issues for over 30 years, advising government departments, non-government sector, and UN agencies. She is currently a technical adviser to the UK government's Foreign, Commonwealth and Development Office (FCDO), advising on gender and equality policy. Over a number of years, she has supported corporate systems and processes to improve inclusion and diversity in the public and non-government sectors, led large social research programmes, developed guidance and provided training on gender and equality across different sectors. In her early career, she lived and worked at a community level in several countries in Asia and Africa, carrying out social research and advising on programming to address poverty and inequality. This included years living and working with refugees from South Sudan, leading in depth social research with minority groups in Vietnam and analytical work for programming in Bangladesh and India. She has worked in several conflict affected countries, and most recently, supported some of the Afghanistan crisis response. She continues to work with civil society and human rights activists in the global south.  She has lived in and worked from the Cairngorms National Park for over 20 years.
Joanna Rodgers
Joanna lives in Grantown on Spey, having moved to the Cairngorms from Lochaber in early 2023. She is Head of Partnership Development and Innovation at the Young Women's Movement, Scotland's national organisation for young women's feminist leadership and collective action against gender inequality. She has a PhD in heritage studies from the University of the Highlands and Islands. Her doctoral research explored themes of belonging, community sustainability and heritage recognition in the context of ancestral tourism to the island of Tiree.
An active volunteer, Joanna spent five years as a Trustee of Glengarry Community Woodlands, contributing to several projects including the establishment of an ecotourism enterprise and affordable housing on community-owned land. She has also volunteered with Citizens Advice and Oxfam and spent three months in Zimbabwe with the youth-led charity Restless Development. Joanna has joined the panel to learn more about the Cairngorms National Park Authority's equality and inclusion practices and to support this work where she can. She is particularly interested in improving accessibility and inclusion for women, young people, Gaelic speakers and residents of rural areas, but looks forward to learning more about a wide range of equalities issues.
Keith Turner
I am a Geography Teacher in Moray, with 20 years' experience working in the Scottish state education system. I am committed to learning for sustainability and ensuring all students have the opportunities and experiences that help develop their global view. In recent years, I have started working to decolonise my curriculum and have acted as a critical friend during curriculum developments.
I grew up in Leith, Edinburgh, where committed teachers ensured I had so many opportunities to explore Scotland's wild landscapes, including the Cairngorms. This inspired me to study physical geography at Aberdeen University, before undertaking geomorphological research into the deglaciation of the Patagonian icefield. I trained to become a teacher in 2002, starting my career in Lerwick, Shetland. We moved to Speyside in 2016 and are loving rediscovering the Cairngorms as a family!
In 2022, I worked with a team of teachers to produce materials to support all geography students during the pandemic. This resulted in being awarded the Royal Scottish Geographical Society's Tivy Education Medal and becoming an honorary fellow.
As we grapple with the triple crises of climate breakdown, biodiversity loss, and health and wellbeing, we must ensure that everyone can find their place in our shared landscapes, to the benefit of all of us.
Rebecca Vinall
Due to having MS I am ambulatory disabled and a wheelchair user, I also have a Canine Partner who has transformed my everyday life. Having a Canine Partner I'm constantly educating people about how they should behave around an assistance dog.
I have trained as a therapeutic counsellor and art therapist and worked with clients who have disabilities and who have had strokes.
I am very aware of the challenges faced by disabled people wishing to access outdoor spaces and am passionate about accessibility. Having grown up here I would to be able to share the Cairngorms and it's beauty with all disabled people.
Mariana Yarnold
Mariana moved to the United Kingdom from Argentina in 2004 and has lived in Aberdeenshire since 2012. She is an Argentine qualified advocate with years of academic experience in human rights in Argentina. Mariana first got involved in human rights in her teenage years following the end of the military dictatorship in Argentina. Thereafter, both as a law student and then as a graduate, she lectured human rights at the School of Law of the University of Buenos Aires. Since her arrival in the United Kingdom, she has continued being a strong campaigner for the improvement of human rights legislation and equality, diversity and inclusion policies with particular focus on women and children. She has supported UNICEF UK's parliamentary lobbying as a Children's Champion and is a former Child Protection Officer. She is really excited about the opportunity to bring her experience to the Cairngorms National Park.
Mariana is a huge Rugby Union fan and a former rugby coach to young children. In her spare time (if any) she loves cooking, reading and spending quality time with her family, her friends and her cats.
More Information