Cairngorms National Park brand
The Cairngorms National Park is a special place with its own unique identity. The Park is not an organisation. It's a living, breathing destination with a reputation as an outstanding place for nature and recreation. The Park brand represents the landscape, its people and the experience it offers.
Why use the Park brand?
Our company rebrand as the Cairngorm Brewery was the best decision we've ever made …
Sam Faircliff, Managing Director, Cairngorm Brewery
Over 60% of local tourism businesses say that being in a National Park is very good for attracting visitors. And over 96% of our visitors say they love the Cairngorms National Park!
 (Ref: Cairngorms National Park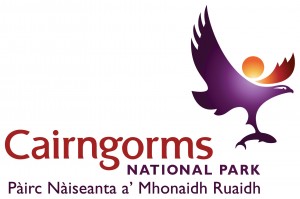 Visitor Survey 2019/20)

The Cairngorms brand was developed in 2004 to provide a strong identity for the National Park. Research repeatedly shows that visitors and customers are looking for high quality, sustainable, authentic and distinctive experiences and that's exactly what the brand represents. Associating your business or organisation or event with the National Park can really help to meet these expectations. The brand features prominently on entry point signage and visitor information and, used consistently, it will help build visitor and customer loyalty and awareness of the Park as a quality destination, offering unique experiences, products and services.
It's quick and easy for you to benefit from being in the National Park, by using the brand on …
promotional materials

websites

social media

signage
Who can use the Park brand?
The simple answer is everyone – including businesses, organisations, event organisers, schools, estates – and it's free!
All you have to do is sign up to the Cairngorms brand charter. This confirms your commitment to help promote the best the National Park can offer and deliver high quality, sustainable, authentic experiences, products and services. To learn more about how you can fulfill the terms of the charter and benefit from using the brand, read the Cairngorms brand charter guidance.
Current Park brand charter holders
How do I apply to use the Park brand?
Simply print and complete the Cairngorms Brand Application Form, and print and sign the Cairngorms brand charter, and send to the following Freepost address:
Cairngorms National Park Authority, FREEPOST NAT21454, Grantown-on-Spey PH26 3BR
Or email to [email protected]
What happens next?
Once we've received your signed charter, we'll send you a brand welcome pack which includes electronic versions of the brand along with design guidelines so you can start using the brand straight away! We'll also add you to our Make It Yours ebulletin mailing list which we send out a couple of times a year, keeping you up-to-date with relevant developments and information. You can unsubscribe from this at any time.
Contact
If you've any questions relating to the use of the brand or the charter, please don't hesitate to contact us.
01479 873535