Cairngorms National Park scores high with visitors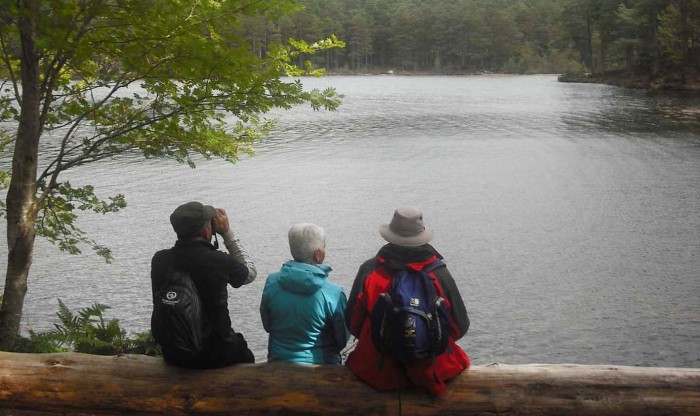 The results are in! 96 per cent of visitors love the Cairngorms National Park; 98 per cent said they would recommend the Park to others and 93 per cent said they would visit the Cairngorms National Park again.
A new survey has given the Cairngorms National Park a glowing report as a holiday destination with the results showing that the most popular activities when people get here are sightseeing and walking.
The Cairngorms National Park Visitor Survey 2014/15 shows an increase in visitor satisfaction with those surveyed giving the Park a score of 8.8 out of 10 – that's an increase from 8.25 in the 2009/10 survey.
Other highlights include:
National Parks are known around the world as the best places in a country for scenery, wildlife, and great visitor experiences so it's no surprise that 91 per cent of people said they were aware that they were in a National Park with 63 per cent of overseas visitors saying that National Park status influenced their decision to visit the area.
And with 21 per cent of our visitors coming from abroad, it's this group that stay the longest and spend the most money.
There has been an increase in the number of repeat visits since the previous survey and 50 per cent of visitors are staying for five or more nights.
There has been an increase in camping and self-catering type holidays with less people using hotels since the 2009/10 survey.
90 per cent of visitors get about using a car or motorhome with less people using public transport compared with five years ago.
The results were revealed today (Wednesday 4 November) at the annual Cairngorms Business Partnership conference at the Hilton Coylumbridge Hotel in Aviemore. The Cairngorms National Park Authority (CNPA) commissioned the survey, with the results available to view in full on the CNPA website
Paul Easto is a CNPA Board member and chair of the Cairngorms Tourism Partnership, as well as the director of a Park-based adventure tourism business. He said: "The visitor survey tells us that many businesses throughout the Park are doing a great job in providing a wide range of tourism experiences. The research also confirms that international visitors are an increasingly important part of the visitor mix. It also highlights areas where improvements are required including digital connectivity, which is essential to maintain the National Park's competitiveness as a tourism destination."
There has been significant investment in visitor infrastructure across the National Park in recent years both by the public and private sector, for example there has been millions of pounds worth of investment in path networks, cycle trails, path signage, visitor information, interpretation, and facilities. Most of the visitors to the Cairngorms National Park said they come for the scenery and wildlife so ensuring that these assets are protected and enhanced – while ensuring that people can enjoy it the area – is of key importance.
While the Cairngorms National Park is clearly a winner in the eyes of visitors, the survey did highlight some areas which could be improved upon – these included public transport and phone and wifi connectivity. Some people interviewed also thought that longer opening hours would be beneficial and some would like to see some cheaper attractions, shops and restaurants. Nine percent even commented that the weather could be improved!