Cairngorms Volunteer Rangers scoop joint award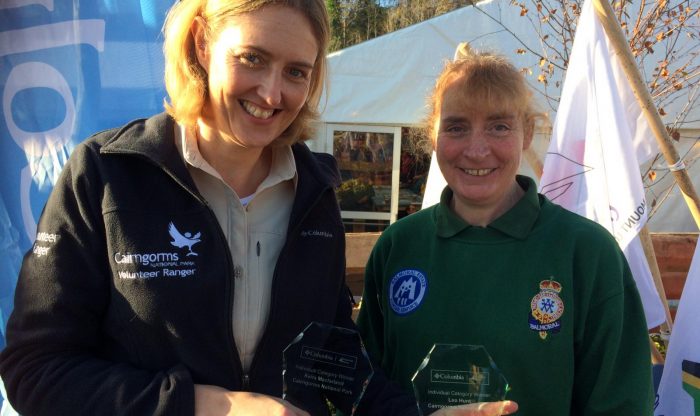 Cairngorms Volunteer Rangers Leo Hunt and Keira MacFarland are joint winners in the National Parks UK Volunteering Awards 2018, which are sponsored by Columbia Sportswear.
The awards, which were held at the Kendal Mountain Festival on Saturday (17th November) recognise the outstanding contribution that volunteers make in helping us to care for these precious landscapes and inspiring others to safeguard them for future generations to experience and enjoy.
Leo and Keira were jointly nominated in the Individual category because of their outstanding contribution on July 14th in saving the life of Ken Cooper, who was visiting Loch Muick in the Cairngorms National Park. When Ken collapsed outside the Spittal of Glenmuick visitor centre with a cardiac arrest, Leo and Keira had no hesitation in using the AED machine provided by the Sandpiper Wildcat Project which was located close by, and performing CPR to get his heart started again. Thanks to their quick thinking, courage and calm actions Ken was evacuated by the Scottish Charity Air Ambulance (SCAA) to Ninewells Hospital in Dundee, and has made a full recovery.
Leo said, "It is an exceptional honour to have won this award. Every single person who gives up their free time to volunteer is doing something amazing and every single volunteer will have their own incredible achievements, so to be recognised in this way is truly humbling.
"We are only the sum of our learning and experience; this award is really a testament to the training and support that the Cairngorms National Park Authority have invested in Keira, myself and all the volunteer rangers of the Cairngorms National Park. I am grateful for the opportunity to communicate my enthusiasm and love for the outdoors and the magnificent, wild Cairngorms which never cease to astound me with their beauty."
Keira agreed, "I feel very honoured to be nominated for this award and then to win is quite amazing. It really does mean a lot to me to be recognised in this way.  It's a great privilege to be a Volunteer Ranger and through this role be able to share my love of the Cairngorms with others. I can thoroughly recommend volunteering in any of our National Parks to anyone who is considering this.
"I would just like to say a big thank you to Fiona Smith, Balmoral Estate Ranger for the nomination and all the support she has given us. I'd also like to thank CNPA for all the opportunities and training they have provided which proved invaluable on the 14th July."
Columbia Sportswear were the sponsors of the award, Eoin Treacy, Regional Marketing Manager, said," Volunteers give their time, energy, skills and enthusiasm to help care for the UK's 15 incredible National Parks. It's this inspiring contribution that Columbia Sportswear is proud to celebrate through sponsorship of these Awards, and we'd like to congratulate this year's worthy winners.'
For more information on Volunteer Cairngorms please visit https://cairngorms.co.uk/volunteers
Ends.