Travel Grant Scheme
Our travel grant scheme supports schools and voluntary groups making educational visits to the Cairngorms National Park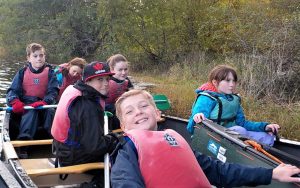 The Cairngorms National Park is an excellent outdoor classroom and can be studied across the curriculum from biology and geography to art, history and even music. A variety of educational resources have already been produced to support outdoor learning in the Cairngorms National Park with outdoor learning seen as a key approach to delivering the Curriculum for Excellence. However, one of the key barriers that teachers and groups face is the high cost of travel to or around the National Park. The Outdoor Learning travel grant helps to overcome this barrier, offering schools and community groups from across Scotland up to 75% transport costs, up to £200.
Applications are scored against the following criteria around priority and activity.
Priority is given to:
schools and groups from deprived areas
those who have not visited the Park before
groups who support people with disabilities, young people, ethnic minorities and those who experience economic disadvantage or health inequality
The activity should:
Take place in the Cairngorms National Park, including the nine National Nature Reserves (NNRs)
Raise awareness and understanding of the Cairngorms National Park
Involve Ranger Services and NNR staff in the National Park where possible
Help deliver Curriculum for Excellence through Outdoor Learning experiences, for example using the John Muir Award
Funding is available for one trip per school or community group.
If you think your school or group is eligible to apply, complete the application form online or download and send/email it to us BEFORE your planned visit to the Park:
The travel grant scheme is supported by Cairngorms National Park Authority.
Feedback from the Headteacher at St Machar Academy:
"pupils were awestruck by the scenery at Loch Muick and hopefully they will be inspired to get out in the National Park again in later life. Most of our pupils were in SIMD (Scottish Index of Multiple Deprivations) bands 1-4 (most deprived) and it was clear that very few of them had ever experienced a National Park before. Pupil's favourite parts of the day included 'seeing mountains', 'seeing a real life meander', 'getting to explore', 'seeing deer' and 'learning about National Parks'."
Claiming your travel grant
To claim a travel grant you must complete the following steps:
1. Download, complete and submit an Application Form
2. Receive an offer letter
3. Do your trip!
4. Pay for the travel costs
5. Send your travel receipt/invoices and an evaluation form to [email protected]
We will then reimburse you for the amount stated in the offer letter
For more information on the travel grant scheme, or to receive future updates from us, contact [email protected]
or phone Alan Smith, Outdoor Education Officer, on 01479 870518.