CNPA Board considers visitor management issues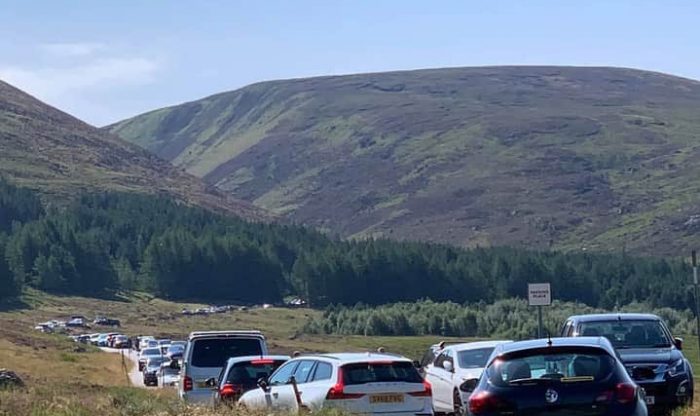 The Cairngorms National Park Authority is to consider the infrastructure and staffing needs required to better manage visitor pressures in the future following an unprecedented summer in the Park.
As Covid-19 lockdown restrictions eased, the Cairngorms National Park experienced an influx of visitors resulting in issues around litter, fires, human waste and traffic management concerns.
At today's (Friday 11 September) CNPA board meeting, Chief Executive Grant Moir and Head of Visitor Services, Pete Crane delivered an interim report to members on the challenges to date and some of the steps introduced to ensure that people had a good experience in the Park while staying safe.
One of the measures introduced was additional staff on the ground to help manage the various pressures. Predicting large numbers of visitors as the country opened up again, the CNPA hired nine seasonal rangers to patrol hot spot areas at evenings and weekends across the Park, supplementing the existing ranger services.
"The introduction of seasonal rangers has been a very welcome move and has received very positive feedback," Grant Moir explained to board members.
"There has been really good collaborative working across the existing ranger services and our CNPA seasonal rangers along with Local Authorities, Estates, Police Scotland and Fires & Rescue Scotland during this summer, ensuring that people stayed safe and that our special environment and wildlife was not compromised.
"There has been a significant amount of people coming into the Park over the summer and it has resulted in issues around camping, campervans, human waste, fires, litter and verge parking. These have been especially prevalent at really popular locations such as Glenmore, Loch Muick and Linn of Dee. However, it should also be noted that the vast majority of visitors are well behaved and that many of the issues stem from a lack of understanding."
Pete Crane, Head of Visitor Services added: "What has become apparent is that we particularly need to have a stronger, clearer message going forward in relation to fires and we need added facilities to deal with increasing numbers of campervans, particularly in relation to waste.
"The work and feedback from this summer has given us an excellent understanding of what worked, what didn't work and the sorts of investment that we all collectively need to make in the future. We will be looking at areas for infrastructure investment with partners this winter as we look to develop visitor management plans for 2021.
Xander McDade, CNPA Convener commented: "The CNPA is committed to constantly improving the visitor experience in the National Park to ensure all our visitors have the best possible holiday. It's been great to see the strong partnership working between the CNPA and our public and private partners during the lockdown period and since the easing of restrictions. The CNPA Board will consider more detailed options for future visitor management later in the year and I look forward to working with officers and partners on a plan for 2021 and beyond."
A full end of season review will be held in October with a further paper to the CNPA Board in December with recommendations on how to take forward future visitor management plans. To read the Board paper in full, please go here.