EUROPARC coming to the Cairngorms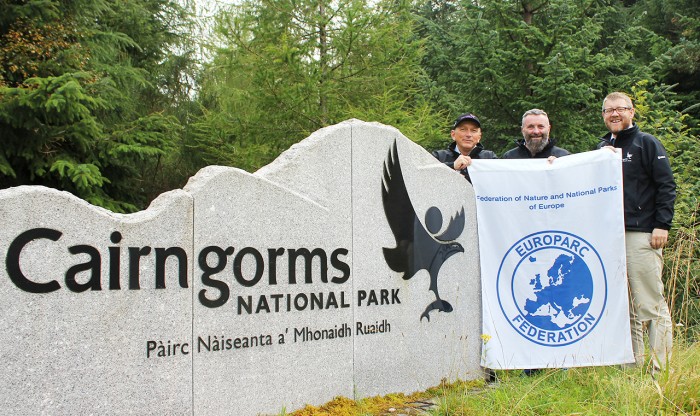 CAIRNGORMS PLAYS HOST TO PRESTIGIOUS EUROPARC CONFERENCE
It's the key event of the year for those working in Europe's Protected Areas and in 2018 the EUROPARC Conference is coming to the Cairngorms National Park.
The announcement was made last week to the 300 delegates from 37 countries, at the 2017 conference in Portugal. The theme will be 'European Parks: Inspired by the Next Generation' and with 2018 designated as the 'Year of Young People' in Scotland, it makes the Cairngorms a fitting place to host the conference.
Around 300 delegates from across Europe will meet together at the Aviemore Highland resort in September 2018 and plans are being drawn up for a Youth Festival to run alongside the main event.
The main conference will focus on what Parks can learn from young people and what changes need to be made to manage protected areas for future generations. The conference will call for young people to be more involved in decision making, volunteering, working and living in Parks.
Peter Argyle, Convener of the Cairngorms National Park Authority (CNPA) said: "It is fantastic to be hosting the EUROPARC conference in 2018 and we look forward to welcoming delegates from across Europe to this spectacular area. It is a great opportunity to showcase the Park and be inspired by young people from across Europe."
Ignace Schops, President of the EUROPARC Federation said: "The Cairngorms National Park is a stunning landscape and we look forward to bringing our European delegates to engage with young people. With an inspirational theme chosen for the conference, we really look to what the hundreds of Parks and Protected areas across Europe can do to deliver for future generations."
Louise Macdonald, Chief Executive of Young Scot said, "The EUROPARC conference is set to be a very exciting addition to the Year Young People 2018 and Aviemore is the perfect location. The Cairngorms National Park will inspire young people from across Europe to take the lead and create thriving protected areas of outstanding natural beauty across the continent."
European Parks: Inspired by the next generation will take place 18-21 September 2018 more information can be found here.