It's 'Active Cairngorms' as Minister opens Speyside Way extension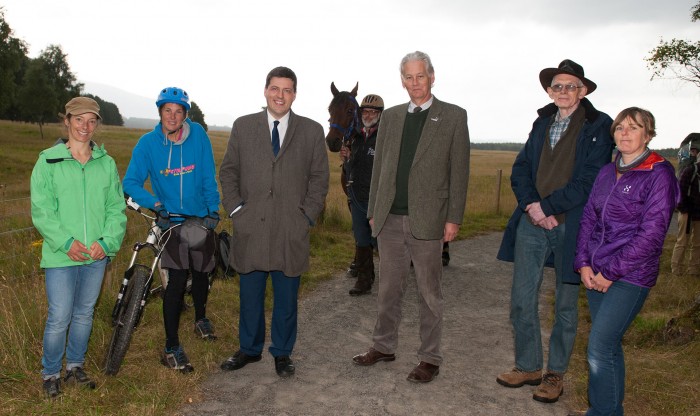 The Cairngorms National Park just became an even better place to get active in the outdoors with the opening of a six mile extension to the Speyside Way and the launch of the new Active Cairngorms strategy and partnership, which aims to inspire residents and visitors to use the Park for physical activity at least once a day.
Carrying out the honours today (Saturday 12th September) near Aviemore was Scottish Government Minister for Sport, Health Improvement and Mental Health, Jamie Hepburn MSP. He took a stroll along a section of the new Speyside Way extension, close to the Dalraddy Holiday Park, and chatted with local walkers and cyclists who are enjoying this new resource.
The Speyside Way is one of Scotland's original Long Distance Routes opening in 1981 from Spey Bay to Ballindalloch and was extended to Aviemore in 2000, creating a 65 mile route. There has been a long held aspiration to extend the route further to Newtonmore so today's opening of a new stretch from Aviemore to Kincraig marks the first step towards that realisation becoming a reality.
Well built, managed and maintained paths like the Speyside Way in the Cairngorms National Park are a cornerstone of the new Active Cairngorms strategy, which encourages people to get outside and do something active every day. It is medically proven that people who do regular physical activity have a 30 per cent lower risk of early death and a huge reduction in the probability of getting many other diseases such as heart disease and type 2 diabetes.
Ensuring that is it easy for people to walk or cycle to work or school instead of taking the car is a key aim but so is transforming the Walking to Health programme by expanding what is on offer, establishing a GP referral system and developing a cycling to health option. The strategy will also be looking at how to help inactive groups get active and will be supporting volunteering opportunities throughout the National Park.
Speaking at today's event, Minister for Sport, Health Improvement and Mental Health, Jamie Hepburn said: "I'm very pleased to be opening the extension of the Speyside Way and helping to launch the new Active Cairngorms strategy and partnership.
"We're spoiled for scenery here in Scotland and I'd encourage residents and visitors to take every opportunity to get out and about and enjoy their surroundings. We know that regular exercise is as good for our mental wellbeing as it is for our physical health and I'm delighted to work with groups like this to promote an active, healthy lifestyle. This approach builds on the world class legislation that provides for public access to Scotland so everyone has the opportunity to enjoy the outdoor environment."
Convener of the Cairngorms National Park Authority (CNPA), Peter Argyle said: "It is terrific to see the Speyside extending ever closer to its final destination and what a great resource this new stretch of path is for locals and visitors alike. With over 1.5 million visitors and 18,000 residents, the Park can help prompt good changes for people with our amazing path networks. We have 60 miles of National Cycle Network routes here and 666 miles of core paths – it's just over 500 miles to London to give some context to that figure – which is absolutely fantastic. Integrating physical activity into peoples' everyday lives by making it easy for them is what path projects like this and Active Cairngorms is all about."
Triple Olympian Snowboarder and Team GB Snow Sports Manager, Lesley McKenna – author of the Active Cairngorms foreword – was also there this morning. She commented: "The Cairngorms National Park is an amazing natural playground for people of all abilities. I'm passionate about getting more people active and all it takes are small changes to our daily lives. Leaving the car behind on short journeys, fixing up that old bike, walking to the shops – it doesn't matter how slowly you walk, run or cycle, you'll still be going faster than everyone sitting down."
John Lauder, Sustrans Scotland National Director, said: "We're delighted to have worked in partnership with the Cairngorms National Park Authority to extend the Speyside Way walking and cycling route. It's a route that will enable people to get active by making those everyday journeys we all make on foot or on bike – whether it's the commute to work or school, a trip to the shops, or to visit friends.  It's also a showcase for some of the country's finest scenery and makes a fantastic contribution to cycle tourism in Scotland, which is valued at hundreds of millions of pounds."