Make volunteering in Cairngorms National Park your resolution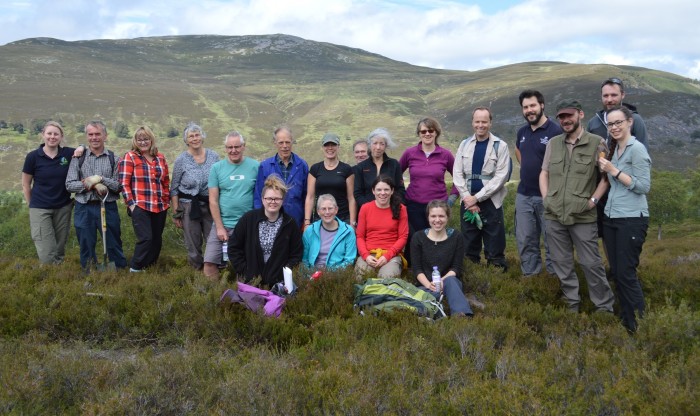 If you're going to make any resolutions for 2018, why not consider getting involved in some environmental volunteering projects in the Cairngorms National Park? Volunteering in the outdoors is proven to make you feel good both physically and mentally and can lead to a whole new circle of friends, interests and skills.
For those in the Perthshire area, a fantastic opportunity to get involved in some hands on volunteering is taking place on Saturday 20th January at Killiecrankie. A partnership event involving the Cairngorms National Park Authority (CNPA)'s Volunteer Cairngorms programme, the Atholl Estate, Perth & Kinross Council and the National Trust for Scotland ranger services, it is open to anyone who wants to find out more and get involved.
Mike Woolvin, Volunteer Coordinator at the CNPA said: "At the start of every year we hear that phrase 'New Year New You' and this is the ideal time and event to set that commitment in motion. There will be lots of groups joining us with information about their volunteering opportunities including Plantlife, The Mountains and The People, Scottish Natural Heritage, The Rare Invertebrates in the Cairngorms Project and more! We will also be launching a new volunteer group to take care of paths and wildlife between Pitlochry and Killiecrankie every month – people who would be interested in getting involved in that, can find out more and give volunteering a go in the afternoon.
"The best way to get all the information you need is to come along to NTS Killiecrankie Visitor Centre on 20th January where potential volunteers can hear first-hand about what's involved and find out from a variety of groups and organisations what opportunities are out there and give volunteering a go."
The volunteer event is from 11am – 3pm with the morning dedicated to finding out about environmental volunteering opportunities throughout the Cairngorms National Park, while in the afternoon there will be a chance to get 'hands on'. Lunch is provided. To take part please email [email protected] or for more information visit the webpage.
Volunteer Cairngorms is a three year pilot programme to support and develop environmental volunteering across the National Park and is supported financially by the European-funded LEADER programme.