Mountain paths project recruitment fayre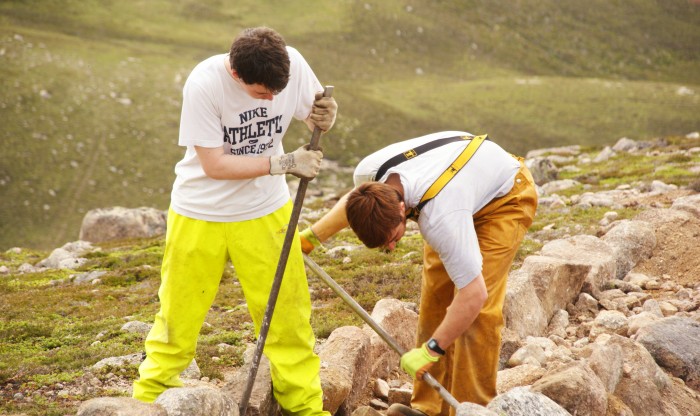 People interested in learning some upland conservation skills will soon have the chance to apply for six paid trainee posts or sign up as volunteers.
The five-year Mountains & The People project is looking to encourage active participation in conservation work in the Cairngorms and Loch Lomond & The Trossachs National Parks.
As well as protecting mountain environments through the improvement of over 125km of upland paths, the project will inspire the next generation of conservationists through a mix of volunteering, education and training activities.
A recruitment fayre for a new conservation project will be held in the Victory Hall, Aboyne on Tuesday 5th of April from 4:30pm till 7:30pm.
Activity Project Manager Tom Wallace said: "This is a great opportunity for people to meet the team behind the project and have an informal chat. As well as finding out about how to apply for one of the six, paid Upland Path-Work trainee posts, the team will be happy to give advice and information on the range of practical conservation volunteer opportunities within this unique partnership project. There will also be an hourly, short film about the project and the experiences of past trainees…and refreshments will be served throughout."
The trainees will be offered paid training in Environmental Conservation to SVQ level 2, as well as experience of working in the upland path-works industry.
The Mountains & The People has received over £3m in funding from the Heritage Lottery fund alongside funding and support from project partners at Forestry Commission Scotland, Scottish Natural Heritage and both the Cairngorms and Loch Lomond & Trossachs National Park Authorities. This project is led by the Cairngorms Outdoor Access Trust (COAT).