National Park winners celebrated at Grantown Show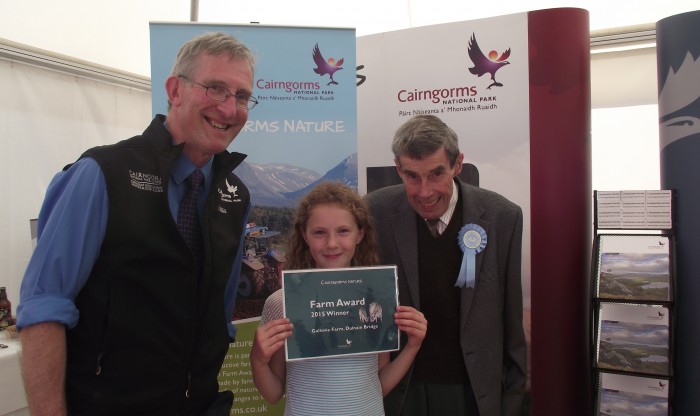 The best of farming and crofting in the Cairngorms National Park has been celebrated at a very sunny Grantown Show (Thursday 13th August).
As well as all the usual classes and judging, the first ever winner of a new Park-wide competition to reward farmers and crofters who make a substantial contribution to the natural environment around them, was announced.
The first Cairngorms Nature Farm Award recipient is Neil Gordon of Gallovie Farm. Travellers on the road between Carrbridge and Dulnain Bridge, close to Neil's farm, may not know that the flat river straths of the National Park are some of the most special places in the UK for nesting birds like lapwing, redshank, snipe and curlew.
Neil was chosen by the judges for the work he has been carrying out to improve habitats for these waders and how he has incorporated all this, often unseen conservation work, into his normal, everyday running of the farm. He will be presented with an outdoor plaque that can be proudly displayed at the farm. He was unable to attend today's Show – he was quite literally making hay while the sun shone – so his certificate was presented to his father Angus and daughter Rachel.
The Pride of the Park awards – now in their third year – were also given out today. Receiving the 2015 Pride of the Park rosettes were:
Sheep: Yvonne Spence from Dulnain Bridge won with her tup Herbie and was also presented with a family pass for Landmark Park.
Cattle: John Irvine & Son from Inverlochy Farm, Tomintoul won with their champion Charolais bull, winning a special bottle of Glenlivet whisky.
Horse: Ellen Grant from Nethy Bridge won with Elmo and receives a voucher for Newtonmore Riding Centre.
Domestic: Colin Clark beat off stiff competition to be crowned winner in the domestic tent and receives a Steamin' Vintage Fine Evening Dining experience courtesy of the Strathspey Steam Railway and Bygone Drives.
The Cairngorms National Park is home to some of the highest quality farming in the UK and it contributes approximately £42million a year to the Park's economy and around 900 jobs.  The area also produces some of the country's finest food and drink as a result.
As co-sponsor of the Grantown Show, the Cairngorms National Park Authority's Convener Duncan Bryden was there to present the prizes. He said: "We are delighted to support the Grantown Show and every year there is an excellent display of quality of livestock, horses and other exhibit – it is a testament to the hard work and commitment of everyone involved. A healthy farming industry is crucial to the Cairngorms National Park not just for our economy but for our landscapes and wildlife too."
Bruce McConachie, Land Management Adviser at the CNPA commented: "Without farmers and crofters in the Cairngorms National Park we would lose many of the species, habitats and landscapes that we all know and love. There are some that go the extra mile to care for Cairngorms Nature and we are pleased that we now have a way to publically recognise this and to thank them for their hard work. Neil Gordon is a deserving winner of this new award for all the work he has been doing to improve habitats for waders such as rush topping, fence removal and changing grazing and creating wet feeding sites."
The Cairngorms Nature Farm Award was judged by a panel of judges representing both Cairngorms Nature and the farming community.