Natural artists are the winners at Cairngorms Nature Big Weekend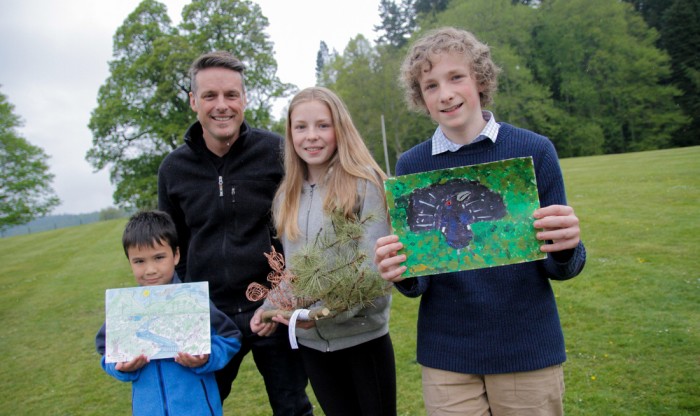 TV's Nick Baker was the judge for the Cairngorms Nature School's Art Competition on Saturday (13 May) at the Cairngorms Nature Big Weekend at Blair Castle
18 schools from across the Cairngorms National Park took part in the competition which was organised by the Cairngorms Rangers.  Over 240 entries were submitted across three age categories and Nick had the impossible task of choosing the overall winners from a shortlist of 37.
Children were asked to create a piece of art inspired by Cairngorms woodlands and the range of entries was incredible, from sculptures to paintings and models to collages.
The shortlisted children were invited to a private 'Meet and Greet' event with TV naturalist Nick Baker at Blair Castle where he inspired them with incredible stories about nature and answered all their burning nature questions such as, "how do you know which end of a worm is which?"
The winners were:
Nursery-P3           Arada Leggett (Carrbridge Primary School) – River in woodland picture
P4-P7                    Alice Kemsley (Abernethy Primary School) – Copper squirrel on branch
Secondary              Hamish Nott (Grantown Grammar School) – Picture of Capercaillie
Nick Baker said, "The creativity and talent was outstanding it was a very tough job indeed. I loved Arada's drawing because at first glance there was nothing to see, but as you studied it you saw loads of species hiding in the woods – just like real life nature watching.  The copper wired squirrel was so unusual and the Capercaillie picture was great, a real icon of the Cairngorms woodlands. I hope the competition has really inspired the children to get outside and enjoy the amazing nature on their doorstep."
The competition was part of the Cairngorms Nature Big Weekend which took place over the weekend (12-14 May).  Hundreds of people came out in the sunshine and rain to enjoy over 50 events across the Cairngorms National Park.
Grant Moir, CEO of the Cairngorms National Park Authority said, "The Big Weekend is all about connecting people with our amazing Cairngorms Nature and getting folk to come and experience it first hand. It's been a fantastic weekend of events, from thought provoking presentations to specialist walks and family-fun activity afternoons to volunteering projects.  Definitely a Big Weekend Success!"
Ends