Nature Award for Primary School teacher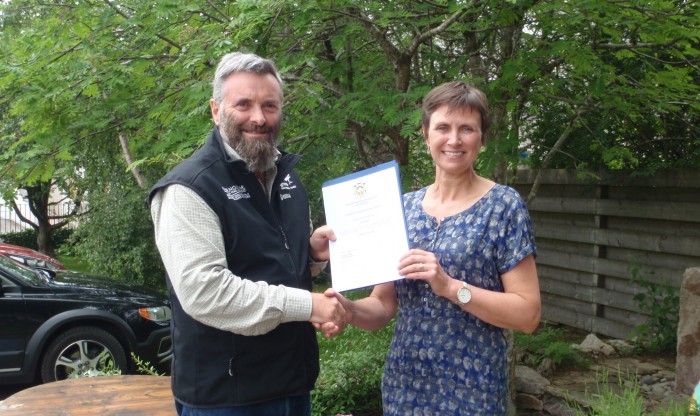 A Newtonmore teacher has been awarded for her efforts in taking the classroom outdoors and immersing her young students in the nature of the Cairngorms National Park.
Primary teacher, Fiona Ross has been taking part in the year-long 'Teaching in Nature' project run by the Cairngorms National Park Authority in partnership with Scottish Natural Heritage which supports teachers to use a local natural, wild place for them to plan, implement and evaluate a challenging and fun outdoor learning experience.
Fiona's efforts and dedication to outdoor learning have now been rewarded with the General Teaching Council for Scotland awarding Fiona 'Professional Recognition in Outdoor Learning'.
"For many years I have been taking my pupils outdoors to enhance their learning", said Fiona.
"For this project we shared learning as we identified native trees through the changing seasons, created information leaflets and learned the Gaelic tree names. The pupils carried out a tree survey, graphed results and noted areas for action, which included planting 60 varied native trees and wildflower seeds in the woods to increase biodiversity. Within the year, by supporting each other, all class staff in the school, including both nurseries, were using the Wildwood space with the children for a variety of topic-related interdisciplinary learning activities and for play opportunities. The pupils have gained confidence and resilience from being out in all weathers and socially from the teamwork involved."
Commenting on her professional award, Fiona said the Teaching in Nature programme had been of huge benefit to her: "My aims in working on this course for the past year, were to read current research in outdoor learning and to develop my confidence in leading teaching in nature activities, by sharing and supporting others within Newtonmore School. It has been extremely rewarding as positive feedback and support from pupils, parents and staff have helped embed a school outdoor learning strategy. This is an integral part of our School Improvement Plan and Learning for Sustainability goals and includes regular visits by all classes to our local Wildwood for cross-curricular activities, each term and across the seasons. Every pupil in Newtonmore School will also have the opportunity, to work towards achieving a John Muir Award – in Gaelic or English – by Primary 7.
"I would like to thank all who have been involved in this learning journey, which continues! We are broadening our horizons to study sites of local historical interest, with visits to Glen Banchor, Ruthven, Raitts, Alvie, Dun da Lamh and to Loch Tay."
Alan Smith, Outdoor Learning Officer at the CNPA said: "The benefits of outdoor experiences for young people's learning, behaviour and health are now well recognised and learning is an important part of the curriculum. However, teachers often need help to provide this and the 'Teaching in Nature' project offers this support.
"We are delighted that the General Teaching Council for Scotland has recognised the benefits of the 'Teaching in Nature' approach and accredited the programme, meaning we can award teachers who successfully complete the programme with professional recognition in outdoor learning."