Park Talk: Conservation & economic recovery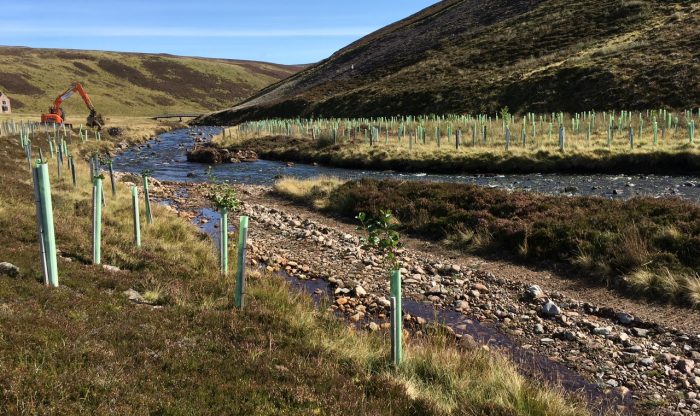 By Judith Webb, CNPA Board Member and Chair of the Cairngorms Nature Strategy Group and the Cairngorms Upland Advisory Group.

As Covid-19 continues to dominate our lives and headlines, at the Cairngorms National Park Authority we've been busy talking to a variety of partners to develop a recovery plan for when lockdown restrictions are eased or lifted.
We know the impacts of Covid-19 on the economy are severe and it is therefore important that any recovery plan is robust.
The CNPA's conservation work can help with that economic recovery. One of the four aims of the National Park is to 'conserve and enhance the natural and cultural heritage' – land management and conservation activities provide many local people with an income, eg.  plant operators involved in peatland work or path building, or those involved in nature friendly farming, woodland and habitat management.
We anticipate there will be funds that the CNPA can apply for from Scottish Government for projects that will help re-start the economy. In preparation, we are looking at what activities are 'ready to go' that would benefit from such finance, and help get people back to work.
Projects are likely to be varied, from supporting visitor infrastructure and community initiatives to improving active travel, I am positive there will be conservation projects amongst them, whether it's riparian tree planting to help cool river temperatures, peatland restoration work to tackle the climate emergency, or habitat survey work. All these tasks require knowledgeable and skilled people to deliver them.
Conservation projects can attract funds at any time but particularly when the Park needs extra support to recover from the Covid-19 lockdown. Any funding secured for projects that support the aim of 'conserving and enhancing the natural and cultural heritage' helps create and maintain jobs and puts money into a wide range of contractors and local businesses, plus contributing to improving our tourism product in the long term.
I am of course sad that there will be no Cairngorms Nature Big Weekend this month, it is one of the highlights of my year with so many wonderful activities provided by the Park and our many partners. However, our fantastic team of naturalists and IT experts at the CNPA are instead bringing us 'Cairngorms Nature BIG 10 Days of Nature at Home'.
From 15-24 May, Cairngorms Nature will deliver a daily dose of online activities, blogs, films music and art all based around the fantastic array of nature and wildlife that we have here in the Park. There will be family-friendly activities designed for those who may be quite new to nature watching, through to specialist and exclusive items with experts to discover our amazing landscapes and get up close to our wildlife, all from the comfort of your sofa!
Among the highlights are a welcome film from Nigel Marven on why the nature of the Cairngorms is special to him, children's art competition, gardening for wildlife, citizen science activities as well as music from Hamish Napier and Jenny Sturgeon and lots, lots more. Look out for more information on the CNPA website and/or social media channels.
The CNPA board will be considering the recovery plan for the Cairngorms National Park at its meeting on 12th June.