Park Talk: Walk This Way!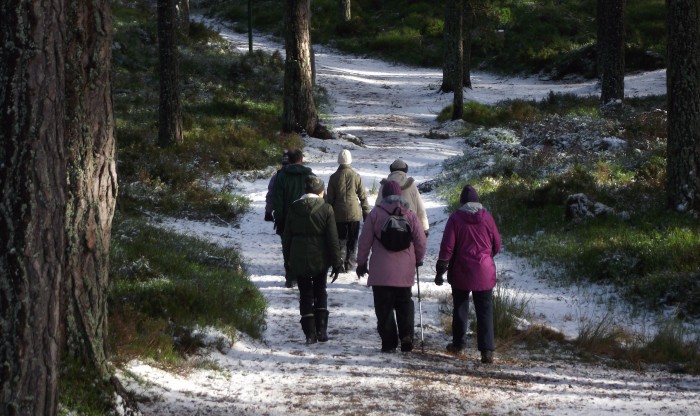 By Peter Argyle, CNPA Convener
There is of course a certain irony about sitting at my computer to write about the huge benefits of walking and being more active but, since the message is such a strong and positive one, I shall live with the irony, keep calm and carry on.
The recent Visitor Survey clearly demonstrated that huge numbers of people visit the Cairngorms National Park to take advantage of the unparalleled opportunities that exist for walking, both low level and up on the mountains.
With 55 Munros, 26 Corbetts, 60 miles of long distance paths and 666 miles of designated core paths, there is something for everyone and plenty of places to walk and enjoy the magnificent scenery, wildlife and fresh air. Certainly there is no shortage of fresh air.
It is recognised that not everyone can be active in this way and so the Cairngorms National Park Authority has been working with our partners for many years to find ways of overcoming the barriers for as many people as possible.
One of these initiatives is the Cairngorms Walking to Health Project, previously run by the Cairngorms Outdoor Access Trust (COAT) and now coordinated by the Park Authority. This month's column is dedicated to acknowledging and thanking everyone who is or has been involved in this work since it began in 2005.
The project aims to encourage people to become more physically active in their local community. The starting point is the recognition that gentle and structured exercise can bring huge health benefits, but that for some, taking the first step can be daunting.
The project is delivered across the Park by trained Health Walk Leaders, volunteers from the community who, week after week, take groups out for walks of between 30 and 60 minutes. And can there be a better place to go out for a gentle, safe and sociable walk? In doing so they support the work of the NHS and GPs with regards to diabetes, encouraging folk to stop smoking or shedding those pounds that are no longer useful to us.
Health Walks are also of tremendous value to the work of Alzheimers Scotland and organisations such as CLAN, which supports people with cancer. There are established groups all across the Park, in Badenoch, Strathspey, Deeside, Donside and Moray. For more information you can email [email protected] or call 013398 80081.
The Walking to Health Project is an outstanding example of how a partnership between a number of organisations and dedicated volunteers can deliver very real benefits to people in the Park.
Funding comes from the Scottish Government via Legacy 2014 funding, Scottish Natural Heritage, NHS Grampian, NHS Highland, Paths for All and the CNPA – I am delighted that we are able to support this project.
This month there is to be an event at Glenmore Lodge to celebrate all that has been achieved by the Walking to Health Project, with Cameron McNeish as the keynote speaker.
For those who love stats….
During 2015/16, 32 locations in and around the Cairngorms National Park were delivering a weekly health walk.
There has been 4,026 health walks delivered since 2011.
Those walks have been delivered by 70 active volunteers, delivering in excess of 5,000 hours of volunteers work per year.
So as you can see, there is certainly a lot to celebrate.
So, to begin where I started, this column is dedicated to all the volunteers who have helped, supported and delivered this project over the years, week after week, with complete dedication – thank you all.
And now I shall go outside and start digging the vegetable patch, following the example of my 4 year old son who is already there, leading the way with his fork and trowel.