Peatlands Regenerate at RSPB Awards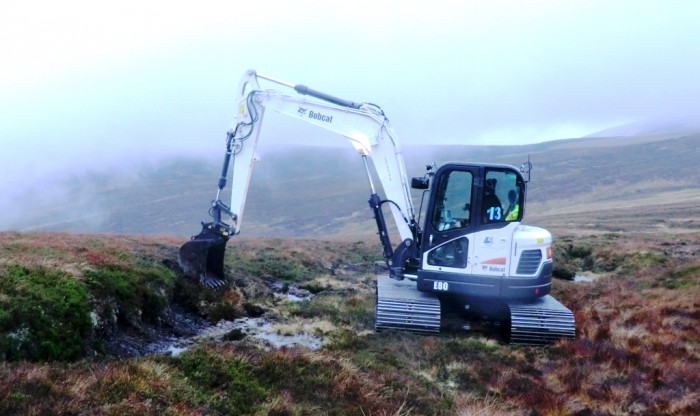 The Cairngorms Peatland Restoration Project is celebrating this morning after a successful night at the RSPB's 'Nature of Scotland' awards.
Held last night (19th November) in Edinburgh, the Project won the Innovation Award having impressed the judging panel with their work to repair peat bogs in the National Park.
Peatlands are vital, in the UK they store over 3 billion tonnes of carbon – twenty times that found in all of Britain's forests – with more than half found in Scotland and they represent Scotland's single largest carbon store on land. They provide homes to a variety of specialist plants and animals, can reduce flood events, provide clean drinking water and are a valuable asset for sporting managers.
Peatland restoration is a priority as the process of carbon storage can only happen if peatland habitats are healthy and functioning.
The innovative methods used in this project included restoring bare peat through the application of a living carpet of sphagnum mosses while eroded hags were re-profiled and re-vegetated using 8-tonne excavators.
Supported by Scottish Natural Heritage's Peatland Action, work was carried out at Mar Estate, Glenlivet Estate and Invereshie & Inshriach NNR. Led by Stephen Corcoran, the Cairngorms Peatland Action Officer, the project worked closely with the land managers at each site and the specialist peatland contractors, Barker & Bland, from Cumbria.
Hamish Trench, the Cairngorms National Park Authority's Director of Conservation and Visitor Experience said the award recognises the collaboration between land managers and the project officer, Stephen Corcoran, and their commitment to trying innovative methods.
We are delighted to receive this award. The success of the Cairngorms Peatland Restoration Project was only possible through the enthusiastic support of land managers and a dedicated project officer to manage the process.
"We all have a responsibility to get involved with conserving our unique Cairngorms Nature and this pioneering project is a step towards helping to ensure our peatlands remain healthy and functioning long into the future."
Director of RSPB Scotland Stuart Housden OBE, who was also one of the judges, said: "These Awards celebrate the projects that go the extra mile in preserving the precious natural heritage we have in Scotland. The Cairngorms Peatlands Restoration Project stood out due to its direct action approach and the trialling of new solutions for repairing damaged habitats."
The Nature of Scotland awards were launched by the Royal Society for the Protection of Birds (RSPB) in 2012 to recognise excellence, innovation and outstanding nature conservation in Scotland.
Ends.