Planning permission for new distillery in Cairngorms National Park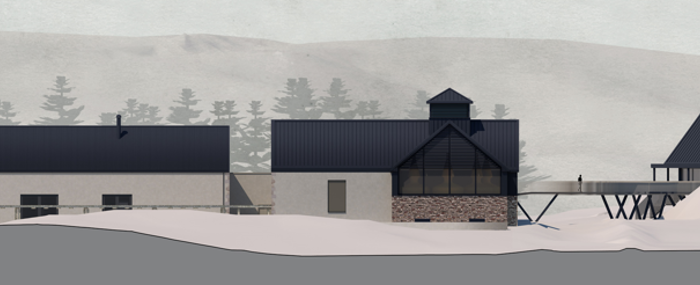 It was a packed agenda for the planning committee of the Cairngorms National Park Authority today (Friday 10 November) with a new distillery at Laggan given the go ahead. A new path in Deeside was also given consent and Planning Permission in Principle was granted for a new residential development in Aviemore.
Having outgrown their current facility near Kingussie, Speyside Distillers Company Ltd applied for planning permission for a new distillery and associated infrastructure near Laggan, bringing all aspects of their process together while retaining their connection to the River Spey.
The development near the Spey Dam includes a marketing suite, distillery, power house, offices and maturation warehouses – currently the applicants are required to transport their whisky to the central belt for maturation but would prefer to mature the product locally for improved sustainability.
Park Authority Planning Officer, Katherine Donnachie explained: "The proposed development is considered to perform well against national, as well as our own planning policies, it will provide local employment, using natural resources productively and helping to minimise onward travel to the central belt. The application seeks to replace and expand an existing distillery, securing its sustainable future and local jobs, which is to be welcomed. The design and landscaping of the site will help the new development to sit well in the landscape with no adverse impacts on local cultural and historic assets. Overall, the proposed development is considered acceptable and recommended for approval."
The planning committee went on to approve the construction of a new footpath and cycle route between Ballater and Braemar. The route of the path lies within the Charters Chest woodland, approximately one mile east of Braemar. Running from east to west the track begins half a mile northwest of the Invercauld Bridge and finishes 600m to the west at the edge of the Lion's Face woodland.
The application replaces a previously granted consent, which was proving challenging to construct due to too many hard rock sections along the original route. This new application for a two metre wide path is located closer to the roadside, which is a small variation to the previously approved development.
Ed Swales Monitoring and Enforcement Officer said: "This path will make a significant contribution to creating a decent network from Braemar to onward routes through Deeside and will be a welcome addition to the area."
Members of the planning committee also approved a Planning Permission in Principle application from MacDonalds Resorts Ltd for a residential development, staff accommodation and infrastructure at the Aviemore Centre, which could eventually comprise up to 180 units, with 45% of homes being affordable. The proposed development is on a site allocated for mixed uses including residential accommodation. The detail of the project will be considered as part of a future planning application.
Chairing today's planning committee meeting, Eleanor Mackintosh, Deputy Convener of the Cairngorms National Park Authority Board said: "It is really great to see such a variety of projects coming forward for planning consent, from whisky to walking as well as an affordable homes boost where it is needed most."
To read the planning papers in full, please go here: Meeting – Cairngorms National Park Authority