Prize for Cairngorms National Park river project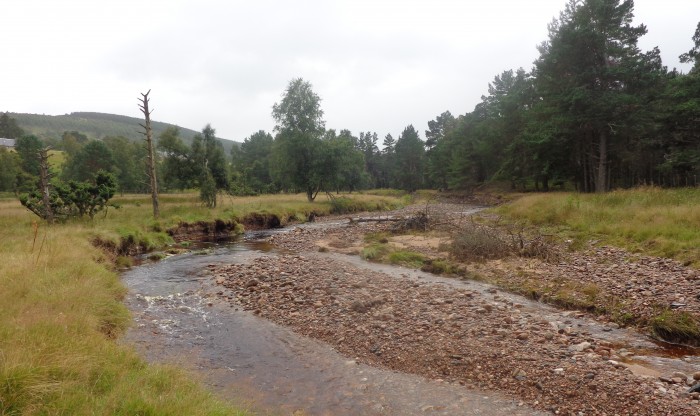 A river restoration project in the Cairngorms National Park has won the prestigious 'Innovative Project' category prize at the 2016 UK Rivers Restoration awards ceremony.
The Allt Lorgy project near Carr-Bridge has successfully re-instigated natural processes to a straightened section of river that was not functioning effectively and so impacting on both the water and land environments.
Rather than design and build a new course for the river as is so often the case in river restoration, this project took the unusual approach of removing constraints and then standing back and allowing the river to over time re-establish its own natural equilibrium.
This was done by lowering artificially high embankments, filling in artificial drainage ditches and replacing rock armour with softer wood structures. Three years on and significant positive changes have been observed at the site with the project approach attracting considerable attention within the rivers restoration community.
The works on land owned by Seafield Estates, was designed by cbec Engineering Ltd and funded by Scottish Natural Heritage, Scottish Environment Protection Agency, the Spey District Fishery Board and the Cairngorms National Park Authority. The project was managed by the Spey Catchment Initiative, a multi partnership project that carries out river and riparian improvements for the benefit of the whole catchment.
It is the first time that a Scottish project has both won a category prize and been selected as a finalist for the overall UK prize. Spey Catchment Initiative Project Officer Liz Henderson said "We are delighted that the work we have been undertaking up here in the Highlands has been recognised at a National Level. There can often be a tendency to micro design restoration solutions but sometimes simple approaches such as demonstrated here are just as effective."
A short video about the Allt Lorgy project and the other UK river prize finalists can be found online. Further information on both this project and the wider work of the Spey Catchment Initiative can be found on the Spey Fishery Board website.