Tracking your way to health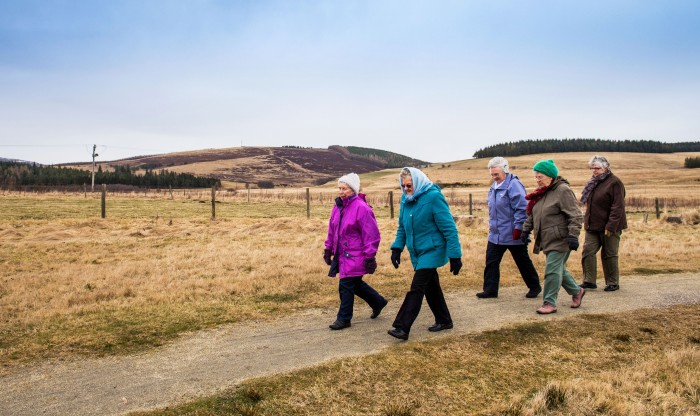 The Cairngorms National Park Authority has been promoting the health benefits of being active in the outdoors – and particularly walking – since the organisation was set up 14 years ago. With over 20 health walks in and around the Park led by volunteers it's been a huge success story but now participants in some areas can track their progress and see how well they are doing.
Popular TV programmes such as the BBC's 'How to Stay Young' have got us all thinking about how healthy our minds and bodies are but how do we know if the positive steps we are taking are making an impact?
Active Cairngorms has teamed up with three medical practices in the Cairngorms National Park – Aviemore, Strathdon and Ballater – to provide patients with their own free activity tracker which monitors how many steps users are taking during a weekly health walk as part of a 12 week programme.
Health walks are short friendly walks, led by a local volunteer walk leader, for anyone who would like to feel better and meet new people in their community. The walks can last from 30 minutes to an hour, depending on how everyone feels on the day, and are on accessible paths around Aviemore, Strathdon and Ballater.
People taking part in this special Activity Tracker Health Walk are asked a few confidential questions at the beginning and the end of the 12 weeks, with the results hopefully confirming that being active daily is good for you!
Dr Ewen McLeod, of Ballater Medical Centre, said: "There are many benefits to health and wellbeing of walking. Regular short walks can reduce your risk of stroke, heart disease, breast cancer and depression, as well as helping you to sleep better and boost energy levels. We are working in partnership with Active Cairngorms to support the Activity Tracker Health Walk programme so that as many people as possible can benefit from walking and all its benefits in the local community, with the activity tracker helping walkers see their activity levels each day."
Reno, a walker with one of the groups commented: "I have found that joining the group has inspired me to get up and get walking. I have always known this to be a healthy pursuit, but now I have been provided with the impetus to get up and pursue this worthwhile activity rather than just speaking about it. Tracking my activity has provided me with a personal benchmark from where I can monitor my progress and ultimately improve my levels of activity. One of the best things I've done!"
Mike Woolvin, the CNPA's Volunteer Coordinator said: "We started the Activity Tracker Health Walks in 2016 with the results proving very positive and we would like to encourage more participants. I anyone feels they would benefit, they should contact us or go straight to their local GP."
For more information contact Mike Woolvin on tel: 01479 873535 or email: [email protected]. There is also more information on the CNPA website.