TV's Nick Baker to Blitz the Boat for Cairngorms Nature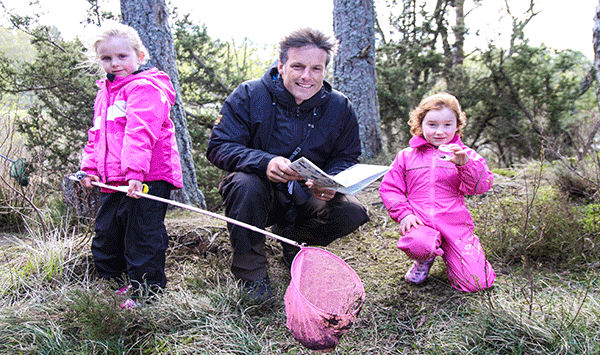 TV's Nick Baker will spring into action at the Cairngorms Nature Festival when he joins nature lovers to 'Bio-Blitz' Milton Loch at Boat of Garten.
The family event on Saturday 16 May is being run by Boat of Garten Wildlife Group as part of the Cairngorms Nature Festival and it is totally free of charge!
There will be an opportunity to join Nick and take part in a range of activities including pond dipping and a mini-beast hunt, before gathering at the Community Hall for a bacon sandwich and a cuppa to record the morning's finds!
Later in the evening Nick will be talking about his life, experiences and passions at the Boat of Garten Community Hall.  The evening will start at 6.30 with a performance from the fantastic Fèis Spè Junior Ceilidh Band, followed by Nick talking about his amazing life as a wildlife presenter and his passion for nature.  Tickets are priced at £5 an adult (under 16's free) and all money raised will support future Cairngorms Nature projects.  Tickets can be booked at http://nickbakercnfestival.eventbrite.co.uk
Nick is an experienced naturalist and a world class wildlife presenter,  he is the current host of BBC live 'Unsprung' programmes that follow the popular Springwatch, Winterwatch  and Autumnwatch shows and presented the popular long running Weird Creatures series (C5 / Animal Planet).
Nick said, " I am delighted to be returning to the Cairngorms National Park, I was last here for BBC's Winterwatch so it will be great to experience the unique nature of this amazing place in the spring.  We all have a responsibility to look after Cairngorms Nature and I am looking forward to getting hands-on with this bio-blitz event"
Allan Bantick OBE, founder of Cairngorm Wildlife and chairman of the local wildlife group, said, "I've worked with Nick before and know how passionate he is about nature so it's fantastic to have him onboard for the Cairngorms Nature Festival.  The point of this event is to encourage children of all ages to get down and dirty with nature, to demonstrate that it's fun just to be out there exploring wild places and to help them take note of what they see, hear and smell."
Bio-Blitz the Boat is happening 10am-1pm at Milton Loch and booking is essential as places are limited.  It is suitable for families with children aged 7 and over, you can book your place by emailing [email protected]
You can find further details about these events and the full Cairngorms Nature Festival at www.cairngorms.co.uk or facebook.com/cairngormsnature