Welcoming visitors back to the Park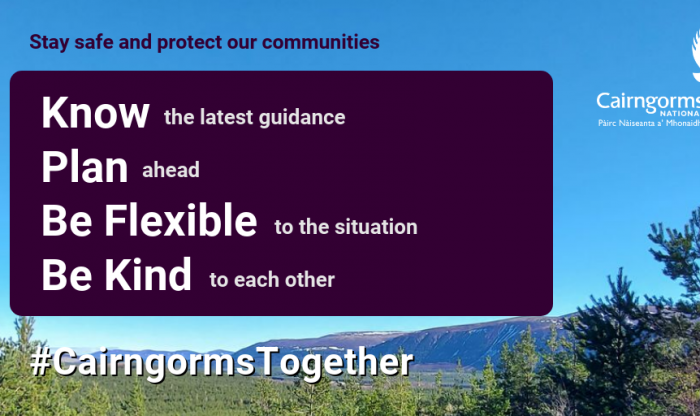 By Janet Hunter, CNPA Board Member & Chair of the Cairngorms Tourism Partnership
Richard Branson said "solving problems means listening". At the Cairngorms National Park Authority, we've been doing a lot of listening over these last few months – listening to the concerns and hopes of the Park's residents as we look ahead to the easing of Covid-19 travel restrictions in the coming weeks.
Along with the Cairngorms Business Partnership and other partners, we have held several community engagement meetings across the Park. What I heard was very interesting with the concerns of residents for 2021 being a bit different from last summer. Coronavirus was a real fear in 2020 with apprehension for peoples' safety with the potential for spread of the infection.
This time round people are more reassured – a vaccination programme is well underway. There is instead a very real concern about even more visitors coming to the Park in the coming months and the potential for a repeat of some of the issues that angered residents last summer – litter, bad parking, human waste, fires, etc. We have listened carefully to those fears and have been working hard to put measures in place to tackle them.
Some residents have been surprised to hear just how much work has been done over the winter to prepare for reopening such as improvements to car parking, paths and traffic calming measures. They are all particularly happy to hear about the CNPA Rangers.
These meetings have been a great opportunity to really listen to what residents have to say in an open environment and for us to engage directly about how, with partners, we aim to improve things for residents and for visitors.
The Park's economy is highly dependent on visitors, contributing over £300 million a year to the local economy and accounting for 42 per cent of employment. So we have to welcome the return of visitors in order for us to bounce back economically and also socially.
It is worth remembering that improvements to an area that promote a good visitor experience are also good for us residents with better paths, great places to eat, a wide range of activities and attractions to enjoy. Being an attractive visitor destination makes the Cairngorms National Park a great place to live.
In April 2020, I started chairing the Cairngorms Tourism Emergency Response Group (CTERG), bringing together local Destination Management Organisations (DMOs) and public sector partners to discuss the range of issues brought on by the pandemic. A year on, the group are still meeting roughly fortnightly to make sure that we are working together as efficiently as we can on issues such as business support, tourism infrastructure and welcoming back visitors safely and with confidence. Members of CTERG have also been involved in developing the new £124k VisitScotland-led Responsible Tourism campaign. We know that our regular visitors love this place as much as we do, and with another staycation summer looking likely, we have a real opportunity to encourage new audiences to #RespectProtectEnjoy the Cairngorms National Park. So as visitors return let's keep in our minds #CairngormsTogether and be well prepared, be flexible and always be kind.